bbc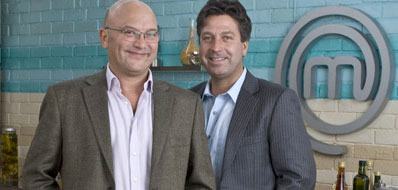 My favorite food TV show MasterChef is back for another round of competitive cooking fun! The hosts are John Torode and Gregg Wallace again, or Pasty and Toad as they are affectionately (or not) known in MasterChef fan circles. (I can't remember who is Pasty and who is Toad though.) See my thoughts on the 2008 MasterChef finals and you'll see why I love this show. I hope that 2009 will reveal equally exciting talents.
Some food TV news for you if you live in the UK or regions of Europe that get British TV. The Supersizers Go is being repeated, The Restaurant is back for another round, and more.
The sixth and final episode of The Supersizers Go was dedicated to the Regency period, the time of Jane Austen and the lecherous, gluttonous, foppish, trend-setting Prince Regent, later George IV. Again, Giles and Sue play a well off middle-upper class couple of the day—he is a small landowner with an inheritance of around £50,000—but instead of being married as in other episodes they are brother and sister. This is so that they can portray the difficult state of an unmarried woman (Sue) with not much of her own income. The cold and sometimes horrified expressions on her would-be suitors' faces reacting to her desperate advances seemed a bit too genuine. Here she is trying to hang onto a gentleman.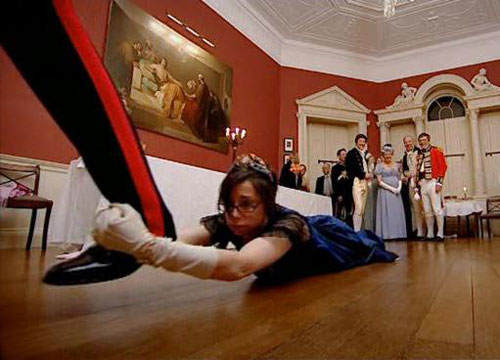 The erstwhile food time travellers went back to the earliest era covered in the Supersizers Go series, the Elizabethan period, which would be the equivalent of the Renaissance in the rest of Europe. It was a great time in British history, with adventurers exploring the world and bringing goods back from the New World, and the arts thriving, especially in the form of the Great Bard William Shakespeare.
It was also a quite exuberant and uninhibited society, one of the reasons why it's one of my favorite periods in history. Here you see Sue Perkins contemplating Giles Coren's massive codpiece with amusement.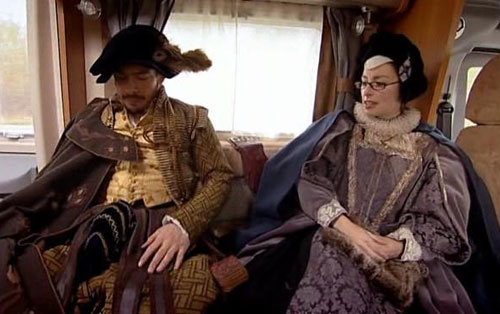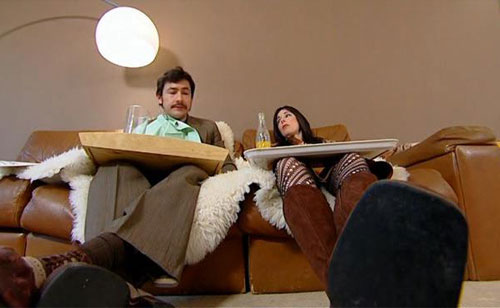 Near the end of the fourth episode of The Supersizers Go in which the food time travellers go to the 1970s, Sue Perkins says that she saw the '70s through the banisters of the staircase, as she and her siblings peered downstairs at the goings on of the adults. This was how I experienced a good chunk of the '70s too. I used to peer through the treads of the very '60s open wooden staircase in the house my parents rented in Wokingham, Berkshire, head upside down, spying on my parents and their guests when they entertained.
In any case, the '70s episode was a lot more entertaining than I thought it would be, purely for the nostalgia value. I kept on squealing in recognition at many of the various foods trotted out. It did help that I actually spend a few years in the '70s living in England with my family, since the Supersizers focused naturally on a very British version of that decade.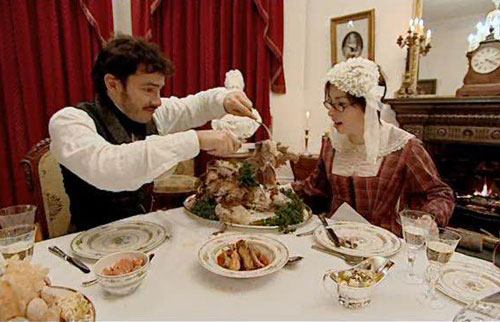 The third episode of The Supersizers Go was not as interesting to me as the previous two, simply because I knew a lot about how the Victorians ate already. I didn't realize how much I knew until I'd watched the episode, but it's all come down to us via Charles Dickens, Elizabeth Gaskell and other period literature, not to mention Mrs. Beeton or even the American Fanny Farmer. Also, it doesn't look like a whole lot changed between the Victorian era and the Edwardian period, which was covered in Edwardian Supersize Me. Still, those Victorians were sufficiently different from us in their eating habits to seem quite alien, but this was definitely the transitional period between the past and modern times.
I was not intending to do a recap of each episode of The Supersizers Go, but they are so interesting and just right up my alley. So, if you don't have access to BBC 2, are here for the Japanese recipes, or both, please indulge me. I'll try to be brief.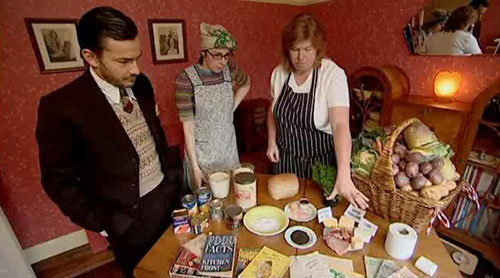 Giles, Sue and Allegra examine a week's worth of rations during WWII.
Last year, a very interesting hour-long program(me) called Edwardian Supersize Me aired on BBC Four. Taking their cue from the hit documentary Supersize Me, Giles Coren, food critic for The Times, and writer/actress/comedienne Sue Perkins spent a week eating as the middle-class Edwardians did - meaning a lot. The pair are back, upgraded to BBC Two, in a new multipart series called The Supersizers Go…. The premise is the same as Edwardian Supersize Me - in each show Sue and Giles spend a week eating as people did in a certain historical era. The first episode aired last night, and the era was World War II.
Oh no, two YouTube posts in a row! Well on Saturday we went to an Indian restaurant in town, and invariably our favorite restaurant related video was brought up. Goodness Gracious Me (Wikipedia entry) was a half hour comedy sketch show that ran on BBC One and Two from 1998 to 2001. In case you have never heard of it and you're in the U.S., it was a little bit like the '90s comedy show In Living Color, except that the cast in GGM was almost all Asian (as in South Asian, or Indian), who also wrote all the sketches. It poked fun at many British and British-Asian things. One of the best routines was one that made fun of a typical outing to an Indian restaurant. This sketch is called Going Out for an English. I don't think you have to be Asian (as in South Asian) or British to find it funny…it's how a lot of people still behave, at any 'ethnic' restaurant!
"What is the Blandest Thing you have on the menu?"
Today, you will be encountering many lame (and perhaps a handful of not-lame) April Fools' Day jokes. But there really is none better, than the Swiss Spaghetti Harvest.
I know I keep bringing it up every year on this day, but it really is that good.
Here's a fairly acceptable YouTube version: