french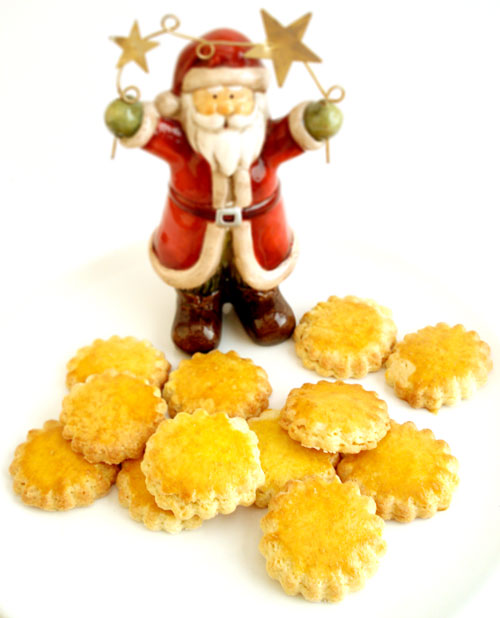 [From the archives. I'm not making a lot of cookies these days, but when I do these are still big favorites. They are quite plain but buttery-good, rather like shortbread but a little less rich. They are great Christmas cookies. Originally published December 2008.]
When it comes to cookies, I like them rather plain and not overly sweet. This traditional cookie from the Bretagne (Brittany) in France is so plain and simple, that the ingredients really shine. It is made of flour, sugar, egg, and the famously delicious salted butter (beurre demi-sel) of the region. Somewhat related to shortbread or sablé cookies but not as rich, for me they are almost the perfect cookie, and very more-ish.
The salted butter is the key to this cookie's distinctive nutty, buttery sweet-salty flavor. The best salted butter from the Bretagne and other regions along the Atlantic in France are creamy-fresh and rich, with little glistening crystals of salt still visible. If you can get a hold of really good salted butter, you can use traditional recipes and the cookies will turn out the way they should. If not, some adjustments need to be made. So, I would recommend following the variation of the recipe that meets your butter quality.
(You might see something called galettes bretonnes au sarrasin. These refer to a thin crêpe or pancake made out of buckwheat (sarrasin) flour, usually served with a savory filling. I love those too, but these article is about the cookie galettes bretonnes.)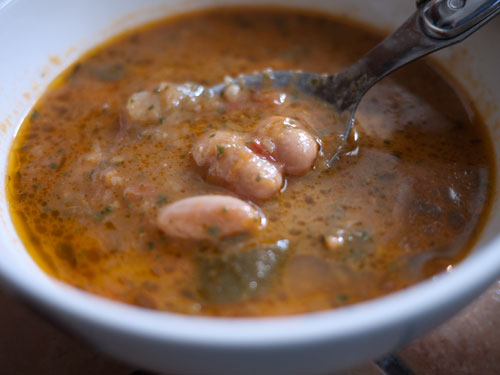 Recipes abound in print and online for Soupe au Pistou, a bean and vegetable soup that is a Provençal classic. Mine is not much different from the rest, but it's here because I love it so much. It reminds me of why I wanted to move here in the first place. When a pot of Soupe au Pistou is simmering away on our crappy hotplate (yes, it can be made on a hotplate) it makes my continuing kitchenless state somewhat tolerable. A big bowl warms me up when the temperature drops to the single digits celsius, and the chill seeps into this old stone house from all the gaping gaps in the doorways and windows and walls.
I make it around this time of year with fresh, undried beans - coco blanc and coco rouge - that we can buy at the markets here. They are so gorgeous, before and after shelling. However, it's probably a lot easier for most people to get a hold of dry beans so the recipe calls for them. If you can get fresh beans, just use a tad more - 3 cups total - and skip the soaking and pre-cooking part.
For the first time on Just Hungry, I've included a Japanese version of the recipe too. This is mainly for my mom and aunt to read, but take a look if you are studying Japanese - or point your Japanese friends to it. It is not a translation of the English, but a version specifically for making this soup in Japan.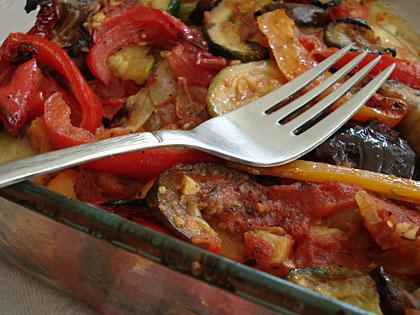 Although ratatouille seems synonymous with summer, perhaps because it comes from sunny Provence, I think it's really a dish to make right now, in early fall. This is when the essential ingredients - eggplants (aubergines), fresh tomatoes, zucchini (courgettes), sweet onions, and peppers - are all at their peak. You can get all of those things year-round nowadays of course, but vegetables in season are always just a bit sweeter.