grains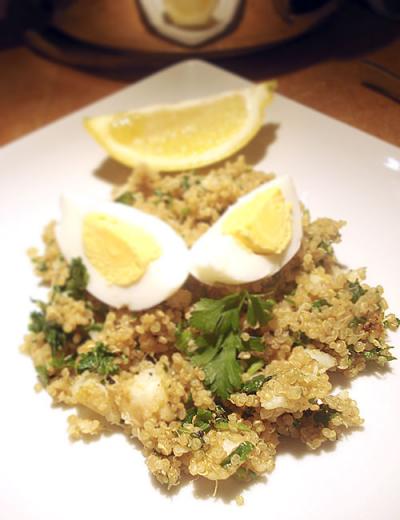 Here's another very easy 'dry' type curry dish that's a favorite in our house, though it's not Japanese. Kedgeree is a very British dish, that doesn't seem to be well known outside of the U.K. It was originally created by the British colonists in India, who took the spices and grain of the land they were in with the smoked haddock from their homeland. It used to be served for breakfast, but nowadays it's a supper dish.
This version of kedgeree uses quinoa as the grain (technically it's a seed but it's used as a grain in cooking, so that's what I'll call it). Quinoa has a unique bubbly texture and a neutral flavor that takes on any flavors added to it. It's also very filling, which makes it rather ideal when you're trying to watch the intake. It's very easy to cook, and never seems to go too watery and so on. I'm just a recent convert to quinoa, but I love it already and have it at least a couple of times a month.
I've used cod as the fish here but you can use any fish you like, even canned tuna or salmon. It doesn't taste 'fishy' in any way - the lemon and the curry take care of that. The key to making this kedgeree taste fresh and bright is to add tons of parsley (instead of the traditional coriander) and lemon juice. It turns into something that's like a warm, spicy dinner salad. To keep the whole healthy thing going I've used olive oil instead of butter.
Any leftovers store nicely in the fridge, and like the previous dry curry makes a great obento lunch too. It tastes fine cooled or at room temperature.