seafood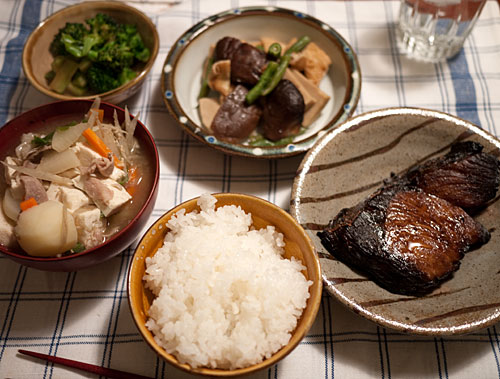 A new article in The Japan Times about winter fish, and how fish fits into a typical Japanese meal.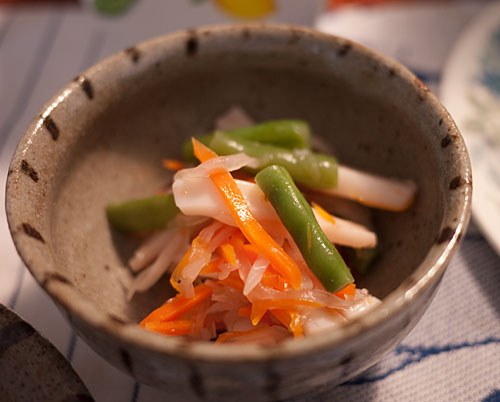 A simple side dish or salad to serve as part of a Japanese meal, or on its own. Plus, take a look at a couple of real Japanese home meals!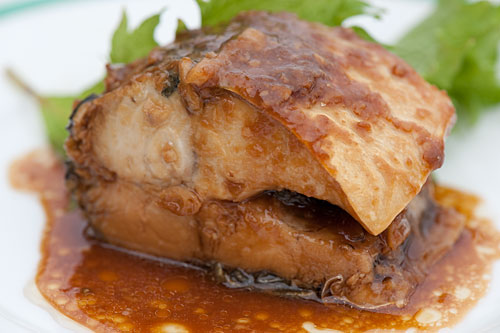 Here's another classic Japanese recipe from my mother. I have to admit that I'm not very good with fish, with the exception of simple grilling or panfrying and so on, but my mom has all kinds of great fish recipes up her sleeve.
Last week we spent a rather chilly week in Brittany (Bretagne), where the highlight was definitely the abundance of cheap, really fresh fish available to us. One fish in particular that was really good and inexpensive was maquereau, or Atlantic mackerel, which we know as saba (鯖 さば)in Japanese. In Japan, mackerel is usually treated one of three ways: grilled over an open flame (amiyaki), treated with salt and vinegar (shimesaba) and turned into an old fashioned kind of sushi (sabazushi), or gently braised in a sauce with the classic Japanese combination of salty-sweet flavors. This mackerel is cooked in a ginger scented miso sauce, then allowed to cool down in the liquid overnight, which allows the flavors to penetrate the firm flesh of the fish. You barely notice the oiliness at all, and the sauce is plate-lickingly tasty. I like to eat it chilled, right out of the refrigerator, with plain rice and a simple salad on the side. It makes for a refreshing yet rich dish for a summer meal.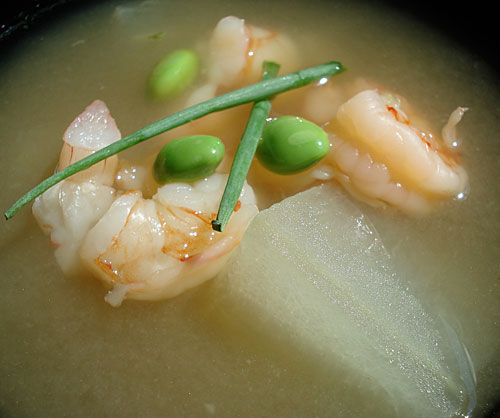 These days, the house generally looks like a warzone because of the packing, and I am not in the mood for involved cooking. So I'm making very simple bentos, and mostly one-dish/one-pot type of things for dinner. A great one-pot meal is soup of course, but it is also summer, when we aren't always in the mood for a steaming hot bowlful.
The answer is chilled soup that can be made ahead and just taken out at dinnertime. This one is really easy to make too, which is a big plus. Winter melon has a inherently cooling quality according to old (Chinese) medicine, so this is really nice to have on a warm evening.