Dark chocolate peanut butter cups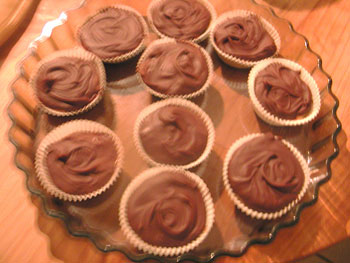 Necessity is the mother of invention, as the saying goes. To be more specific, "lack of" is the mother of kitchen experiments. Clotilde's post lamenting the fact that she couldn't get Reese's Peanut Butter Cups easily in France reminded me that quite a lot of the kitchen experiments I do have to do with trying to re-create some food or flavor that I miss, from somewhere else I used to live. I've written about some of these experiments before, such as trying to recreate a good New York bagel.
I miss Reese's Peanut Butter cups too, and they are just about impossible to get here in Switzerland. (It's strange that I even miss them, because when I lived in the U.S. I barely ate them at all.) We can get Mar's Bars, Snickers, and many other American candy bars, but not Reese's. So, when I saw Nigella Lawson's recipe for Peanut Butter Squares in her baking book How To Be A Domestic Goddess, I had to try it.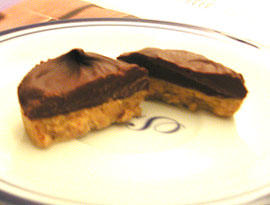 The peanut butter squares were great, but I had to start tinkering with it. I wanted to make it better than Reese's, more intensely peanutty and chocolately. So I changed the milk chocolate topping to a dark chocolate one, and added some finely chopped salted roasted peanuts to the peanut butter part. And of course, they had to be in cups rather than mere cut up squares (though squares are easier). The result is indeed like an adult version of Reese's. They are also very pretty, and I think quite guest- or gift-worthy.
Peanut butter is sticky, oily stuff, a pain to wash up afterwards. I try to avoid doing the dishes as much as possible (Max does it about 90% of the time) so I came up with a way to mix the peanut butter base in a bag. The same bag is used to pipe the mixture into the cups too. It's a lot of fun for kids or adults.
These peanut butter cups are very, very rich, so take one at a time and nibble slowly. In an hour, possibly less, you'll be craving another one.
Dark chocolate peanut butter cups
The measurements here don't have to be that precise, since there is no actual baking involved.
350g / 12 oz (about 2 cups) smooth peanut butter
1 cup of salted roasted peanuts
225g / 8oz (about 1 cup) icing sugar
50g / 1.8oz (about 1/4 cup) brown sugar, or raw sugar (Rohzucker)
500g / a bit more than a pound, or 5 bars, of dark chocolate, minimum cacao 50% (I used Cailliers Cremant)
90g / 3oz unsalted butter
Supplies needed: shallow paper cake/muffin cups (use regular cake cups if you can't find shallow ones), plastic zip bag
[Edit: I didn't make clear how the butter should be divided up previously. Thanks to Lisa for pointing it out.]
Chop up the peanuts with a knife or in the food processor until they are as fine as you'd like them to be.
Put the peanut butter, 60 grams/2 oz (2/3rds of the) butter, peanuts, and both sugars in a sturdy plastic zip bag (don't use cheap thin ones because if the bag bursts, it isn't going to be pretty). Press the air out of the bag and close it. Knead and mix the bag until the contents are completely mixed and smooth. This part of the process is rather soothing and fun to do - you may find yourself doing it for longer than needed (sorry for the pun).
Once the mixture is mixed, press down the mixture towards one corner. Cut off the corner with scissors, and twist the bag - now you have a sort of pastry bag.
Squeeze about a tablespoon worth of the peanut butter mixture into each paper cup, smoothing out the top of each with your finger. Each cup should be about 1/2 full. It's easier if you keep each cup in the stack of other paper cups for stability while you fill them.
Once the peanut butter mixture is all used up, make the chocolate topping. Break up the chocolate into a bowl or a soup plate (the soup plate will allow for faster melting since the chocolate is more spread out). Melt it in the microwave at medium for about 3 minutes. Check at this point; if the chocolate is still hard, mix and nuke for about 1 minute more. Add the rest of the butter, and nuke for another 30 seconds. Mix the chocolate and butter well with a spoon until smooth.
Fill up each cup with the chocolate, smoothing out the top with your finger or a knife. Try not to lick your fingers during this whole process, unless of course you plan to eat all the cups by yourself, in which case it probably doesn't matter.
Cool in the refrigerator until the chocolate is firm, about 1 hour. Store in the refrigerator until all consumed. The way is goes like this: you go to the refrigerator. You mean to take out the water bottle, and accidentally take a peanut butter cup. Repeat every hour or so. Any other occupants of the household will do the same.
Makes about 24 cups.
Note: if you would rather not put in peanuts, increase the amount of peanut butter by about 1/2 cup, and add about 1/2 teaspoon of salt. You can also use chunky style peanut butter (which is rather hard to get here in Switzerland), increasing the amount by about 1/2 cup.
Submitted by
maki
on 2004-03-12 06:14.
Filed under:
chocolate
dessert
snack
retro