Baked beets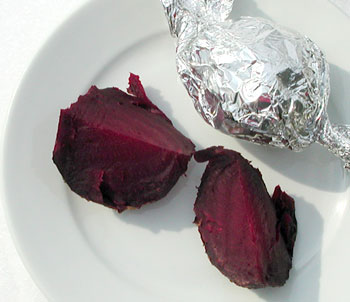 I get cravings for the oddest things sometimes. A few days ago, the craving was for beets. Surely beets are one of the top 10 "eww" foods, especially for kids, and for quite a few adults too.
I think the "eww" stems mostly from experiences with bad beets. Especially flavorless, canned beets that one encounters in salads, or the dreaded pickled beets. Beets have a faintly metallic taste, and I think that pickling amplifies that metallic characteristic to the point of obnoxiousness. The other thing that makes beets a scary food is, well, what happens a few hours or so after you've eaten a good quantity of them, and exits your other end. Let's face it, purple in your toilet bowl is sort of scary.
Regardless though, fresh beets can be really nice, especially when they are just baked or roasted whole. Roasting them seems to enhance their sweet nature. Simply trim off the leaves (you can eat these separately if you like, stir-fried or in a salad if they are really fresh), wash the root carefully without peeling the skin, and wrap it in foil. It's nice if you wrap them like they were big pieces of candy, as you see in the photo. Put in an oven with whatever else you are roasting or baking for at least 45 minutes. Serve them wrapped in the foil, and have each person peel the skin off - it slips right off when the beets are piping hot. Be sure there is salt, pepper, butter and crème fraîche around. You can also eat them plain- they are quite sweet enough - in which case they become a filling yet low-fat etc. virtuous food.
Submitted by
maki
on 2005-02-26 14:45.
Filed under:
vegetables