Is My Blog Burning? IMBB 13: Cupcakes and Muffins Galore!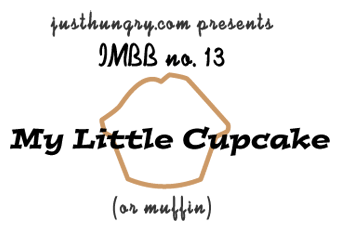 Update posted late Sunday, March 27th: I wasn't at my computer most of the weekend, and there were a few late or inadvertently omitted entries waiting in my mailbox. They've now all been posted I think, bringing the total to 89 entries. Wow.
It seems that this month's IMBB theme really struck a chord with many food bloggers, since there are, if I've managed to count correctly, 84 89 entries! Several people made more than one muffin or cupcake too, so there are 100 or so different cupcakes and muffins to try.
It's impossible for me to pick any favorites out of the wonderful entries. I'll be enjoying many, many hours trying out the different recipes.
Thanks to everyone who participated! I did get a bit overwhelmed by the number of submissions (to put it mildly), so my apologies for not replying to all your individual emails. If your entry is not listed, please let me know and I'll correct that ASAP.
And once again, a big thanks goes out to Alberto for starting IMBB. Every IMBB allows people to discover new food blogs and re-visit old favorites, and that's just a great thing. Also big thanks to Ronald for helping everyone keep track of all the food blogging events out there.
I've grouped the entries into groups by general category: sweet cupcakes, sweet muffins, savory muffins (and a couple of savory cupcakes), and last but not least, cupcakes that are probably not edible. So without further ado, here are the links to all the cupcakes and muffins.
Part One: Cupcakes
Part Two: Sweet Muffins
Part Three: Savory Muffins (or Cupcakes)
And finally, the not-quite-edible department...
Submitted by
maki
on 2005-03-25 23:04.
Filed under:
food events
imbb
baking
muffins
cupcakes