Wild garlic ravioli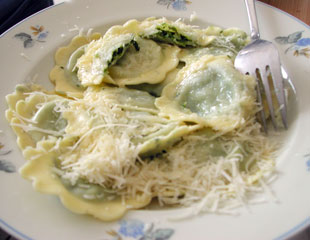 (Yes, more round food!)
Last April I wrote about a local speciality of sorts, wild garlic, or bärlauch, pesto. It's a type of garlic that only appears in the forests in the spring. We still have about 15 cm / 6 inches of snow on the ground here, which isn't really that usual for mid-March. So spring still feels rather distant.
But today for lunch I had this bärlauch-filled ravioli that is available for for at limited time from Migros no less. (Migros is the dominant supermarket chain in Switzerland.) Wild garlic is milder than garlic cloves, and more garlicky than chives - it's sort of of like nira or Chinese garlic chives, but a bit different. It's really delicious, and tastes like spring.
Submitted by
maki
on 2005-03-14 23:43.
Filed under:
swiss
vegetables
spring
pasta