Masterchef challenge, day 13: Grilled Sardine on Avocado and Endive with Momojioroshi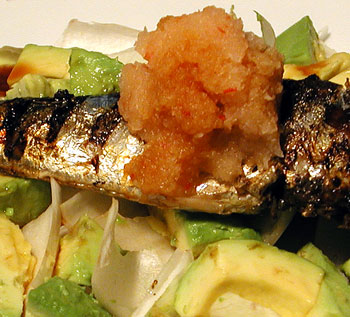 It's now week 4! The ingredients for the first day of the 4th round preliminaries were:
Fresh sardines
Avocado
Chorizo
Mango
Tomato
Goats cheese
Short crust pastry
Endive
Bread
Wow, what a motley array, was my first thought at this list. I latched onto the sardines though, since I'm feeling the need to. eat a bit lighter at the moment. When I see an oily fish such as sardine, the first thing that comes to mind is to just grill it simply. Since there is enough oil and flavor in a sardine, there's no need to fry it in butter or anything like that.
I could have just served it plain, with a sprinkle of salt or a bit of soy sauce. But that would have been too simple for this task. So I tentatively put it on a bed of cut up endive and avocado. This really matched well - the bitterness of the liverish parts of the sardine went nicely with the slight bitterness of the endive, and the creaminess of the avocado was the perfect foil.
The mysterious mound on top of the sardine is momiji oroshi, a very versatile Japanese condiment of grated daikon radish and chili pepper that is made in a way that is simple yet leaves you feeling awfully clever. It looks really pretty too, since the chili pepper makes the radish a pale red, with darker flecks of red running through it. It goes very well with grilled fish and meat.
As a dressing of sorts I again used ponzu - such a versatile, tasty, and totally fat- and sugar-free sauce. This whole dish is in fact suitable for a low-carb or even a low-calorie diet, as long as you watch the amount of avocado added.
Unused ingredients: mango, bread, tomato, goats cheese, short crust pastry, chorizo.
Grilled Sardine on avocado and endive with momiji oroshi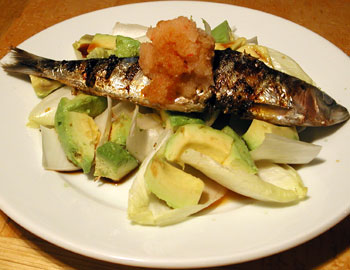 Per serving:
1 fresh sardine
1 Belgian endive
1/2 large avocado
1 Tbs momoji oroshi (recipe follows)
Ponzu Heat up a grill pan. Place the sardine on it and grill on both sides until done - about 5 minutes per side.
In the meantime, peel the avocado, and cut it into cubes. Cut the endive into pieces and separate the leaves.
Place a mixture of the endive and avocado on the plate. Place the grilled sardine on top, and mound the momiji oroshi on top. Sprinkle with ponzu.
Momiji Oroshi
A chunk of daikon radish, peeled
A couple of thin slices of a chili pepper at least as long as the chunk of daikon
With a skewer or chopstick, make a couple of holes in the center of the daikon radish. Stick the slices of chili pepper in the holes.
Holding the daikon flat against the grater, grate it. The chili gets grated and mixed with the daikon.
Submitted by
maki
on 2006-02-15 23:28.
Filed under:
japanese
masterchef
vegetables
fish