Final New York notes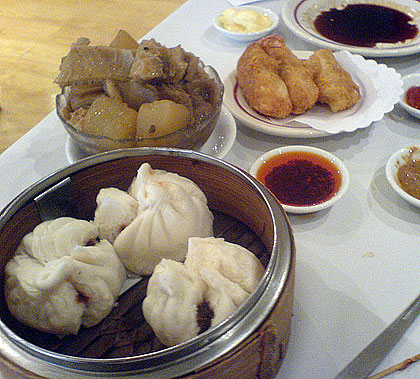 Dim Sum
I understand that there are supposedly better-quality places for dim sum in New York nowadays, but those gringo-run and/or uptown restaurants require bothersome things like reservations, and personally, making reservations for dim sum just seems wrong. Waiting for a table at a garishly lit noisy restaurant with cafeteria atmosphere is part of the fun. Besides, what non-Chinese-run dim sum palace would serve stewed tripe?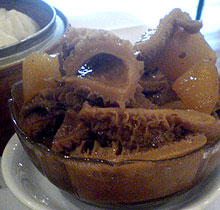 The picture is scaled small so as not to scare people too much.
Therefore I stick to my old standby, the Golden Unicorn on East Broadway. An added benefit of going there for dim sum is that there is a branch of Aji Ichiban on the other side of the street to peruse afterwards.
Supermarkets, no thanks
New York is a wonderful place. It offers people a myriad of choices for all kinds of activities, including eating and food shopping. There are terrific gourmet markets, great speciality stores for just about every kind of food you can imagine, and farmer's markets are sprouting like weeds after a rainstorm all over the city.
So then, why do the regular supermarkets suck so badly, and how can they hope to survive? How do they survive at all?
The produce is usually rock-hard or simply flavorless, and it's quite often as expensive as the much better quality stuff at Whole Foods or the mega-gourmet markets, not to mention the green markets. The meat is industrial. There are half-hearted attempts at gourmet-ism, like expensive selections of dried herbs and salt and oils. The staff is usually bored and could care less.
The only reason to go to a New York supermarket seems to me to be to get things that even they can't screw up, like detergent and bottled drinks. The only reason to buy food at a supermarket would be if you just can't be bothered - especially since ordering takeout isn't that much more expensive.
WTC
Finally...this is not food related, but we just happened to be staying in an apartment just a block from the World Trade Center site. Despite the fact that the construction people were on strike the first few days we were there, the progress on the site since I saw it last was quite cheering.
I had a hard time even thinking about going near the site for at least two years after 9/11. I used to commute through the World Trade Center concourse via PATH and the E train when I lived for a year in Jersey City, and seeing my former haunts simply gone, and thinking of the people who were killed, was too much to bear. But New York always manages to survive, rebound and thrive.
Submitted by
maki
on 2006-07-22 09:02.
Filed under:
food travel
restaurants
new york
chinese
shopping