Produce: Mushrooms, on the wild side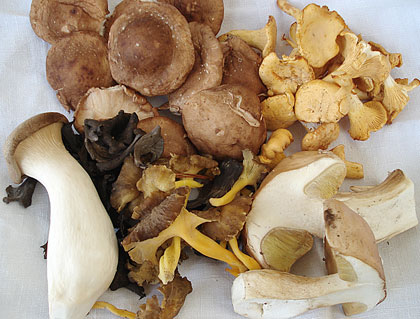 One crisp day in the fall when I was about 12, my cousins and I went for a foraging hike in the forests of the Okuchichibu mountains with our Aunt Naoko. (Relatives of another aunt had a farm there.) We were looking for wild rakkyou (a kind of wild onion), fuki (coltsfoot), and whatever wild mushrooms we could find. We found plenty of rakkyou, but had no luck with mushrooms, until we suddenly came upon a clearing full of brown caps. They were big, luscious shiitake mushrooms, growing on rotted logs.
"Wow, can this be real?" we asked ourselves. "Is this really wild? Doesn't it belong to someone?" I don't know why the fact that they were growing on sawed logs didn't tip us off, but somehow we assumed - Aunt Naoko as well as us kids - that they were wild, and proceeded to pick more than half of them.
Later on, the relatives at whose farm we were staying got an angry phone call from a neighbor. Those shiitake were indeed being farmed. Oops. I think my aunt settled it by paying for what we'd picked...it couldn't have been cheap, because the four of us came away from that clearing with a big bag full each. They were sure delicious though!
I'm not sure if the memory of that afternoon is why I love mushrooms so much. When I say wild mushrooms, I'm talking about mushrooms that are not the old, boring white button mushrooms, even though some of the 'wild' mushrooms are cultivated, especially shiitake. Some of the mushrooms you'll see at the markets right now are gathered wild - fall is the perfect time for them, when the weather turns cool and moist.
There many different kinds of mushrooms, and the variety depends on where you live. The photo here is a sampling of the mushrooms available at the "mushroom man" stall at the Wednesday market in the Zürich main station. You may recognize the brown capped shiitake (top left) and bright yellow chanterelles (top right). The big sliced ones in the bottom right are wild porcini, called Steinpilz here, and the big, white one on the left is an oyster mushroom or Krauterseitling (pleurotus eryngii). In the middle is a mixture of thin, delicate mushrooms that are just called wild mushrooms. They are similar to the chanterelles in texture.
The method of cooking depends on the texture of the mushroom. Meaty, substantial mushrooms like mature porcini or the gigantic 'puffs' you can get in some places can stand up to grilling and frying, but delicate chanterelles will fall apart if you cook them too long. If you're doing a mixed mushroom dish, start cooking the meatier varieties before the thinner ones, or slice them thinly. Instead of slicing mushrooms, it can also be fun to just shred them apart with your hands.
I like to cook mushrooms in two ways: Japanese, and European. With Japanese methods you don't add any fat. European methods usually require quite a lot of butter or oil, but it's worth it of course. The better or more fragrant the mushroom, the simpler the method used to prepare them.
Cleaning mushrooms
Ideally you do not want to wash mushrooms at all, and do not ever soak them. If you must wash them, do so under running water, and immediately dry them off. The more delicate the mushroom, the more they will be damaged by water-washing.
I like to clean them gently with a moist and well-wrung out kitchen towel, and I cut off any impossibly dirty bits, like the root end of maitake mushrooms.
Mushroom foraging
Don't, unless you really know what you are doing. Many mushroom picking courses are offered around this time of year, and can be great fun (though dress warmly - you will get very cold).
Recipes
Some of my favorite mushroom recipes are already on the site:
Mushroom rice, or kinoko takikomi gohan - mushrooms are marinated briefly then cooked with rice. Fat free! (ok, you get some calories from the rice.) We tried this recently with spelt instead of rice, and it was really good.
Mushroom lemon soup - made with wild mushrooms, this is much better than the version with button mushrooms.
Melange of mushrooms soup - A lot of cream in this, and totally worth it.
Mushroom pasta
This is a very simple recipe, but that's really the best way to enjoy mushrooms when they are at their best. The subtle sourness of the crême fraiche really accentuates the mushroom flavor. You can add some freshly grated Parmesano if you want, but try it without first.
If you can afford it, try this just with chanterelles.
1 pack fresh fettucine (8 oz or 225g)
10 oz / 250g (or so) wild mushrooms, ideally chanterelles
1 tsp fresh thyme leaves, or dried thyme
2 cloves garlic
2 Tbs. unsalted butter
3 Tbs. crême fraiche
Salt and pepper
Start boiling the water for your fresh pasta.
Finely slice the garlic. Start sautéing them in the butter in a pan, until they turn tender.
Clean and slice or rip apart your chosen mushrooms.
When the water has come to a full boil, toss the mushrooms into the pan, toss rapidly over high heat, until it all starts to wilt and brown and emanate a wonderful smell. Add the thyme, and the crême fraiche. Season with salt and pepper.
In the meantime, put the fresh pasta in the boiling water - it should cook in a couple of minutes.
Drain (a little moisture should still be clinging to the noodles), and add to the pan with the mushrooms. Toss well and serve immediately.
Submitted by
maki
on 2006-10-04 16:57.
Filed under:
japanese
vegetables
mushrooms
fall
pasta