Menu For Hope III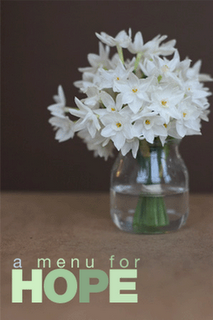 [Update 2:] The auction is now over! Thank you everyone who donated!
[Update:] I've just signed up to take yet another chocolate making class this Saturday at Insler Torten, the same place where I made these adorable Easter Bunnies. One of my handmade chocolate creations will also be included in the hamper! Insler Torten uses the most delicious milk chocolate...
Menu For Hope is an annual charity event, now in its third year, to raise money for worthy causes. This year's beneficiary is the United Nations World Food Programme. The European Host for this event is David Lebovitz, and the overall host and originator of this wonderful event is Pim of Chez Pim.
I'm happy to announce that Just Hungry is donating an Eclectic Food Hamper for the auction. For as little as $10, you'll not only be buying a chance to win a box of goodies hand-picked by me, you will also be supporting a very good cause. The prize code for this package is EU07. Below are details on how to enter to win, but first let me tell you all the delicious goodies that you'll get....
Click on the photo to see everything larger on flickr, with notes!
Japan, Switzerland and Provence
Readers of this site might have noticed that my food tastes are rather eclectic, but there are three regions to which I gravitate most often, culinarically speaking. First of course is Japan, where I was born. Second is Switzerland, where I live now. And third is a relatively recent love, Provence in the south of France. The call for Menu for Hope donations came through while I was in Provence, and that's where the idea came to me to me to put together a sampler of the foods that I love from those three regions. All items are either impossible or very hard to obtain outside of each country. And here is what you will get! All items will be accompanied by explanatory notes, and there will be a couple of original recipes too.
From Japan:
A packet of green tea (sencha) made from tiny young tea leaves (shincha). I beg my mother to send me this brand of tea whenever she can, and I am parting with one of her most recent shipments with great reluctance...all for a good cause!
A pack of dashi stock 'tea bags': I've never seen these sold outside of Japan. They contain a mixture of bonito flakes, dried anchovies, konbu seaweed and other things. Just put one pack in 4-5 cups of cold water, bring to a simmer and you have delicious dashi stock, the basis for most Japanese cooking. (Note: this is the only non-vegetarian item in this package. If you'd rather not receive it I can substitute a vegetarian item instead.)
From Switzerland:
Obscured by international chocolate conglomerates like Lindt and Nestlé-Cailler are many small Swiss artisanal chocolatiers who create small batches of delicious chocolates, often using traditional methods and equipment. Most of their production rarely makes it outside of the Swiss borders, since the Swiss (and hungry expat residents) gobble them up. Varietals (chocolate whose cacao beans come from specific sources) are very popular now.I will include several different kinds of chocolate bars, a packet of chocolate couverture (chocolate buttons suitable for cooking, or just for nibbling on), and one more chocolate surprise. They'll make you want to jump on the next plane to Zürich for more.
Optionally, I will include a jar of Cenovis, the Swiss Marmite-like yeast spread. If you've ever had Marmite or Vegemite and hated it, I'll leave this out. If on the other hand you do like black salty yeasty spreads, or just feel adventurous...it's yours!
From Provence:
I just came back from Provence on Sunday. I wish that I could ship you the fragrant herbs, the pungent cheeses, the fine wines, and the fruit bursting with ripeness. But alas, bothersome import restrictions won't allow this. I'll try to whet your appetite though by including a small jar of tapenade made from the delicious A.O.C. black olives of Nyons; a packet of handmade calissons (ground almond and melon syrup confections) from my favorite small Boulangerie-Patisserie in Montsegur sur Laozon in the Drôme Provençal; a small can of extra virgin olive oil; a can of truffle and cêpe (porcini) mushroom flavored oil; a hand-signed container of fleur de sel salt from the Camargue; and last but not least, an olive wood salad fork and spoon set plus a matching spatula, for mixing up your summer salads and stirring your vegetable ragouts.
All of the above will be shipped to you in a bright yellow box by efficient Swiss Post. The estimated value is at least US $180, excluding shipping.
Important Fine Print
I will pay the shipping, and send this box as a gift, so in most cases you should not have to pay any duties - or if so they will be minimal. I've sent many similar packages to various countries around the world and have never had problems but in the event that there are any duties, they will be the responsibility of the recipient.
Special note for U.S. residents: The country that may have the most draconian customs regulations at the moment that I've had experience with is the U.S. If you'd like to bid from the U.S., you don't need be too concerned, since I'm very careful about not shipping things that could cause a problem. BUT if you'd rather be 100% safe, I will ship the box to you from the U.S. when I'm next scheduled to be there (probably in March, but not later than May, of 2007). If you bid and win please let me know your preferences.
How to bid!
Go to the donation page at http://www.firstgiving.com/menuforhopeIII.
Make a donation! Each $10 will give you one raffle ticket toward a prize of your choice. The prize code for this package is EU07. Please specify which prize or prizes you'd like in the 'Personal Message' section in the donation form when confirming your donation. Do tell us how many tickets per prize, and please use the prize code-for example, a donation of $50 can be 2 tickets for EU01 and 3 for EU07. If your company matches your charity donation, please remember to check the box and fill in the information so we could claim the corporate match.
Please also check the box to allow us to see your email address so that we could contact you in case you win. Your email address will not be shared with anyone.
The deadline for donating is December 22nd.
Check back on Chez Pim on January 15 when we announce the result of the raffle. The drawing will be done electronically. Our friend the code wizard Derrick at Obsession with Food is responsible for the application that will do the job.
I hope you will take the time to donate to a very worthy cause, with a chance of indulging yourself in many delicious ways if you win this box. Good luck!
Submitted by
maki
on 2006-12-11 17:37.
Filed under:
food events
menuforhope