Recipe: Beef and vegetable stew with parsley dumplings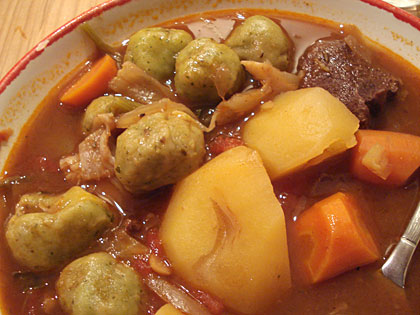 In the holiday rush to get so many things done, it's easy to forget to feed ourselves properly, and to rely on takeout and readymade meals. But I think that when we are super busy, it's even more important to slow down a bit, and to eat properly.
Still, there's really not much time to spend in the kitchen. That's where things like quick-assembly, slow-cook meals like stews and soups come in handy. They are so warming and comforting too when the weather is cold. It's finally feeling like winter around here, so when I am running around town, freezing my nose (and other body parts off), it's great to know that there is a pot of simmering stew waiting for me when I get home.
This beef stew is packed with vegetables, assembles in about 10 minutes or so, and can be left cooking in the oven, an electric range, or in a slow cooker indefinitely. The vegetables are basically whacked up in big bits - no need at all to fuss with neatness since they will slowly cook and melt into a delicious, amalgamated elixir. The tender dumplings, and optionally the potatoes, are added in the last 30 minutes. It's very warming and filling yet doesn't sit heavily in your stomach since there sauce is not thickened with roux and such. It's still rich-tasting though, from the goodness of the vegetables and meat and wine. I wouldn't mind eating this every other day during the cold months.
Beef and Vegetable Stew with Parsley Dumplings
Assembly notes: Put everything together in the pot as early as possible since it needs to cook for several hours. You can then either leave it in the oven, or on the stovetop of you have a non-gas range (I wouldn't feel comfortable leaving an unattended gas flame, but if you're hanging around the house wrapping presents etc. it's not a problem obviously). It's an ideal dish for a slow cooker/crockpot. The dumpling dough can be prepared in advance but it's best to prepare it just before the dumplings are put into the stew. The potatoes will disintegrate some if you put them in at the start, so ideally you will put them in about 10 minutes before you put in the dumplings - or just leave them out, since you'll have plenty of carbs from the dumplings.
About 450g-500g / 1 pound beef for stew, cut into large cubes (a cut like chuck that has some fat in it, nothing too lean)
3 large onions
2 cloves garlic
1 large bulb fennel
1-2 celery stalks
4 large carrots
2 medium boiling type potatoes
2 bay leaves
dried or fresh thyme - a couple of sprigs, or about 1 Tbs.
small bunch parsley
2 beef stock cubes
2 cups red wine
1 400g / 8 oz can crushed tomatoes
water, salt, pepper
olive oil
For the dumplings:
3 cups regular all-purpose white flour
1 tsp. salt
1/2 tsp. baking powder
a bunch of parsley
2 Tbs. butter
1 cup (or so) low-fat milk, or soymilk
Suggested equipment: a heavy enamelled cast-iron pot such as a Le Creuset with an oven-safe lid, OR a slow cooker/crockpot; a food processor.
Peel and slice the onions. Chop up the garlic roughly. Take off the tough green part of the fennel and slice roughly. Peel and whack up the carrot and the celery.
Dry off the beef cubes thoroughly with a paper towel.
Heat up your heavy stew pot if you are using that, or a sauté pan/skillet if you are using a slow cooker. Heat up some olive oil, and brown the beef cubes. Take out the beef, add a bit more oil if needed, and put in the onions and fennel. Sauté until limp and a bit browned. You want to scrape off all the brown bits from the meat while you do this. Put in the garlic, and the carrots.
Put the beef back in, and add the wine. Scrape the bottom with a spatula so all the brown bits are melted into the wine. (This step is absolutely crucial to ensure that the stew has maximum flavor.)
If you are cooking this on the stovetop: Add the can of tomatoes and the herbs. Add enough water to come up to about 2 cm / 1 inch or so above all the veggies, and add the stock cubes and the herbs. (You can use canned stock if you like but since there is so much goodness in the veggies and beef and wine and so on anyway you can just use stock cubes.) bring the pot up to a near-boil (that means it's bubbling moderatly, not rolling), then lower the heat until it's just simmering, and continue to cook with the lid on.
If cooking in the oven: Preheat the oven to 150°C / 300°F. Follow the instructions above. Once the stew is hot, put the whole pot with lid on in the oven.
If using a slow cooker: add the liquids and herbs and stock cubes as above, and follow the manufacturer's instructions.
Cook for at least 2 hours, longer if you like up to about 6 hours. (The longer you cook it the more the veggies will melt.) Occasionally check the pot and add a bit of water or wine if it's drying out.
In the meantime, peel and cube the potatoes and put them in a bowl of water.
About an hour or so before the end of cooking (or dinner time), dump in the potatoes.
About 40 minutes before dinnertime, prepare the dumplings. Mix together the dry ingredients (flour, salt, baking powder). If you're going to mix by hand, chop up the parsley; if using a food processor just cut it up very roughly.
Put the dry ingredients in the food processor, and add the butter. Process until the butter is completely integrated (it will look a bit grainy). Put in the parsley, and continue processing until it's all chopped up and green. Add the milk through the feed tube while pulsing. You'll get a lumpy looking dough that's more or less all mixed together - no need to continue until you have a ball of dough.
If mixing by hand, rub the butter into the dry mixture with your hands until it looks grainy, add the chopped parsley, then slowly add the milk while mixing with a fork.
At this point, fish out the thyme twigs and bay leaves from the stew, and season with salt and pepper.
Form small balls of dough with your hands (flouring them if needed) and drop into the stew. Cover the pot and cook for an additional 20 minutes minimum (up to about 40 minutes).
This feeds 4 hungry people as a one-dish meal or more if you add things like bread and a salad.
More notes: You can leave out the dumplings and put more potatoes in if you can't be bothered with the dough etc. Crusty bread dipped into the stew is fine too. I do love dumplings though...so I hope you give these ones a try.
This is also ideal for cooking in a Doufeu pot, my new love. I'll write more about this wondrous pot soon.
Submitted by
maki
on 2006-12-20 10:28.
Filed under:
vegetables
winter
beef
slowcook