Banana coconut cake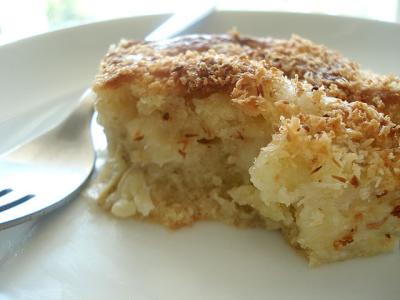 Some recipes come about from long experimentation and several tries to try to perfect them (like those darned bunnies, or my ongoing attempts to make natto at home). Others just seem to happen. We had a bunch of bananas that were rapidly turning very brown and spotty on the kitchen table. I froze some (nothing like frozen bananas as treats), and turned some into a cake.
It's nothing fancy at all - it's basically a pound-cake like base (but with a bit less sugar), with added cut-up bananas. The coconut part was added on a whim also. The cake doesn't rise much, probably because of the bananas, but it's moist, not too sweet, and very comforting. It's perfect with a cup of tea.
So far in my life I've not had the opportunity to go to Hawaii (unless you count a short layover en route from LA to Tokyo) but I sort of imagine that this cake would not be too out of place there.
Banana coconut cake
Note that there are equal amounts in weight of eggs, butter, and flour. So, first weigh your cracked eggs, and then use the equal amounts of butter and flour. In my case the two large eggs I had came out to just about 120 grams.
2 large eggs (about 120g / 4 oz total weight)
120g / 4 oz unsalted butter
120g / 4 oz cake or all-purpose flour
100g / a bit less than 3 oz raw cane sugar or light brown sugar
1 tsp. baking powder
3 medium ripe bananas, cut up into smallish pieces
1 Tbs. brandy or 1 tsp. vanilla extract
2 Tbs. milk or soy milk
4 Tbs. dessicated coconut
extra butter for the pan
Equipment: 8 inch / 20cm square cake or brownie pan, electric or handheld whisk, kitchen parchment paper
Preheat the oven to 180 °C / 355° F.
Butter the cake or brownie pan and line with parchment paper, OR butter and flour the pan.
If the butter is still hard from the refrigerator, put it in a bowl and nuke it for a minute to soften.
Mix together the flour and baking powder.
Cream together the butter and sugar with the whisk until blended and fluffy. Add the eggs and whisk some more. Add the flavoring (brandy or vanilla) and milk.
Fold in the flour and baking powder, and fold in the bananas. Don't overmix.
Pour the batter into the prepared pan. Sprinkle the top with the dessicted coconut.
Bake for about 40 minutes or until a skewer or chopstick inserted in the center comes out clean.
Serve warm or at room temperature.
Notes
If the coconut looks too brown, put a piece of foil over the pan until the cake has finished baking through.
Submitted by
maki
on 2007-04-10 14:45.
Filed under:
baking
cake
quickcook