There really is a butter shortage in Japan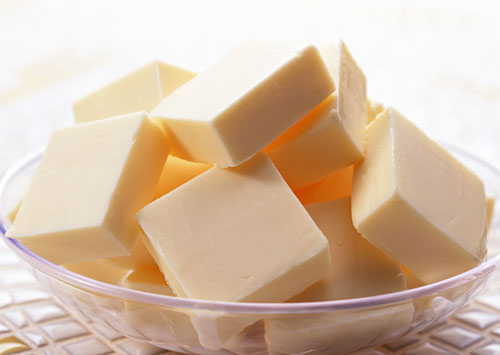 I've been in Japan for the last couple of months, visiting family and so on. Whenever I'm here my I get a lot of requests to bake things, since I am known as the family baker for some reason. Early on my Aunt Satsuki, who is a great cook, warned me to stock up on butter. When I asked her why, she said that there was a severe shortage. At first I didn't believe her -- a butter shortages? In this day and age, in a wealthy country like Japan? But I quickly realized that she was right. There really is a butter shortage, and butter is actually being rationed at supermarkets and by other sellers to one block per customer, at least in the Tokyo area. I've never experienced this kind of ongoing non-emergency period rationing before, so it feels very strange.
The reason for this butter shortage is complicated, but it basically comes down to a lack of supply. In the short term, the severly hot summers of the last couple of years apparently exhausted the dairy cows and caused them to produce less milk. But there seem to be more serious long-term reasons too. Japan is made up of 4 big islands and thousands of small islands; of those big islands, the northernmost one, Hokkaido, has the type of climate and geography that's most suited to dairy farming. Ever since cattle started to be farmed for food in the late 19th century (prior to that the only cows around were working ones), Hokkaido has been the dairy of the nation. However, since it's a bit far away from most of the big population centers, most of its milk production has traditionally gone to making butter and skim milk. Fresh milk has been mostly produced at farms closer to the big cities. However, it seems that for several years now dairy farming in Hokkaido has been declining, along with the production of butter and skim milk. Dairy farming nationwide has been declining too as the population ages and the farming population continues to dwindle. (Other reasons have been cited too, such as the rise in the price of imported feed due to the dropping yenIronically this decline on the supply side has come at a time when the interest in home baking has been growing, not to mention the increasing westernization of the Japanese diet. Butter is being consumed than before, but domestic production is not keeping up.
The Abe government has imported "emergency shipments" of butter twice already this year. But unless it can also do something about domestic dairy production, butter may be in short supply for some time. (One indication of the realness of the shortage is this: the Ministry of Agriculture, Forestry and Fisheries (MAFF) has a long information page (Japanese) for concerned consumers. Another indication is the price of butter - 200g of a mass-produced brand of regular salted butter costs 400-500 yen.)
Despite reports floating around about "butter refugees" and the like, the rationing situation is not really at a wartime level or anything. The limitation that some stores are placing on purchases is one block per type of butter per customer, so you could theoretically buy a block each of all the butter brands the store carries. What seems to be happening to some extent is that some people are hording butter, causing some stores to run out of stock quickly. The everyday butter my mother buys to spread on toast has always been available at the store she usually gets it from.
I've discovered that I need to scramble a bit to get enough butter to keep up with the demand for pound cakes and panettones though. I've been ordering them from baking supply stores in 500 gram blocks -- they too have a 1 block per customer limit, but again I can order 1 block of several brands and types of butter (you can usually get unsalted, salted and cultured butter). It's made me try different brands of butter, which is interesting. But again, just having a limitation on a basic food ingredient is a new and unsettling experience for me. And the thought that at least two of the reasons for this may be 1. climate change (= severely hot summers) and 2. the aging population (the decline in farming) is very sobering.
(If you don't have a butter shortage in your area, check out my recipe for poundcake with brandy soaked raisins.)
Submitted by
maki
on 2014-12-10 08:17.
Filed under:
essays
ingredients
japan
japanese culture