Christmas in Japan, Switzerland, elsewhere
A reader emailed me asking, how people celebrate Christmas in Japan.
My answer to that would honestly be... "Not very well."
It really has to do with the fact that there is a lack of tradition. Japan is not a Christian country, and the number of people who identify themselves as Christian is miniscule.
And even if you grow up in a Christian household, the traditions are just not there. My father's family was unique in that they were indeed Christian (both my grandparents were Salvation Army officers, though they both worked at a Salvation Army hospital rather than...religious activities.) But did they celebrate Christmas in fancy ways? Nope.
Christmas in Japan is mostly, or maybe even all, about the decorations and the lights and the special things to eat. By which I mean mainly the ubiquitous Christmas Cake, which is just a regular decorated cake with Christmas-y flourishes. Most Christmas cakes sold at shops have strawberries on them, for the cheery red color. Strawberries in December! Not good. There's a reason for fruit cake...in December, you mostly get dried and sugared fruits.
Above all though, Christmas in Japan means commercialism. You feel mildly or overtly pressured to buy gifts, even though you're probably not a Christian and neither is your recipient. The Christmas gift thing gets a bit jumbled up by the tradition year-end gift called oseibo, which is sent to people you want to say thanks to, or suck up to, or generally want to be on the good side of. (In-laws, bosses, clients, and the like.)
So, in my humble opinion, Christmas in Japan sucks. The really magical part of this time of the year is just a week later, New Year's Eve and New Year's Day.
It was only when my family moved out into the world to live in England and America, then later on when I went wandering around Europe on my own, that I experienced what Christmas could be. In my biased view, Christmas in Europe is where it's at. (I'm not even accounting for the truly religious parts of that much, such as attending mass.) Christmas in the U.S. is indeed very colorful and cheerful and festive, but it's also awfully commercial. You have all the Instant Traditions (doing something two years in a row is not a tradition, imho), the rash of special Xmas CDs from various hip-hop artists filling the air, the blindingly colorful holiday sweaters adorning overly ample bodies, and the commercials. Oy vay the commercials.
That is not to say of course that commercialism has not taken over in Europe too. Oh boy has it ever. But still, there are the long-running traditions that keep things grounded. Decorations tend to be a bit more restrained. The food and drink is rooted in old customs. The cold air seems to always smell faintly of spices.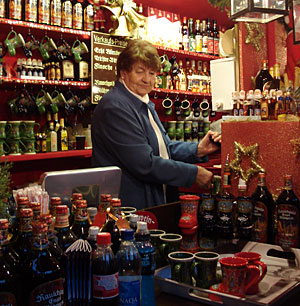 I think I am lucky though: I get to enjoy Christmas, and still follow up with a Japanese style New Year's. My build-up cynicism melts away, and I think, what a wonderful time of the year it is. It's also a bitter-sweet time because I am so far away from most of my family. If you can spend Christmas and New Year's with your family, wherever that might be, that is the best of all.
In no particular order, some of my favorite Christmas things (what are yours?):
Christmas dinner in England. Christmas pudding, mince pies, turkey or goose with bread sauce...
Stollen from Germany, especially Dresden
Real pannetone from Italy, especially from Milan. Once you have tasted a really good, buttery pannetone you can't go back.
Christmas nougat in Provence, rich with honey
Glühwein, mulled wine, to warm you from head to toe as you totter around a Christmas market
In Switzerland: Wienachtsguetzli, little Christmas nibbles such as Mailander cookies, butter-sugar cookies, and Grittibänz, figure shaped breads...especially the ones from Sprüngli
Lebkuchen, spiced filled gingerbread, from Germany
Handmade Christmas stockings hanging from a mantelpiece, even if they're empty
The way one of our local bakeries decorates their facade to look like a gingerbread house:
My favorite Christkindlmärkts: in Salzburg, Strasbourg, and Aix-en-Provence. (But if you have to do just one representative market, the crowded and rather overwhelming one in Nurenberg is the one...)
My favorite Christmas decorations: handmade balls made with lavendar and ribbons, from Provence
The best Christmas in New York, my old stomping grounds: the Christmas tree at Rockefeller Center.
Submitted by
maki
on 2007-12-05 20:11.
Filed under:
japanese
swiss
christmas