Cute yet modern Swiss Easter bunny bread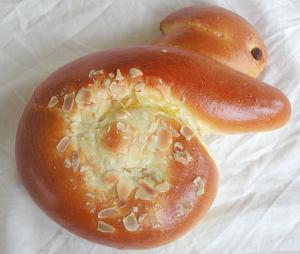 Swiss people love cutely formed bread, just as much if not more than Japanese people. Behold, this masterpiece of adorable yet modern design, in the form of an Easter Bunny bread. (click on the image from the web page to see it larger).
The almond slices scattered on top were a bit misleading. I was rather anticipating some kind of sugar-almondy filling, but it was just slightly sweetened white bread all the way through. Perhaps the cuteness is enough sugariness for one small bread.
For more Swiss Easter Bunny goodness, read about the chocolate Easter Bunny making class I took last year.
Submitted by
maki
on 2007-03-23 21:18.
Filed under:
bread
swiss
easter
holidays