Double satoimo (taro root) with miso, sesame and honey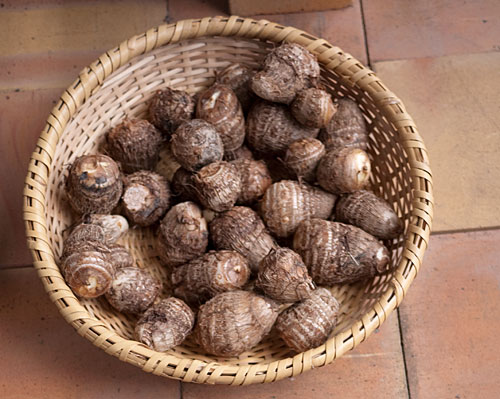 Satoimo (taro root) (explained in detail previously) is in season right now in Japan. Although satoimo is available year round these days, it's still considered a harbinger of the fall season, because of its dense, homey texture. This way of preparing them is a variation of on a very traditional country recipe, the Japanese name for which is satoimo no tomo ae, or satoimo dressed with itself. This just means that some mashed up satoimo is mixed into the sauce that coats the satoimo pieces, giving it a wonderfully creamy texture.
Traditional recipes for this usually call for some mirin or sake and plain white sugar, but I've used honey instead of the sugar and left out the mirin and sake. The honey adds an extra flavor dimension to make up for the lack of mirin and sake. The most frequent complaint I get is that so many traditional Japanese recipes call for mirin, sake or both, so by leaving those alcoholic ingredients out I hope it will encourage more people to try this. Now, you do have to get hold of the taro roots themselves...potatoes or sweet potatoes won't really give the same results.
Recipe: Satoimo (taro root) with sesame, miso and honey (Satoimo no tomo ae, hachimitsu iri)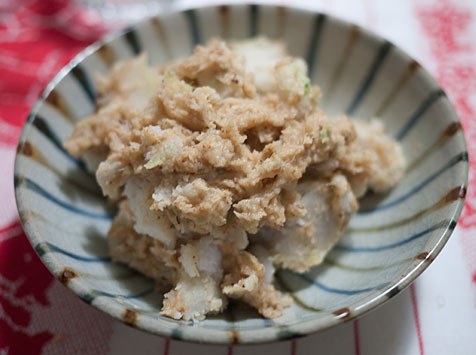 Serves 3 to 4 as part of a Japanese meal
14 medium sized taro roots
3 tablespoons sesame seeds
3 tablespoons honey
3 tablespoons white (light brown) miso
Follow the instructions on this page for preparing and cooking the satoimo or taro root in the microwave. If you don't have a microwave, you will have to boil the taro roots in water until cooked through and peel them. This is one job that is really well suited to the good old nuker.
Peel the satoimo. Set aside two of them, and cut the rest into bite sized chunks. Set aside.
Toast the sesame seeds in a dry (no oil added) frying pan over medium heat, until the seeds star to 'pop' and they smell nice and toasty. Take them out of the pan and onto a plate to prevent them from over-toasting.
If you have a food processor, put the sesame seeds in the bowl with the chopping blade. Process until the seeds have been ground up - they will smell great. Add the two satoimo you set aside, the miso and honey, and process until smooth. Taste, and adjust the seasoning if needed by adding a bit more miso or honey.
If you don't have a food processor, you will need a mortar and pestle or a suribachi. Grind up the sesame seeds to a powder, add the set aside satoimo and mash them up, then mix in the honey and miso.
Mix the cut up satoimo with the sauce until the pieces are well coated.
This keeps well for 2 to 3 days in the refrigerator. The sauce on its own is great too. I actually prefer to use the sauce alone as a little side dish in bentos.
Submitted by
maki
on 2010-11-08 09:10.
Filed under:
japanese
vegetables
fall
vegetarian
washoku