The Great Natto Diet Rush: The sticky road to weight loss (maybe) (OJFTMHYLW extra)
I was not going to talk about natto as part of my Odd Japanese food that may help you lose weight(OJFTMHYLW) series this week. But coincidentally, natto as a diet aid has been in the news big time in Japan, with claims that a 'magical' substance in this sticky food helps people to effortlessly lose weight.
Natto is one of those legendary really odd traditional foods that you probably have had to grow up with to appreciate, in the same league as Scottish haggis or Norwegian lutefisk. Natto are cooked soy beans that are fermented with a natural bacillus that is found on rice straw. The fermentation process makes them very sticky (think of the insides of okra, but much stickier) and very smelly. They are an excellent source of protein, and easily digestible, so if you can stand the smell and texture they are probably great additions to your food plan. But...from experience I have to say that the number of people who didn't grow up with natto who like it is pretty low. As I reported back in my original post about natto, most people back away with a look of fear and disgust.
Earlier this month, a Japanese "health" TV program called Aru Aru Daijiten broadcast a show about the amazing natto diet. Aru Aru is very popular in Japan, but it has more in common with programs like Ito-ke on shokutaku, pseudo-science presented in an entertaining and comical way, than serious science. Citing some scientific studies (none, oddly enough, conducted in Japan, where you'd think scientists would be most likely to study the health benefits of natto in depth) they claimed that eating 2 packs of natto, one in the morning and one in the evening, would help people lose weight without any further effort or change in diet. This was, they said, due to the isoflavones in the natto (and some other substance) which caused the secretion of DHEA.
[Update: now the president of the network that shows the program has publicly apologized for "broadcasting a programme containing content that was not based on facts". So maybe it's not such a sensational discovery after all :) ]
They then conducted their own 'scientific' test, consisting of 2 groups of 4 people each, who ate the prescribed natto for 2 weeks. The results were quite impressive: up to weight 3.4 kg (7.5 pounds) was lost by the subjects in those two weeks. They also claimed that various health barometers like cholesterol, blood sugar, blood pressure, etc. went down dramatically too. They recommended that the natto be mixed at least 50 times to really develope those sticky strings, as well as leaving it for at least 15 minutes before eating, for maximum effect. I guess this means that the beneficial ingredients are in the sticky parts. Here's how natto looks after this treatment.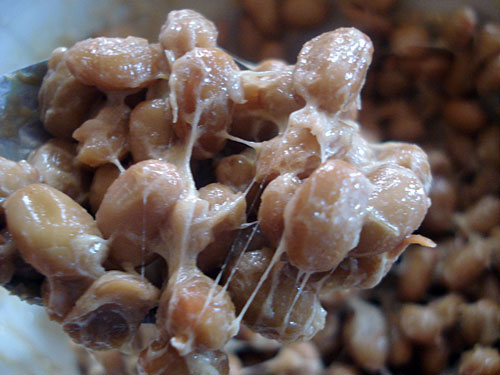 Yes this natto was eaten after the shot.
Interestingly, today (January 20th) there is a statement (Japanese) on their web site retracting many of those claims, such as the fact that that two of the subjects' announced results were erroneous; that the statements that were supposed to be made by an American scientist were wrong or nonexistent, and that they didn't even conduct some of the tests that were shown during the program. They even admitted to showing different people in the 'before' and 'after' shots! Whether connected to this or not, they've cancelled the showing of their regular program this Sunday the 21st. (The program has now been suspended indefinitely. Also see retraction by network president above. Incidentally, apologizing to the public is a popular thing to do by company officials and politicians in Japan when things go wrong.)
It may be too late though, because the original program caused a mass rush on natto in Japan, causing sellouts at supermarkets.
The one thing that I think is valid is that natto is soy beans, which are quite filling, so that may decrease food consumption anyway. About those other claims...well I just don't know. It just goes to show how fad-crazy Japan is, and how diet fads are prevalent all over the world.
Now I did grow up with natto, and I love it. But two packs a day, every day? I don't think even I could stand that. Besides the fact that natto in Switzerland is not cheap, and making my own natto is territory I have yet to explore. (My grandmother used to make it sometimes, and all I remember is that it takes on the odor of an uncleaned toilet at one stage, before it 'settles' at the end to edible levels.) There's also the issue of natto-hating co-habitants, friends and other acquaintances who may not appreciate Perpetual Natto Breath.
If you're brave enough though and want to test those claims... If you do, let me know how it went. :) Remember, that's 2 packs of natto a day, morning and evening, every day, with your regular meals. You may have to adjust your breakfast and dinner menus though...cornflakes with natto may not fit well.
Bonus recipe: natto with raw egg
1 pack natto
1 raw fresh egg
soy sauce to taste
1 cup hot rice
Mix the natto well until it's very sticky. Break in the egg and whip rapidly with chopsticks until all creamy. Add soy sauce to taste, and optionally mustard (the English kind, not the French kind), finely chopped green onions, bonito flakes, etc.
Mound the rice in a bowl and make a hole in the middle. Pour in the natto-egg mixture. Mix well. Slurp immediately.
Related links
Submitted by
maki
on 2007-01-20 16:19.
Filed under:
japanese
lighter
weightloss
diet
ingredients
natto
legumes