Holy Matsutake!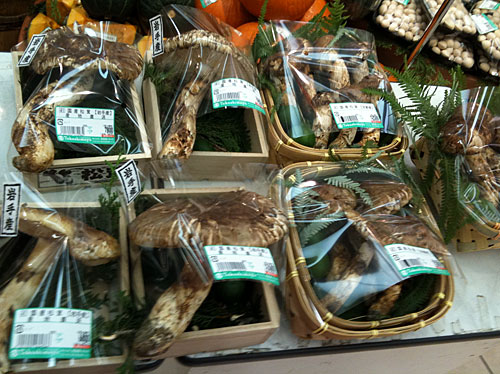 Have you heard of the matsutake mushroom? It's the most highly prized kind of mushroom in Japan, held in high regard for its fragrance and unique flavor. It has the same kind of position that is held by truffles in European cuisine. It's now matsutake season in Japan, and I saw some for sale today at my favorite department store food hall. (Note: please excuse the rather iffy photos - I took them with my 3G iPhone.)
The prices differ, depending on where the matsutake come from, and their condition. Here's one from Iwate prefecture in the northern part of Japan. It's pretty big, but the cap has opened up. It sells for 12,600 yen, which is bout US $155 or 110 Euros at current exchange rates. For a single, albeit large, mushroom. Next to it you can see one priced at 6800 yen (US$84, €60), which was the cheapest one they had. It looked a bit sad, though I'm sure it's still fragrantly good and all.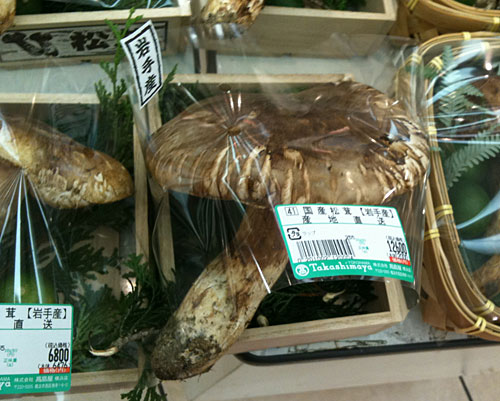 Moving further up the scale, here is a package of smaller matsutake with closed caps. They come from Nagano prefecture, and cost 31,500 yen ($389/€277).
The best matsutake are held to come from the great city of Kyoto and environs. So at the top of the scale, behold this packet of small, closed-cap matsutake from Kyoto. Price: 52,500 yen - $648 or €462. I am guessing that the packet has around 100 grams of mushroom, so that comes out to $6,480 per kilo (€4,620) or $2900 or so per pound.
Is it worth it? Well I guess to some people it is, since it is for sale. I haven't been able to bring myself to splurge on one yet though, even the cheapest Iwate prefecture ones. I mean, I could buy, say, an iPad here for less than the price of a packet of the Kyoto matsutake. There are cheaper imported matsutake, but they're held to be far inferior to the wild domestic ones.
How is matsutake prepared? The most typical traditional ways are:
simply grilled, preferably at the table over a special stone and charcoal grill (so that the guests can enjoy the aroma)
gently steam-cooked in some dashi stock in a small special purpose ceramic pot (dobinmushi 土瓶蒸し)
the most frugal way is to cook a small amount with rice, a la my vegan mushroom rice
If you are lucky or rich enough to get hold of a matsutake, I'd recommend the dashi stock method first.
Now a question for you - would you pay these kinds of prices for any food? Have you? What's the most you have paid for something edible?
Submitted by
maki
on 2010-10-21 17:50.
Filed under:
japanese
ingredients
mushrooms
offbeat
japan