Lemon squares revisited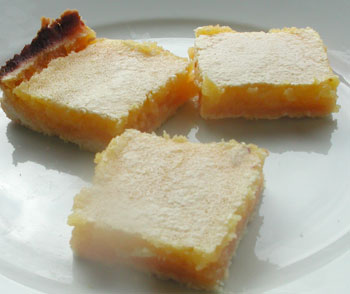 A while back I posted a recipe for lemon squares, a sort of cross between a cookie and a tart with a lemon-curd topping. Some people tried it out, and found it a bit too tart. I went back and fiddled around with the proportions of sweet to sour (lemon juice), and here is the result. There is more curd, which I think makes it even better. The curd is quite a bit sweeter with 1 cup of sugar, and the extra egg makes it creamier also.
I made this as part of my Easter cookie making orgy, together with chocolate chip and almond cookies and meringues. The lemon yellow curd is beautiful as you can see, and makes a nice visual as well as taste contrast with the chocolate chip cookies.
Even better lemon squares
1/2 cup (4 oz, or 120 g) unsalted butter, cut into pieces
1 1/2 cups flour - cake flour, or all-purpose, not bread flour
1/4 cup icing (powdered) sugar
1 cup granulated sugar
1/4 tsp. baking powder
3 eggs
2 Tbs. flour
1/2 cups fresh squeezed lemon or lime juice
1 Tbs. grated lemon or lime rind
Preheat the oven to 350°F / 180°C. Put the butter, 1 1/2 cups of flour, and icing sugar into the food processor. Process until mixed and crumbly. Alternatively, mix the ingredients together with your hands until crumbly. Turn out into a 9" x 9" / 20cm x 20cm square baking pan. Press the mixture around the bottom and sides. Bake for about 15 minutes until lightly browned.
In the meantime, make the filling. Add the remaining ingredients to the food processor and process until blended (or mix by hand). Pour the filling into the crust, and bake for an additional 15 to 20 minutes. Cool and cut into squares.
Makes 16 squares.
Submitted by
maki
on 2004-04-12 10:49.
Filed under:
dessert
snack
baking
cookies
sweet
lemon