My mother's glazed sardines (Iwashi no kanroni)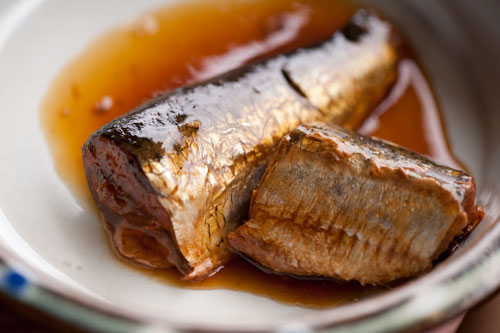 One thing I'm really enjoying here in Japan is cooking simple things at home with my mother. To me, quintessential Japanese home cooking is a dish like this. Sardines, which happen to be quite inexpensive (and sustainable too), are slowly cooked until they are well flavored, meltingly soft, and glossy with a typically Japanese sweet-salty sauce. (The 'kanroni' (甘露煮) in the name refers to the method of simmering something in this sweet-salty sauce.) It uses just a few basic ingredients, so please give it a try if you can get a hold of very fresh sardines or similar oily fish. (The fish do have to be very fresh for this to be really good and not-fishy.)
I had a bit of a job working out this recipe, which comes from my mother, since she really doesn't measure anything when she makes this! After some trial and error, I think these ingredient amounts work well.
Recipe: Glazed Sardines (Iwashi no Kanroni)
Makes 4 to 6 servings, to accompany plain rice as part of a Japanese meal
16 to 20 medium sized sardines
1 inch (2.5cm) piece of fresh ginger, peeled and thinly sliced
1 Tbs. sake
4 Tbs. soy sauce
3 Tbs. mirin
5 Tbs. raw cane sugar (or light brown sugar)
Cut the heads off the sardines. De-scale the sardines by running the blunt edge of a knife or an unused (and clean) plastic card down them at an angle; then make a slit down the belly side and remove the guts - or have the fishmonger do this for you if possible. Cut the tails off too if you wish; if the fish are quite large, cut them in 2 to 3 pieces each. Wash the sardines well under running water, and wipe well with paper towels.
Put all the ingredients except for the fish in a pan that is large enough to hold the sardines in one layer. I use a large sauté pan for this. When the liquid has come to a boil, add the sardines. Lower the heat so that the liquid is just bubbling. Simmer slowly for about 20 minutes, turning the sardines over occasionally to coat them with the sauce.
At this point, you can continue cooking the sardines for an additional 20 to 30 minutes, but the fish may fall apart a bit. If you want to preserve their appearance as in the photo, take the fish out with a slotted spatula, and cook the liquid down until it's syrupy. Add the fish back, and gently heat them through, coating with the sauce.
Serve warm or cold, with some of the sauce spooned over the fish. Store in the refrigerator together with any leftover sauce, for up to 2 days. Best served with hot, plain steamed rice, miso soup and a vegetable side dish (take a look through the Japanese recipe archives for some ideas!)
Submitted by
maki
on 2010-03-14 02:44.
Filed under:
japanese
fish
washoku
mom's recipes