Nora Ephron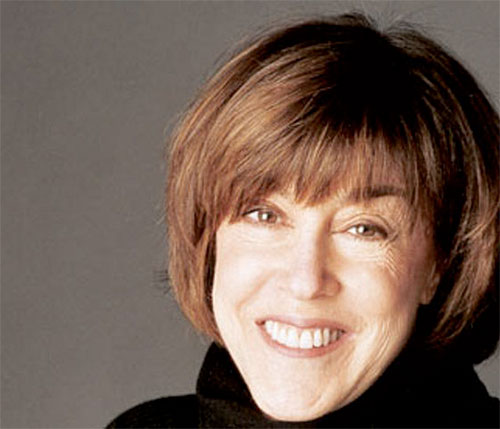 Essayist, journalist, screenwriter and movie director Nora Ephron passed away yesterday at the age of 71 (New York Times obituary). I'm writing about her here, only the second time I have written a tribute to someone who's passed away in nearly 10 years of Just Hungry, because in many ways she influenced what I do now.
You may know Ms. Ephron mostly as a movie director (You've Got Mail, Julie and Julia) and screenwriter (Sleepless in Seattle, When Harry Met Sally),or maybe as a blogger and editor for the Huffington Post. But for me, she will always be the funniest and sharpest lady writing about things that women really care about. From her early works like Crazy Salad, where she wrote about breast size, to her recent works about how it basically sucks to get old, she always nailed it. (Although I almost screamed "NO!" when I read the last line of A Few Words On Breasts when I read it the first time, when I was 17. I had the opposite problem from what she did. I've always wanted small cute boobs. Now that they're almost hanging down to my knees, more than ever.)
But the reason why she's here on a food site is because she also wrote a lot about food. The most famous example is her semi-autobiographical novel Heartburn, which is a fictionalized account of her breakup with Carl Bernstein. (In case you don't know, he was one of the Washington Post reporters that broke the Watergate story.) Almost every chapter has a recipe in it that is somehow tied to the story. I've tried all of them except for the lima beans and pears, and they are all terrific. Her way of making, and eating, mashed potatoes is what I have copied whenever I was exceptionally blue ever since I read the book back in the mid '80s. The tomato and basil pasta is also to die for.
She wrote about food in many other ways too. In Scribble Scribble, a collection of essays about the media, there is a biting essay about Dorothy Schiff (the owner at the time) and the New York Post that ends with a simple but delicious recipe for borscht. In the same volume she has an essay about Gourmet magazine (or was it Bon Appetit) that sums up why I basically stopped buying most American food magazines. She's not known as a food writer, unlike M.F.K. Fisher or Calvin Trillin, but in her own way she was able to describe how intertwined food is with most other aspects of life, and how joyous cooking and eating can be, as vibrantly as anyone. And of course, food featured prominently in her movies. Who can forget that scene in the deli in When Harry Met Sally?
I think that in the end, I don't want to be pigeonholed as a cook or a food writer. I want to be remembered as a writer who wrote in an entertaining and witty way about the things she cared about. Like Nora.
RIP, Ms. Ephron. And thank you for everything, especially the mashed potatoes.
Submitted by
maki
on 2012-06-27 17:53.
Filed under:
essays
writers
personal