Postcards from Southwestern France: Gazpacho or cold soup, Cassoulet, Albi, Moissac, Conques
We left Provence this week for a little trip to the Midi-Pyrénées in the southwestern part of France. We've been trying to save money by cooking at home most of the time since we started our nomadic existence in France (see previously; not that that's much of a hardship, since the produce and other foodstuffs in Provence are spectacular). But this week we've been staying in an apartment in a 17th century townhouse right around the corner from the Toulouse-Lautrec Museum in the heart of Albi, the capital of the Tarn Department. Since there are tons of great little restaurants here, we've been indulging ourselves a bit.
One thing I have noticed while eating out a lot more is that many places are serving little cups of what they usually call gazpacho, as an amuse bouche or as part of the entrée (appetizer). They are basically cold soups, made with various vegetables. I'm not sure this is a regional custom, but it is very nice regardless. Here's one we had the other day in the small medieval town of Moissac, as an amuse-bouche. It was basically a cold tomato juice, but very nice and refreshing.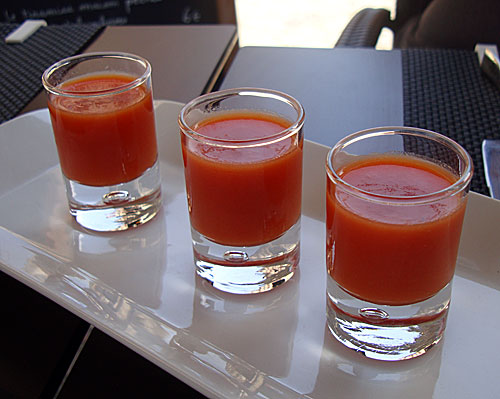 Here's another kind of gazpacho - a cold melon soup, served as an amuse bouche also. It was just pureed melon with nothing added I think.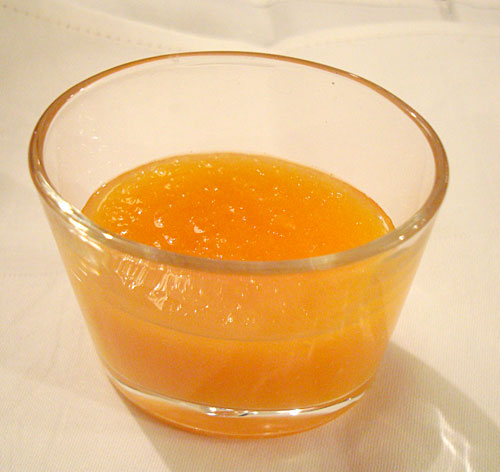 Here's another one, served as part of an entrée. This time it was a cold sweet pepper soup.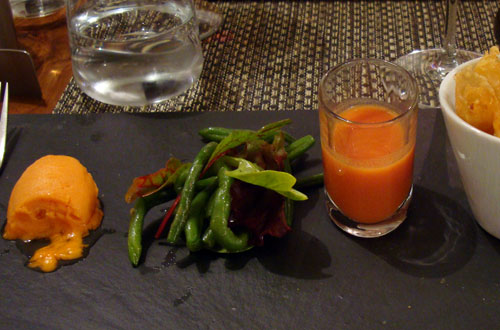 Here's a more classic gazpacho, made with tomatoes and cucumber, served in a tumbler. This was a full entrée portion.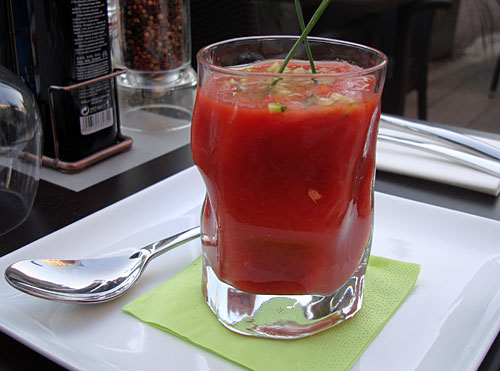 Finally, here's my favorite - it was merely described as a gazpacho des legumes (vegetable gazpacho). It was a cold vegetable soup; I tasted sweet corn, maybe carrot, celery, and so on. I know gazpacho purists may shake their heads, but it was really refreshing and delicious. It was one part of an amuse bouche - the other part was what you see on the spoon in the back, a piece of rough paté with a tiny bit of chutney. The combination was really nice.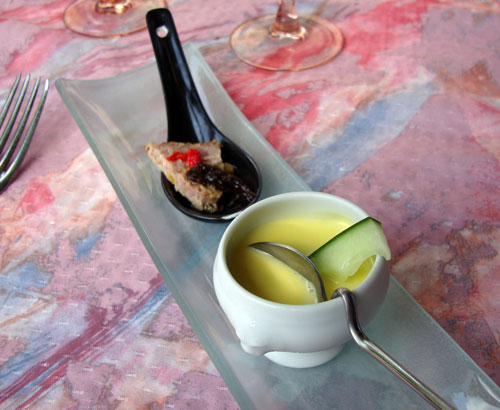 Once we get back 'home' to Provence, I think I am going to start more meals with a little cold soup of some kind. It's really a great start to a summer meal.
Cassoulet and more food from the region
The most famous regional dish is cassoulet, the hearty dish made of white beans and loads of hearty (fat!) meaty bits, such as duck, sausage, and - fat! I've had cassoulet elsewhere many times before, and made it myself, but the the way they make it here is really much better in my opinion. Here's a relatively light yet still rich version that we had at a restaurant with the adorable name of La Fourchet A Droite (The Fork (is) to the Right) in Albi. The abundance of fat just makes it unctuously creamy rather than greasy. I liked it so much, I've managed to have it twice so far...and am contemplating having it again for dinner tonight! (Actually cassoulet is supposed to have originated in the town of Castelnaudary, which is about an hour from Albi. I think I need to come back here when the weather is cooler and more conducive to enjoying piping hot bean-and-meat casseroles.)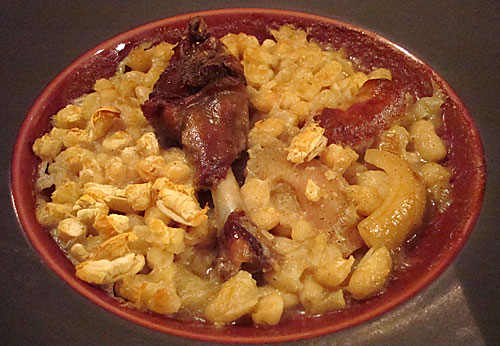 This is a Pastis Gascon, a speciality of the Gers region, also in the Midi Pyrénées. It's a pastry made of many layers of phyllo dough, and is filled with Armagnac-soaked and caramelized apple. I'm not sure I totally love it, but it is so pretty to look at.
I much preferred this pie though. It was filled with poached apricots and served with a sour cherry sauce and rich vanilla ice cream. Gorgeous! This was dessert at the meal that started with the gazpacho des legumes amuse bouche pictured above, at the Hotel Sainte Foy in Conques.
A little more Albi, plus Conques and Moissac
Albi is a fairly large town, but very mellow, and not crowded at all, even though it is the hometown of Henri de Toulouse-Lautrec and has a fine museum dedicated to him, not to mention a big, fortress like cathedral, beautiful riverside views, a quaint old town and more. The town is built of red brick, which is a gorgeous pink-rose color. Here it is in the early morning...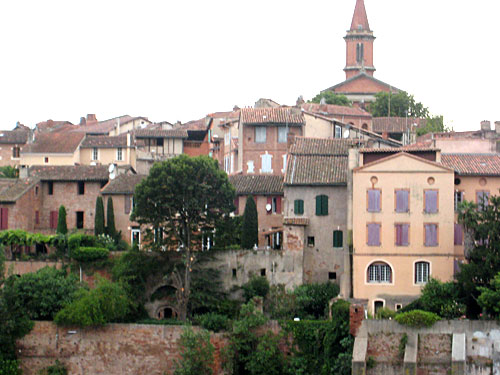 ...and in the late afternoon...
Here's the inside of the large Marché Couvert (covered market) in the center of town. It has several produce stalls, a fish stall, bakeries and pastry shops, and a lot more. It may not be quite as awesome as the larger markets in Provence, but it's still quite good. We bought stuff from here for the meals that we ate in.
I loved this little store, called L'Artisan Pastellier. They sell clothing, accessories and other products made from the blue Pastel dye that was highly prized in Europe until indigo was imported from India. The blue is softer than indigo. They also sell art pastels, watercolor paints and other art supplies, mostly made with vegetable based dyes. Their web site.
We also made side trips to the medieval towns of Conques (that's a photo of Conques up at the top) and Moissac. One reason why I brought my mother here is because she's been rather obsessed by the pilgrimage routes to Santiago de Compostella, and Conques and Moissac were key stops. Both are beautiful places, though Conques is quite touristy. Moissac is a bit more relaxed I think. The Gothic cloister there is breathtaking.
If you'd like to see photos, they are all on my Flickr.
All in all, we really enjoyed our week here, even though the heat was stifling for much of it. (It felt a lot more humid than Provence, though that may just have been an anomaly.) I don't think I would choose to live here full time over Provence, but I think I'll try to come back here again in the cooler months - for, you guessed it, more cassoulet.
Submitted by
maki
on 2009-07-17 15:04.
Filed under:
food travel
soup
vegetables
summer
france