Pound cake with brandy soaked raisins for a low-key Christmas
Truth be told, I'm rather exhausted. I've done so much travelling lately, and there's more to come in January as I go on a mini-book tour. The proposed changes to our house were finally approved by Service Départemental de l'Architecture et du Patrimoine and other powers that decide how a village with roots in the Roman and Medieval periods should look, so we now have to start the process of deciding on fixtures and finishes and anxiously going through our finances to see how much work we can actually get done.
Given all of that, we've decided not to do a whole lot for Christmas this year. We won't have a big Christmas dinner or anything, just a low-key celebration at home.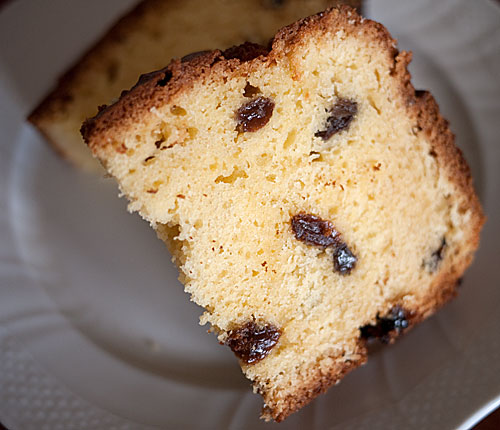 Part of our low-key Christmas will be this simple yet delicious, buttery pound cake. I didn't have time to make a Christmas pudding weeks in advance (though I made one for my mom to enjoy back in Yokohama, back in mid-November.) It's really easy to put together, and the brandy or Calvados soaked raisins add just enough holiday cheer. It's also a cake that tastes better after a day or so, so I can get it done in advance and not worry about dessert.
Pound cake is called quatre-quarts, which means 'four quarters', in France, because it has 4 ingredients in 4 equal amounts. It's popular in Brittany, home of delicious butter and salt. (Did I meantion that we almost decided to settle down in Brittany last year? The butter and salt had a lot to do with that.) This pound cake has quite a lot of added salt, which makes the flavor of the butter really come to life. Note that I used unsalted butter and add salt, rather than using pre-salted butter. This gives me the control over how much salt goes in. I've used enough so that you can taste the salt, as you can in all Brittany pastries, but not so much that it's overwhelming.
Using Calvados to soak the raisins keeps it northern French in feel, but any good brandy will do, or even rum if that's what you have on hand.
Recipe: Pound cake with brandy soaked raisins
This can be baked in a square (such as an 8 x 8 brownie pan), rectangular or round cake pan. It's not at all fussy in that respect.
The 4 base ingredients in the cake should be equal in weight. For the best results, I highly recommend using a scale, although I have given cup amounts too. But before you weigh out the ingredients, please read through the instructions.
The amount of raisins is not that critical - you can leave them out if you prefer a plain cake.
150g / 5 1/2 oz (about 1 US cup) raisins

Enough brandy or Calvados to cover the raisins, about a cup

5 'large' eggs, approximately 250g / 8.8 oz (1 1/4 cups)

250g / 8.8 oz unsalted butter (1 cup plus 2 tablespoons) or the same amount in weight as the eggs
250g / 8.8 oz granulated sugar (1 cup plus 3 tablespoons) or the same amount in weight as the eggs
250g / 8.8 oz cake flour or all-purpose flour (2 cups) or the same amount in weight as the eggs
2 tsp. sea salt

1 tsp. baking powder

extra butter and flour for the pan, unless you're using a non-stick pan
Equipment needed: An oven, 3 bowls (one for the eggs, one for the flour and dry ingredients, and the largest one for mixing everything), a flour sifter (optional), a wooden spoon, a spatula, a whisk of mixer or food processor.
At least a day before you plan to bake the cake, put the raisins in a glass or ceramic container and cover with brandy or Calvados. Cover and leave to soak for several hours. You can soak more raisins if you wish, and store them in the refrigerator for later use.
To bake the cake: drain off the liquor from the raisins. (Keep the liquor in a jar for flavoring other cakes and such.) If you're not using a non-stick pan, coat the inside of your pan with butter then lightly flour it, to prevent the cake from sticking.
Break the eggs and weigh them. 5 'large' eggs should come out to about 250 grams, but whatever the weight is, that is how much in weight of the sugar, butter and flour you will need. So, once you've weighed the eggs, weigh out the same amount of butter, sugar and flour.
Sift the flour, salt and baking powder together. (You can skip this step and just mix them together, but sifting does make the cake a bit lighter.)
Soften the butter - putting in the microwave for a minute does the trick.
Pre-heat the oven to 180°c / 350°F around this point.
In a large bowl, beat the butter and sugar together with a wooden spoon or a sturdy whisk until the mixture is white and fluffy.
Beat the eggs up and add them to the sugar-butter mix a little at a time, beating well between additions. (Using a mixer or food processor makes the mixing part go a lot faster.)
Add the flour mix a little at a time, incorporating it with a spatula. If you're using a mixer or food processor, make sure you don't over-mix after adding the flour or the cake will get a bit heavy.
Add the raisins and mix them in with the spatula.
Put the batter into the prepared pan, and put into the preheated oven. Bake for about an hour; start testing for doneness at around 50 minutes in, by poking the center with a skewer or chopstick or knife. If it comes out clean, the cake is done. If not leave in for a few more minutes and test again.
Take out of the oven and let cool before taking it out of the pan. This is how my most recent one looked. The top has cracked, but no matter.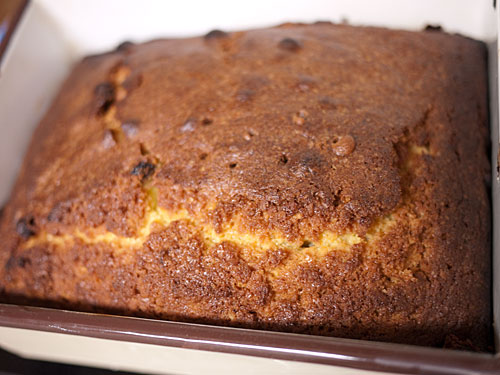 The cake tastes great when fresh out of the oven, but is even better the next day. It continues tasting good for a few more days.
You can serve it sliced, or cut into dainty cubes. For an adult dessert, put a slice or cubes on a plate, and spoon over a bit of the liquor you used to soak the raisins. Top with softly whipped cream that's been flavored with more of the liquor and a bit of sugar.
Submitted by
maki
on 2010-12-21 19:24.
Filed under:
dessert
sweet
cake
holidays