Rhubarb, ginger and berry smoothie to chase away a cold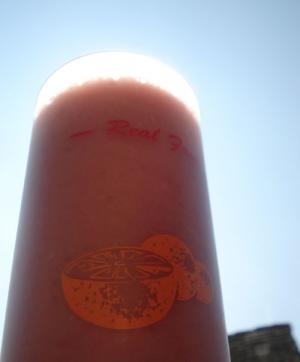 I have a raging cold at the moment. Stuffed head, fever, ringing ears, streaming eyes, the lot. What makes it worse is that the weather is glorious outside, and here I am stuck inside, groaning a lot and feeling sorry for myself.
In times like this the only things I can even think about eating and drinking are fruity yogurt, juices, and tea. This smoothie, which is an adaptation from a recipe in the adorable Innocent Smoothie Recipe Book, combines two of those elements and is tart yet spicy in a nice chest-clearing sort of way. It also tastes wonderful. Although, I'm pretty sure it would taste even better if my mouth didn't feel like cotton wool.
It's a good thing I took this picture against the clear blue spring skies before the cold took over at full steam.
The glass in the photo is a vintage '60s frosted-glass one I got at a flea market in New York. I have a set of 6. I love them and would kill anyone who broke them.
Rhubarb, berry and ginger smoothie
For the stewed rhubarb in apple juice:
1 carton of apple juice (1 litre or 1 quart) - organic, blabla preferred, or juice your own apples
4-5 stalks rhubarb, cut up
Stew the rhubarb in the apple juice until soft, about 10-15 minutes. This can be stored in the fridge for making the smoothies later.
For the smoothie:
1 cup stewed rhubarb and juice
1 cup fresh or frozen red berries - strawberries or raspberries or a mix
8 Tbs. plain yogurt
1 Tbs. ginger syrup (if you don't have ginger syrup, use honey)
1 tsp. ginger juice (grate some fresh ginger and squeeze out the juice)
Combine all in a blender. Serve in tall cool glasses.
Makes 2 servings (which you may consume by yourself if needed as medication)
Notes
It's also great without the ginger element. (The original recipe doesn't have ginger.)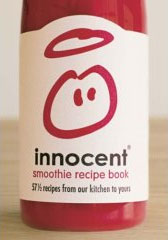 The Innocent Drinks Company is a U.K. maker of smoothies and other 'healthy' type drinks, with very hip and cute marketing. (They've recently branched out to Germany too.) In a way the book is another marketing ploy. It has cute bite-sized bits about saving the environment and so on, alongside the nice and sometimes quite imaginative smoothie ideas.
I do try to not over-indulge in smoothies since one glass of a smoothie can be like 3-400 calories, but nothing much else goes down as, eh, smoothly, when your tonsils are swollen.
Submitted by
maki
on 2007-04-13 12:45.
Filed under:
drink
fruit
rhubarb
spring