Takenoko Miso Potage: Creamy Bamboo Shoot Soup With Miso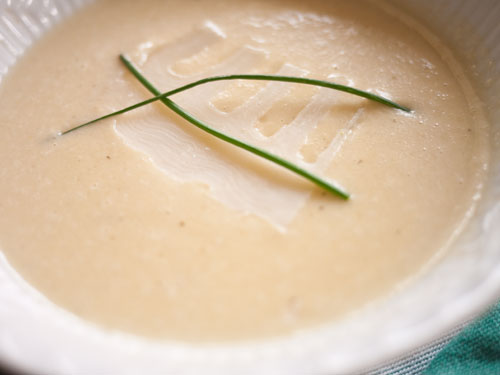 Takenoko or bamboo shoot is a quintessential harbinger of spring in Japan. My mother bought a couple of beautiful, huge shoots at a grocery store in Kyoto last week and had then shippedh ome to Yokohama. So now we're in the middle of takenoko heaven: takenoko rice, takenoko in stir-fries, and much more. As a change of pace from all the traditional takenoko dishes, I made this very creamy, subtle soup that was a big hit. The gentle flavor of the takenoko comes through very well, and it's a great way to use up bits of the shoots that aren't as good looking, like the heel. And the creaminess is not derived from a flour-based roux (it's thickened with cooked rice), so this soup is gluten-free. (You can make it vegan by replacing the butter with oil, but the flavor is better with butter.)
If you're in Japan or have access to a very well stocked Japanese grocery store, you may have access to fresh bamboo shoots. If so, follow the instruction here for pre-cooking them. Otherwise, use vacuum-packed precooked bamboo shoot if you can. If you can't find that either, canned, boiled, unflavored bamboo shoot (not pickled or dried) will do, although it won't be as flavorful.
Recipe: Takenoko Miso potage - Creamy Bamboo Shoot Soup With Miso
A gentle, creamy yet umami-packed soup made with bamboo shoot.
Prep time: 5 min :: Cook time: 25 min :: Total time: 30 min
Yield: 4 servings
Serving size: about 1 cup
Ingredients:
1

leek

, the white part only

1 tablespoon

unsalted butter

1 small

precooked bamboo shoot

, vacuum packed (preferred) or canned

240ml or 1 U.S. cup

water

480ml or 2 U.S. cups

whole soy milk or cow's milk

2 tablespoons

sweet white miso or Saikyo miso, or regular white miso with a pinch of sugar

salt and white pepper

, to taste

sansho leaves, chives or parsley

, for garnish
Directions:
Slice the leek thinly. Melt the butter in a heavy bottomed pan over low-medium heat, add the leek and saute until the leek is soft and translucent. (Adding a pinch of salt will help the onion soften faster.)

Cut up the bamboo shoot, leaving 4 slices for garnish. Add the cut up bamboo shoot to the pan and saute briefly. (Remember it's pre-cooked and already tender.)

Add the water and rice. Turn up the heat until the water is boiling, then lower the heat again to a simmer and cook for about 15 minutes, or until the water is almost all evaporated and the leek is very tender.

Blitz the contents of the pan in a food processor, mixer or with a stick blender until smooth. If you want it to be very smooth, pass through a sieve.

Wash out the pan, and return the puree to it. Add the milk. Heat up while stirring over medium heat, until it's bubbling gently. Take out a little of the mixture and put into a small bowl and add the miso. Stir until the miso is melted, then add to the pan. Season with salt and pepper to taste.

Serve with a slice of bamboo shoot, and something green (I used chives here).
Ingredient notes
I used a gorgeous, naturally sweet white miso, also from Kyoto in this recipe. Use saikyo miso if you have it (see Miso primer), or just a plain white miso.
I made this with some leftover rice. If you don't have any around, you can use 1 tablespoon of raw uncooked rice instead. In that case, increase the water to 1 1/2 cups and simmer for 20 minutes instead of 15, before the pureeing step.
If you don't have leek, use a medium onion instead.
You can try this method with many other precooked vegetables. Just steam, boil or even microwave any of these until tender, and use instead of the bamboo shoot.
peeled, broccoli stalks
carrot
parsnip
gobo (burdock root)
fennel bulb
By Makiko Itoh
Published: May 04, 2011
Type: soup, japanese, vegetarian
Submitted by
maki
on 2011-05-04 16:00.
Filed under:
japanese
soup
spring
vegetarian
yohshoku
gluten-free