holiday
(This is the web elf. This is one of the articles Maki instructed to post while she's on the disabled list.)
I love bunnies, and Easter is a great excuse to make something edible in a bunny shape. Last year, I made bunny bao. The year before that, I took a class in making chocolate bunnies. I've also made pastel colored Easter Bunny cupcakes, and given you a diagram for cutting usagi ringo (apple bunnies).
This year I have an urge for the traditional British Easter treat, hot cross buns. But, as bunnies.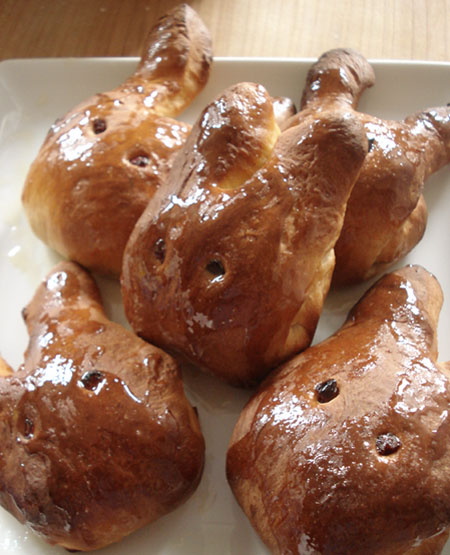 Hot Cross buns are soft and light, spicy fruity buns with a sugar glaze. They are called Hot Cross buns because they usually sport a cross on top. I prefer the bunny as my Easter motif.
These bunnies are made using the Hot Cross bun recipe on the BBC Food site, which yields a realy nice, light bun with a wonderful spicy fragrance. I did change two things: I added some orange zest in addition to lemon zest to the dough, and simply pressed some dried fruit into the dough as I'll show below instead of mixing it into the dough. This was done in order to produce bunnies with fairly smooth faces. The drawback is that you don't get fruit in every bite, but I think the cuteness more than makes up for that.