Christmas oranges and personal holiday traditions
Preamble: This is from way back in the archives, originally posted on December 24, 2003. It makes me realize that I have accumulated a small number of little holiday season traditions, and setting out a little basket of oranges, with or without the clove-covered ones, is one of them. And check out that dodgy photo! I was going to switch it out with a more recent, better shot one, but then - no, I decided to leave it as-is for old time's sake.
What are your personal holiday traditions? Please share them in the comments!
(Below is the original post from 5 years ago.)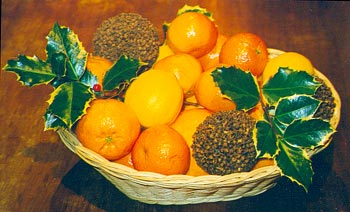 This isn't a recipe really, but nothing says Christmas to me as much as the smell of oranges and spices. Oranges, or clementines, remind me of the oranges that used to be in my Christmas stocking, together with the chocolates and sweets and other goodies. And the smell of cinnamon and cloves is that of mulled cider and other things that we enjoy at this time of year.
The clove "pomanders" are actually oranges or apples that are totally covered with whole cloves, then rolled in ground cinnamon. It helps to pierce the skin with a wooden skewer or toothpick first before sticking a clove in, but the clove stem should fit snugly. The pomanders dry and retain their spicy-fruity fragrance for years. (Actually they take forever to make, so you could start now for next Christmas!)
Merry Christmas!
Submitted by
maki
on 2008-12-17 10:29.
Filed under:
foodie gifts
christmas