Consider the omelette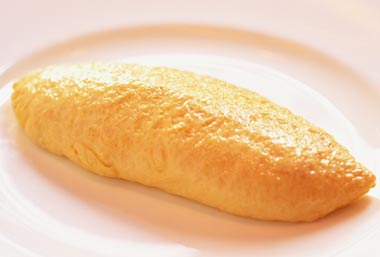 Sometimes making a particular dish takes a long time, involving several steps, but if you follow the directions carefully enough it's fairly easy. On the other hand there are things that only take a few minutes to prepare, but may take years to really get right.
One such item is a classic plain omelette.
To make a good omelette, you must start with good eggs. Good eggs are fresh (used within a week of laying), and preferably come from happy hens who have been raised in an environment where they are allowed to roam freely, rather than an egg factory. Even if you have to pay a premium price for such eggs, it's worth it. I know there are several tests that are supposed to show if an egg is fresh or not (such as that it sinks in a bowl of water) but the best way to ensure that you have fresh eggs is to buy them from a reputable source.
I mentioned before that we are lucky enough to have an organic farm within 5 minutes from our house. The main reason we love them so much is that they sell fresh eggs, from happy hens. The yolk color varies according to the season - in the winter it's a rich lemon-yellow, and in the warm months it's a deep orange. The eggs are also expensive, at 60 Rappen per egg (about 50 US cents), but considering that just 2 to 3 eggs produce a delicious omelette, it's a bargain.
The other critical ingredient is butter. Use unsalted butter, as fresh as you can get it.
The perfect omelette should be just cooked with maybe a hint of brownishness on the outside, and runny and creamy on the inside. You must eat it when it's just out of the pan, so make everything else ready beforehand.
Great accompaniments for an omelette include boiled potatoes with a bit of chopped parsley and butter, a green salad, and/or a crusty baguette. Add a glass of crisp dry white wine (a Sauvignon Blanc or a Chenin Blanc would be nice) and you'll be in heaven.
The plain omelette
2 extra-large or 3 medium to large eggs
1-2 Tbs of cream
Salt and pepper
Unsalted butter
Equipment needed: a 20 cm / 8 inch non-stick frying pan. I have a 10 year old Tefal model that I basically only use for omelettes or fried eggs. Plus a clean kitchen towel.
Break the eggs into a bowl. Add the cream and mix thoroughly with a fork. You don't need to use a whisk since you just want it to be thorougly amalgamated and creamy, not necessarily frothy.
Heat up the frying pan over medium-high heat. Add about 1/2 - 1 Tbs of butter and swirl it around. Heat until the butter has more or less stopped bubbling (that's a sign that all the moisture is gone).
Add a dash of salt and a few grinds of pepper to the eggs. As soon as the butter is melted, rapidly tip the egg mixture into the pan. Now, you have to work fast. Either swirl the omelette around rapidly to make the cooked part go to the middle and the raw part to flow out, or flip in the cooked edges with a fork, tilting the pan to let the raw part flow out. Repeat several times, all around the pan. Practice really does improve technique.
As soon as the bottom is set and the middle part is creamy and slightly runny, take the pan off the heat. Tilt the pan over a plate (heated if possible) and let one third of the omelette slide onto the plate. Turn the pan and flop it onto the plate in thirds.
To make the perfect oval omelette, using the kitchen towel gently press the omelette into shape.
Serve immediately.
Variation: to make this an omelette aux fines herbes (omelette with herbs), add some chopped fresh herbs into the egg mixture. Some to try are: parsley, chervil or trefoil, and chives.
Submitted by
maki
on 2004-01-17 11:39.
Filed under:
basics
eggs
favorites