Rhubarb crumble pie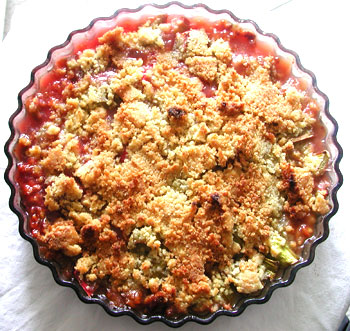 Rhubarb remains one of the truly seasonal produce items, only available in the spring. We're now at the tail end of the rhubarb season, so I'm trying to enjoy it as much as possible. Rhubarb has a distinctive tart flavor that is really wonderful, and quite different from any "fruit". (Of course, the edible part of the rhubarb is technically not a fruit, since it's the stalk, but it's treated as a fruit in culinaric terms.)
There are two ways that I cook rhubarb, but this is my favorite. It is so easy to make, and makes a wonderful crisp or crumble pie, with a crunchy topping and a just-sweet-enough, syrupy rhubarb compote-like mixture underneath it. If you choose stalks that are pinkish, it will look quite pretty too, as the one in the picture turned out to be.
You can serve this on its own, or with vanilla ice cream. It 's a wonderful springtime dessert that even people lacking a sweet tooth love.
Rhubarb Crumble Pie
About 1kg /2 lb of rhubarb stalks, enough to make about 4-5 cups of cut up rhubarb
1 cup of white sugar
1/2 cup of raw or light brown sugar
125g / 4 oz. butter
3/4 cup of white flour
Preheat the oven to 200°C / 400°F.
Wash and cut up the rhubarb stalks into approximately 2cm / 1 inch pieces. Be careful to cut off any leaf parts - they are poisonous.
Melt the butter, and add the flour and sugar. Mix to make a rather crumbly mixture.
Put the rhubarb in a pie dish. Cover with the crumble mixture. Bake for 35-40 minutes, until the crumble is browned and crispy.
This is best at room temperature, or chilled a bit.
Submitted by
maki
on 2004-05-14 09:49.
Filed under:
dessert
rhubarb
spring
baking
pie
favorites