IMBB 13: My Little Cupcake (or muffin)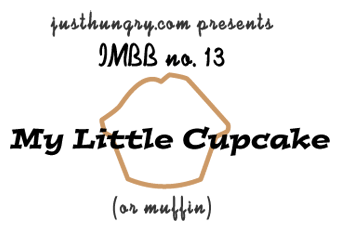 I was just really very hungry (the site you are reading right now) is proud to host the lucky 13th edition of Is My Blog Burning, the mother (father?) of blogging food events originated by Alberto of Il Forno. The theme for this month is: My Little Cupcake (or muffin).
I was originally going to do a chocolate theme, but cupcakes have been on my brain recently. Perhaps it's because Easter is close, and I have visions of little "fairy cakes", as they are called in England, with white icing and pale pink buttercream flowers. Or maybe I am just a food fashion victim caught up in the trendiness of cupcakes. In any case, cupcakes it is. And since I sort of regard a muffin (the American style muffin, not the English kind) as sort of a nude cupcake, they are included here too.
Should you choose to participate, the only requirements as follows:
Your creation should be approximately shaped like the cupcake-silhouette pictured in the logo for this event (above).
Please post a picture if possible, and the recipe if you made it yourself.
It can be sweet, or savory. (A savory 'cupcake' with a matching 'icing'? hmm...)
Pictures of particularly attractive cupcakes made by someone other than yourself are accepted, as long as it is accompanied by a story relating said cupcake(s) to yourself.
The deadline for this edition of IMBB is Thursday, March 24th. This will give me a day to compile and report the results, so that we may rush out to gather the ingredients for our favorites in time for Easter.
As usual, please email me the link to your entry (or your whole entry if you don't have a blog) or just do a trackback ping to this post.
Let's make cupcakes!
Submitted by
maki
on 2005-03-04 14:23.
Filed under:
food events
imbb
cupcakes