Rhubarb compote with mascarpone-custard cream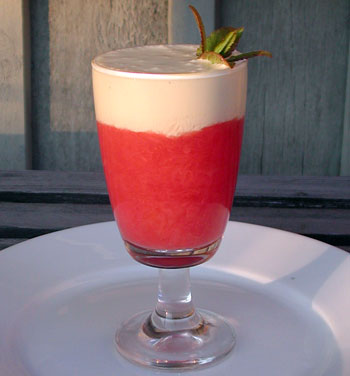 I am shaking my head here as I realize that it's been more than a month since my last update. Time flies so fast when stuff is going on elsewhere. This means that the rhubarb season is flying past us too. Since this really is a seasonal item (vegetable? fruit?) it needs to be enjoyed as much as possible right now, before it gets too warm. My favorite rhubarb dish (because it's so easy) is still rhubarb crumble pie, but this one is a very close second, with or without the cream on top.
Already it's getting rather difficult to find the beautiful pinky rhubarb stalks that are usually forced rather than allowed to grow freely, but in case you can still get some mostly-pink stalks, this is a beautiful dessert that is worthy of the most dainty of occasions. It still tastes great even if made with the greenish stalks, though it will not look as pretty.
The compote itself should be pureed very finely, but not strained. Straining taked out all of the fibrous stuff, which adds body to the compote, and inadequate pureeing leads to some sort of long, viscosy strands hanging from your spoon, which are not too attractive. A food processor or good hand-mixer therefore is a must.
If you want to make the pink even pinker, add a ripe strawberry or two to the puree.
The cream on top is a rather complicated, utterly unctuous mixture that fits the tartness of the compote perfectly. If you find it too much of a bother to make the custard, you can also use any of the following as a topping: whipped or unwhipped cream, crème fraîche, yoghurt, fromage frais or quark. You may want to sweeten these with some vanilla sugar, or add some vanilla essence and plain icing sugar.
Rhubarb compote with marscapone-custard cream
Makes 8-12 servings, enough for a party
For the compote:
About 1 kg / 2 lb pink rhubarb cut into 2cm / 1 inch or so pieces
1 1/2 cups sugar
1/4 cup water
Mix together all the ingredients. Cook on a medium-low heat for about 30 minutes, stirring occasionally, until the mixture is totally soft. Process thoroughly in a food processor or with a handmixer. Let cool. Pour into largish wine glasses or (if you are lucky enough to have such) individual trifle bowls, about 2/3rd full. Chill in the refrigerator.
For the marscapone-custard cream:
6 egg yolks
3/4 cup sugar
a pinch of salt
1 cup marscapone
2 cups milk
1 cup heavy cream
1/2 cup crème fraîche
1 vanilla pod
Combine the milk and cream. Cut the vanilla pod in half, and scrape out the seeds inside. Dump everything incoluding the cut pods into the milk and cream mixture. Heat the milk and heavy cream in a pan over very low heat (to allow the vanilla to infuse) until hot. Combine the egg yolks, salt sugar in a bowl over another pan of hot water (or in the top of a double boiler, if you have one).
Fish out the vanilla pod. Add the milk-cream mixture slowly, stirring all the time, to the egg mixture. Heat while stirring, until the mixture coats the back of a wooden spoon (if you draw your finger through it and the mixture 'holds' before filling in the gap for a bit, then it's done.) Take off the heat and stir in the mascarpone. Cool, then pour very gently over the compote in the glasses. Chill the glasses until ready to serve. Garnish each glass with a sprig of mint.
This makes rather a lot of cream, so you may either halve the ingredients, or use the leftover to make ice cream. Either use an ice cream maker, or simply freeze in a plastic container, stirring the thing up with a spoon every couple of hours.
Submitted by
maki
on 2005-05-07 17:14.
Filed under:
dessert
rhubarb
spring