MasterChef challenge, Day 2: Really Asian Fusion Soup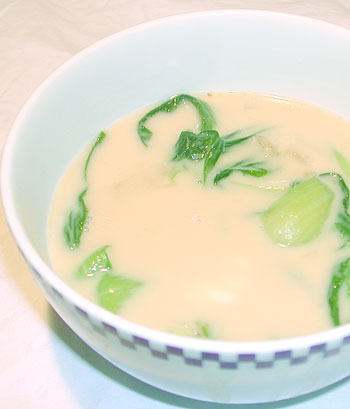 The ingredients for day 2 of the MasterChef preliminaries were:
Monkfish
Bok choy
Parma ham (prosciuitto)
Coconut milk
Pea aubergines or regular aubergines
Jasmine rice
Incidentally, I didn't realize until watching Tuesday's show that the rules specify one dish of food, not more. One of the contestants presented two dishes but the judges told him to choose one. Considering that, 40 minutes is actually plenty of time to make many kinds of things.
Anyway, on to the day 2 list. The ingredients seem to indicate an Asian direction. After pondering for a bit I decided to make a very smooth soup, combining the South Asian flavor of coconut milk with the Japanese flavor of miso - two very different Asian cuisines, which is why I called it Really Asian Fusion soup. I wanted something creamy tasting with a spike. I think it was a success - it was really delicious! The creamy, sweet flavor of the coconut milk, the salty-creaminess of the white miso, with the underlying sharp flavors of ginger, lime, Thai fish sauce, and Tabasco really worked. I used Tabasco, a non-Asian condiment, because it has that hot-yet-sour flavor which I thought would fit well into the scheme. It's also in my stock pantry which makes it convenient!
I used chicken stock instead of dashi, to tilt it a bit more to the South Asian side. The peeled and cubed aubergine was very soft - sort of like light little dumplings; the monkfish had the perfect slightly firm texture, and the baby bok choy added a nice little crunch. And best of all, it only took about 20 minutes to cook. It's definitely added to my regular rotation now.
A note on one ingredient: I knew that I couldn't get a hold of pea aubergines (a variety of aubergine (eggplant) that is popular in Thai cooking) unless perhaps I went to the Globus (a department store) gourmet basement or one of the Thai grocery stores in Zürich, but I didn't have time to do that. I would have loved to use it, but the regular aubergine worked out fine.
Unused ingredients were the proscuitto and jasmine rice.
Really Asian fusion Coconut and Miso soup with Monkfish
4 cups of chicken stock (I happened to have some frozen stock left over from Christmas, otherwise use canned or carton stock)
200g / 8 oz. monkfish, boned
1 cup coconut milk
2/3rds cup white miso
a few bunches of baby bok choy. If you can't find baby bok choy, use regular and chop it up roughly.
1 medium-size or 2 small aubergines (eggplant)
juice from 1 lime
2 Tbs grated ginger
Tabasco
Thai fish sauce
Heat the chicken stock.
Peel the aubergines, and cut into small 1 cm (about 1/4 inch) cubes.
Cut up the monkfish into medium cubes, carefully removing any stray bones.
Grate the ginger. Wash the bok choy. Depending on the size, you may want to separate them or cut them up. Mine were quite tiny so I left them whole.
When the chicken stock is hot, add the coconut milk and the aubergine cubes. Simmer for about 10 minutes until the cubes are tender.
Add the monkfish. (Monkfish can stand a bit of cooking in liquid, so don't worry too much about it getting tough.)
Take out a ladleful of the soup into a bowl, and add the miso. Mix until the miso has melted into the soup, and add it all back into the pot.
Add the lime juice and ginger. Add the fish sauce and Tabasco in dashes, tasting after every addition until it tastes just right to you. Go easy - these are both very strong ingredients!
Add the bok choy, and simmer for a couple of minutes.
Serve immediately. The soup alone makes for a warming winter dinner. If you like, add some plain or fried rice on the side.
Submitted by
maki
on 2006-01-26 13:05.
Filed under:
masterchef
soup
fish