Edelweiss cheese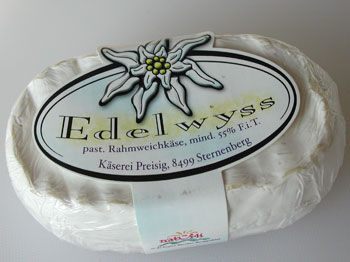 Isn't this one of the prettiest cheese labels you have ever seen? I found this cheese being sold at one of the many cheese stands that set up at the Wednesday market here in Zürich
Most European cities of a decent size have local markets of course. The beauty of this one it's so very conveniently located right in the impressive main hall of the Hauptbahnhof (main station). That means that we can always cruise the stands in comfort, even on a freezing, grey February afternoon.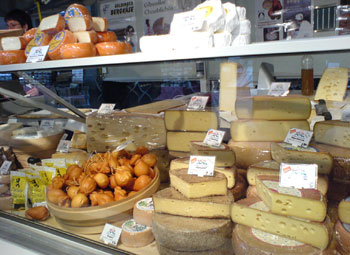 This particular stand specializes in cheeses that are produced by small farms in the Zürich area itself. Other chese vendors sell cheese from the Valais, Appenzell, Jura, and other regions. For a cheese lover, it's impossible not to pick up at least one, or two, or more. And there are plenty of opportunities to nibble on samples too. It's not just cheese of course: there are organic vegetables, all kinds of pastries, interesting looking breads, home-made jams and single flower honeys, and a lot more. The emphasis is on Swiss products, though there were some Italian, French and Spanish food stands too, as befits the location as one of the crossroads of Europe.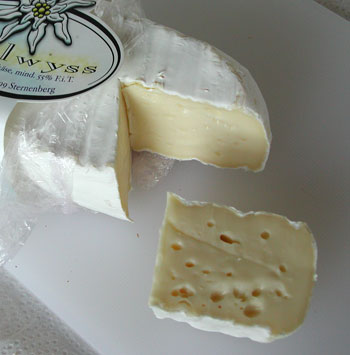 The petit Edelweiss cheese was a very mild Camembert or Tomme type (white edible rind), with a delicate milky taste and interesting holes in the structure, perfect for just eating out of hand with crusty bread.
Submitted by
maki
on 2006-02-08 14:08.
Filed under:
cheese
swiss
zurich