Masterchef challenge, day 17: Spinach, Cheese and Tofu Frittata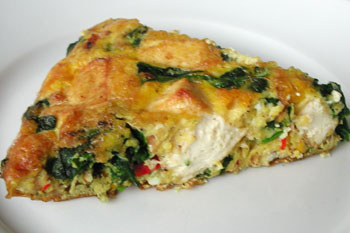 We are into Week 5 of MasterChef. The ingredients for day 17 are:
Mature Cheddar cheese
Spinach
Chili peppers
Sweet corn
Potatoes
Smoked haddock
I think that this list was meant to test if the contestants could judge whether or not certain flavors belong together. There are two very assertive ingredients here: the mature (aged) Cheddar, and the smoked haddock. As I've stated here several times already, most of the time fish and cheese don't go well together, and when it comes to smoked or cured fish, that holds even more true. The only exception is the classic combo of smoked salmon or lox with cream cheese, but cream cheese is such a mild flavor that it's more of a creamy accompaniment to the salty-fattiness of smoked salmon. But in this case we have a very strongly flavored cheese, with an equally strongly flavored smoked fish, and the two just don't marry well.
Since I've never cooked with an aged Cheddar before, I wanted to center my dish around that instead of the haddock. After some ruminating I settled on a frittata. A frittata (an Italian omelette usually baked in the oven) is a perfect lunch or brunch dish; less creamy than a quiche, and more substantial than a regular French omelette.
The one ingredient that most likely the actual MasterChef contestants would not have had on hand is the tofu. I added tofu to boost the protein content without adding more eggs, but it could be made with a couple more eggs too. I also had in mind making a dish that is low in carbohydrates for my low-carb loving friends. This only has 2 tablespoons of canned sweet corn in it, which could be omitted to make it even lower in carbs. It's also a vegetarian dish for lacto-ovo-vegetarians. The blandness of the egg and tofu, the slight bite of the chili pepper, the sort of almost creamy-smooth texture of the spinach, the crunch of the corn, with the occasional intensely cheesy mouthful, all went together very well. And the yellow, white, green with flecks of red looked really pretty too.
This is one wedge of an 8-serving frittata, and made a perfect lunch with a green salad. Optionally add some salsa or marinara sauce on the side. This rather large amount is easier to get right than making it in a smaller pan. If you have leftovers, frittata is delicious at room temperature, so it's a different and great take-along lunch. I would not freeze it however, because tofu and egg turn into a sponge-like substances when frozen.
Unused ingredients: potatoes, smoked haddock.
Spinach, cheese and tofu frittata
8 eggs
1 firm tofu
200g / 8oz. fresh spinach (a couple of very large handfuls)
1 chili pepper
3 Tbs. canned or frozen sweet corn
3 garlic cloves
Olive oil
100g / about 3 oz. aged cheese - aged Cheddar, or Gruyere
Preheat the oven to 180°C / 360°F.
Finely chop the garlic. De-seed and de-vein the chili pepper and chop finely also.
Crumble the cheese into rather large pieces.
Wash the spinach if needed, and chop roughly unless you are using baby leaves.
Drain the tofu well, dry off the surface a bit with kitchen towels, and cut into about 1.5cm / 1/2 inch cubes.
Crack all the eggs into a bowl and beat with 2 Tbs. of water, 1 tsp. of salt and some freshly ground pepper.
In a non-stick pan with an oven-safe handle, sauté the garlic and chili pepper in about 1 Tbs. of olive oil. Take out about half of it and reserve. Add the tofu cubes and let them slightly brown on all sides. Take out the tofu cubes.
Add the spinach and corn to the pan with the reserved garlic/chili, and sauté rapidly until the spinach shrinks and becomes a limp but bright green pile. Season with a bit of salt and pepper, and take out.
Heat up an additional 1 Tbs. of olive oil in the pan and swirl about. Mix all the ingredients into the egg mixture, and add to the hot pan. Immediately put the pan into the heated oven, and set the timer to 20 minutes. At that point check the fritatta - it should be a light golden brown on top.
Serve immediately or at room temperature, cut into 8 wedges.
Submitted by
maki
on 2006-02-23 15:16.
Filed under:
cheese
eggs
vegetarian
tofu