IMBB 24: Sweet and Sour Okara Meatballs with Bittersweet Vegetables In Under 30 Minutes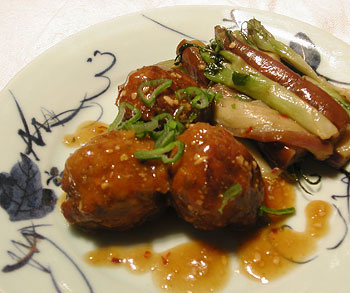 I've promised an article on what to do with okara, the fiber-rich fluffy byproduct of making soy milk or tofu. This is not it. But I thought I'd kill two birds with one stone and show one way of using okara in everyday cooking, in a dish that can be made in under 30 minutes, making it suitable for Is My Blog Burning edition 24 hosted by Too Many Chefs.
These meatballs are very light and soft, thanks to the okara, tofu and chopped shiitake mushrooms. They are deep fried because the meatball mixture is so soft, and trying to stir-fry them makes them fall apart. The oil is very well drained off and they only have a light coating of cornstarch, so they aren't greasy at all. The very simple to make sweet and sour sauce finishes them off, but if you like the crispy texture of the freshly-fried meatballs you can have them just like that too and serve the sauce separately for dipping.
Accompanying the meatballs is a simple vegetable stir fry of the flowers of my new vegetable discovery, catalogna or puntarelle, and slim Asian style eggplants (aubergines). Puntarelle flowers have a mild bitterness and a crunchy texture that I find very addictive, which is balanced nicely by the soft, creamy texture of the eggplant.
This dish plus some plain white rice makes a quick and very tasty dinner. Chopping the vegetables and whizzing up the meatball mix in a food processor does help to speed up things, but you can do it by hand too. The key to making all of this within 30 minutes is to prepare all the vegetables first, heat the oil while mixing up the meatball mix, and to do the stir-fry while frying the meatballs. It gets a bit hectic but can be done. As for the rice...I have a rice cooker which really helps, otherwise you can cheat and use an instant type rice. (You can cook rice on the stove at the same time too, provided you have at least 4 burners on your cooktop. Just put the rice on at the start of your 30 minutes.)
The flavors in this dinner are a sort of Japanese-dominant Asian Fusion. I love this kind of food. This will serve 4 people.
Sweet and Sour Okara Meatballs
For the meatballs:
450g / 1 lb. ground pork, or ground chuck
1 cup fresh or de-frosted moist okara, or about 1/2 cup of dried okara (available from some Japanese food stores) plus enough water to moisten it
1/2 cup crumbled firm tofu
6 medium sized fresh shiitake mushrooms
3 green onions
1 piece fresh ginger
1 Tbs tahini (sesame paste) or peanut butter
2 Tbs soy sauce
1 Tbs miso
1/2 tsp salt
Several grinds of pepper
1 egg
Cornstarch
Peanut oil or safflower oil for frying
For the sweet and sour sauce:
5 Tbs rice vinegar
3 Tbs sugar
2 Tbs miso
2 Tbs soy sauce
1 Tbs chinese rice wine (Shaoxing) or sake or sherry
1/2 tsp red pepper flakes
2 pickled plums (umeboshi; available from Japanese or Asian food stores), de-seeded and mashed up
1 1/2 Tbs. cornstarch dissolved in 1 cup of cold water
Start heating the oil for frying. (A dedicated deep fryer helps, but I just use a deepish pot.)
Chop the shiitake mushrooms and green onion finely, reserving a little bit of the green onion for using as garnish later. Peel and grate the ginger.
Mix all the meatball ingredients together in a bowl except for the cornstarch. The mixture will be quite soft due to the okara. Form into balls with wet hands, and coat with the cornstarch.
Drop the meatballs in batches into the hot oil, and fry until they are a deep golden brown on all sides. Drain well on paper towels.
In the meantime, make the sweet and sour sauce. Combine all the ingredients in a small pan over medium heat, and mix. If you can't get the umeboshi just omit them - it will still be good. Add more red pepper flakes if you want it to be real spicy. Cook the sauce until it's clear and a bit thickened.
Toss the hot meatballs together with the sauce, and garnish with the reserved chopped green onions.
Note: if you can't get a hold of okara, use 1 cup of fresh white breadcrumbs instead. The texture won't be the same, but it will still be good.
Puntarelle Flower and Eggplant Stir Fry
Flower buds from one puntarelle
4 slim Asian eggplants (a lot of regular supermarkets sell these now, or try Asian or Indian groceries)
3 cloves of garlic
Peanut oil for stir-frying
Salt and pepper
Cut out the flower buds from the puntarelle, reserving the leaves for a salad. Cut off the step part of the flower buds if they are woody. Slice the flower buds lengthwise in quarters.
Slice the eggplant lengthwise, so they are more or less the same thickness as the sliced puntarelle flower buds.
Chop the garlic.
Heat up a wok or sauté pan with a little peanut oil. Toss in the garlic, then the puntarelle. Stir around until the punetarelle turn a bit limp, then toss in the eggplant. Stir fry over the highest heat you can manage until the eggplant is limp. The puntarelle should be crisp-tender. Season with salt and pepper.
Note: If you can't find puntarelle, you can use green asparagus instead.
Submitted by
maki
on 2006-03-25 19:11.
Filed under:
dinner
japanese
vegetables
tofu
okara
quickcook