Masterchef challenge day 20: Chicken Liver Paté; Tartines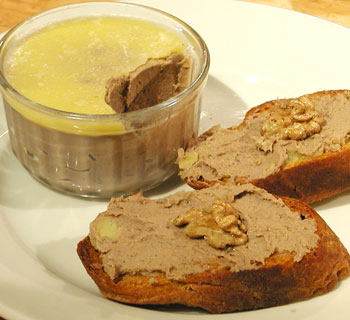 I am a week behind in posting this, but here we go. Day 20 of Masterchef brought us these ingredients:
Chicken
Chicken livers
Bread (unspecified, but they showed a baguette)
Walnuts
Raisins
Brandy
Bacon
Pears
This is the second challenge with liver, but chicken liver is a bit easier to deal with than calf's liver in my opinion. This paté is something I have been making since I was in high school. It's always been a reliable hit whenever I've made it for a party. The very first party I served it at was for some church people my father decided to invite to our house. I still remember the pastor enthusiastically munching his way throug the paté on toast that I had carefully arranged on a platter. The flavor is sort of related to chopped liver (though chopped liver has no bacon or cream in it obviously), which is a staple of any good diner menu on Long Island, New York, where I spent my last year of high school before moving on to college in NYC. My father and sister still live on Long Island, and I try to get at least one diner lunch in whenever I go and visit them.
The paté is put into small containers and sealed on top with rendered chicken fat. Rendered chicken fat is called schmaltz in Yiddish, and it's the most delicious yet guilt-inducing fat ever. Duck fat is also as rich, but the fact that it's French seems to somehow reduce the guilt factor a bit since by consuming it you are indicating you are a cultured, worldly individual. Schmaltz has no such cachet, but it should!
This pateé is a snap to make with a food processor. It is very rich, so put it into small containers. The chicken fat on top forms an airtight seal that allows it to keep for several days in the refrigerator. If you don't have enough chicken skin to render enough fat, use melted butter.
Unused ingredients: chicken meat, raisins, pears (out of season!!)
Chicken liver paté with walnuts
200g / 7 oz chicken livers
1 shallot, chopped
4 slices bacon, finely chopped
200ml / 1/2 pint heavy cream
about 450g / 1 lb chicken skins (I save the skins taken off of chicken in the freezer), or butter
3 Tbs. brandy
Pinch dried thyme
1 bay leaf
Salt and pepper
1/2 cup walnuts
1 baguette
Chop the chicken skins up roughly, and put in a shallow pan with a little water. Let it cook over a medium-low heat until the chicken pieces are all crispy and the fat has been rendered. Season with a little salt. The rendering takes quite a while, so start it off at the start. Or, just use butter.
Cut off any membranes from the chicken livers, and wash in cold water.
Sauté the shallot in butter or the rendered chicken fat. Add the bacon and cook over medium-low heat. Add the chicken livers and sprinkle with the brandy. Add the cream, bay leaf and thyme. Simmer slowly for 15-20 minutes.
In the meantime, slice the baguette on the diagonal, put on a baking sheet and bake in the oven at 200°C / 400°F until brown and crispy. Toast the walnuts by putting them in a small frying pan with no added oil, and tossing about until they smell good and get a bit deeper brown in color.
Purée the chicken liver mixture in the food processor until very smooth - about 2 minutes minimum. Pass it through a sieve to make it really smooth. Taste and season with salt and pepper, remembering that when it's cool the flavors will be a bit less intense.
Put the still warm liver purée into small containers. Top off with a layer of chicken fat or melted butter. Let cool in the refrigerator (or if you are in a hurry, in the freezer).
To serve, spread the paté on a toast slice, and top with a walnut; or simply put out the toasted slices on the table with the paté in little pots, and the walnuts in a bowl.
Note: You can add a chopped onion to the chicken skins to give the schmaltz even more flavor.
Submitted by
maki
on 2006-03-03 12:36.
Filed under:
party food
snack
sandwich
offal