Red, White and Blue Dessert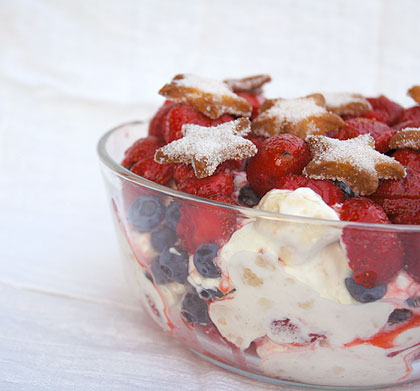 (From the archives. If you're planning a big Fourth of July party in the U.S., consider this very colorful, cool dessert, which I made for a party several years ago. There are a lot of steps involved, but you can cut corners with storebought meringue and sugar cookies if you prefer. Originally published in July 2006 (!)) See the Notes at the end.
I love outdoor parties in the summer, especially when it means a barbeque. July the 4th barbeque parties are the best, and I miss them sorely when I am not in the U.S. This year though, we are going to have a July the 4th party on Sunday (since the 4th is not a holiday here), complete with grilled hamburgers, wurst, and chicken. Someone else is going to do all that grilling, so I am making the dessert.
A good dessert for a barbeque party is ideally something that you can make in advance - or at least, make most of it in advance and then just assemble it before serving. Ice cream or other frozen desserts fit the bill, but I wanted to do something a bit different. Since this is a July the 4th party, even if it will be a bit early, I needed to have something that looked all-American. And what's more American than the flag? I think that the two nations most obsessed with their national flags are the Swiss and the Americans, so I'm sure my Swiss friends will appreciate the symbolism of red, white and blue.
Right now, local strawberries are in full season and really delicious. So that's the red. The only edible blue I can think of short of using food coloring is blueberry, so though they are a bit early they had to do. And the white? Whipped cream and meringue. I even added a few star shaped cookies, made from a typically Swiss cookie recipe.
This red, white and blue bowl of fruity creamy goodness is a variation of a very English dessert called Eton mess. Eton mess is crushed strawberries and meringue folded together with whipped cream, and originated at the famous public school of that name where Prince William and (as far as I know) all royal family boys went to. I didn't crush the strawberries - I sliced the big ones and left the little ones whole. I also gave them my favorite treatment: a short marinade in balsamic vinegar and a bit of sugar, which really seems to bring out the soul of the strawberry. Instead of dark balsamic though, I used white balsamic vinegar, which is mild, sweet and colorless. This left the redness of the strawberries without darkening it as the regular dark brown balsamic does. (If you can't find white balsamic vinegar, rice vinegar is a good substitute.) Finally, instead of all whipped cream I used half whipped cream and half creme fraiche, just for a bit of added tartness and depth.
The most time consuming part of this is making the meringues. I've given a recipe for them which is easy to do if you have an electric beater. If you can find readymade meringues though, by all means use those.
The cookies are a type that is very popular in Switzerland called Mailander. I guess that means they originally come from Milan (Mailand is German for Milan), but they seem to be a part of Swiss culture now. They're usually just served around Christmas, cut into little shapes. Here I have cut out tiny little stars and sprinkled them with sugar to give them sparkle. The cookies are so delicate that they crumble into the creamy, fruity, delicious mess.
The meringues and the Mailander cookies can be made way in advance (up to a week) of when you intend to make this. Here's a rough schedule:
Day before or earlier: Make the meringues and the cookies, using the same eggs.
Night before: Prepare the strawberries and let them macerate in the balsamic vinegar.
1 hour before serving: Wash the blueberries and whip the heavy cream. Put them in the refrigerator.
Just before serving: Assemble.
The one I made and took a picture of is the rehearsal for the actual party - and of course, the model for this article! It's not too sweet, and is really nice to eat. Don't ask about the calorie content though...
Red, White and Blue Mess for July 4th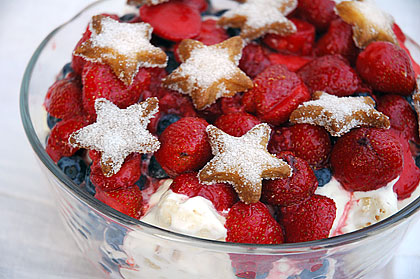 1 packet - about 8oz/250g of ripe strawberries
2 Tbs. granulated sugar
2 tsp. white balsamic vinegar or rice vinegar
1 small packet - about 4 oz/ 120g of blueberries
1 pint / 470 ml heavy whipping cream
1 carton (about 3/4 U.S. cup or 200ml) crème fraîche or sour cream
2 Tbs. powdered (icing) sugar
About 3 cups of roughly crushed meringues (see recipe below)
Cookies for garnish (see recipe below)
Wash and hull the strawberries. Slice the big ones and leave the small ones whole. Put in a bowl with the vinegar and sugar and mix. Cover and refrigerate several hours or overnight.
Whip the heavy cream until soft peaks form, then whip in the sugar. Fold in the creme fraiche.
Drain the strawberries, reserving the liquid.
In a large bowl, put in half the blueberries and strawberries, the cream mixture and the crushed meringue, and rapidly fold together with a large spoon. Put into a glass serving bowl and put the rest of the fruit on top. Drizzle with the reserved strawberry liquid. Decorate the top with the cookies.
Serve immediately.
Meringue Kisses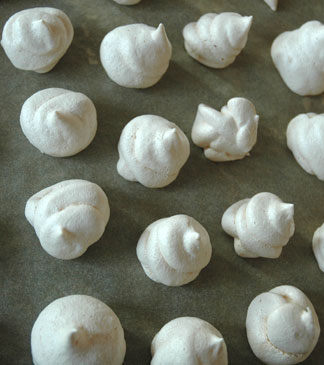 3 egg whites
3/4 cup granulated (or castor, or superfine) sugar
A pinch of cream of tartar (optional: I find I don't really need this)
Equipment needed:
electric egg beater/mixer. Whipping meringues by hand may be a rite of passage in a fine French restaurant but not for a warm summer day in a home kitchen.
a plastic bag
scissors
baking sheet
parchment paper
mixing bowl, spatula, etc.
Preheat the oven to 120°C/250°F.
Line two baking sheets with silicon baking pads or parchment paper.
With an electric mixer/beater, whip the egg whites until stiff peaks form. Add the sugar a spoonful at a time, whipping all the time, until the whole thing is shiny and very stiff.
Put the meringue into a plastic ziplock bag, and squeeze the mix towards one corner. Cut off the corner with scissors to make a small hole. Pipe out the mixture into little mounds onto the baking sheets. (You can also make the little mounds with two spoons, but I find the bag method way faster.)
Bake for 40 minutes, then turn off the oven and leave there for an additional 5-10 minutes. Take out and let cool.
This will make more meringues than you need for the mess, but meringue kisses are great just as cookies.
Lemony Mailander Cookies
225g / 8 oz. unsalted butter
3 egg yolks
1/2 cup sugar
2 Tbs. lemon juice
2 Tbs. grated lemon zest
2 1/2 cups plain white regular flour (all-purpose)
Extra granulated sugar (or if you can find it, decorating sugar is nice; it's more sparkly than granulated.)
Equipment needed:
baking sheets
rolling pin
silicon baking pads or parchment paper
small star shape cookie cutter
mixing bowl, spatula, etc.
Note: I do this in a food processor - it mixes up in no time. You can mix by hand too.
Cream together the butter and sugar. Add the egg yolks and mix. Add the lemon juice and lemon zest.
Add the flour gradually and mix until a soft dough forms. (If using a food processor, pulse to mix.)
Put the dough into a plastic bag and chill until firm.
In the meantime, preheat the oven to 150°C/300°F. Line two baking sheets with silicon baking pads or parchment paper.
Roll out the dough to about 1/4cm / 1/8th inch thick (or fairly thin..it's not an exact science!) on a lightly floured surface. Working as fast as you can, cut out your star shapes and put on the baking sheets.
Bake for 10 minutes or until very lightly browned. Take them out and sprinkle with the sugar. Let cool.
This will make a lot more cookies than you need for the garnish - just pass out the rest, they are sure to disappear. Or, keep them for yourself to enjoy later.
Notes, added July 2013
This recipe makes me feel rather nostalgic since I don't really cook things like this anymore, nor do we have annual 4th of July parties for our neighbors and friends as we used to have. I still think this is one of the nicest desserts I've ever made though. If I were to make this now with my diabetes, I'd rely on the sweetness of the fruit, served with plenty of slightly sweetened cream with the crème fraîche, and maybe put a few merengues on top instead of mising them through, and less cookies. Less sugar, still beautiful and festive, and fun to eat.
Submitted by
maki
on 2013-07-02 13:08.
Filed under:
dessert
fruit
party food
weekend project
summer