Baked Early Rhubarb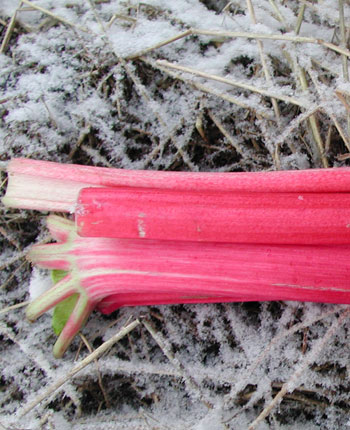 Here in the central part of Europe we have had a ton of snow over the past few days. In our corner of Switzerland we had about half a meter (about 19 inches) of the fluffy white stuff descend on us over the weekend.
In spite of that, there is a definite sign that spring is almost here: rhubarb is back in the stores!
I adore rhubarb, and have written about it here frequently. I love its sour taste that is so lovely when tempered by sweetness. I love the color. And I really love the fact that it's one of the very few truly seasonal produce items around. Rhubarb in October has not yet, thank goodness, been engineered.
Early rhubarb is a gorgeous magenta-pink in color, with pure white interiors. The flavor doesn't differ much from later, greener rhubarb, but it sure looks more beautiful.
I've already posted a few of my favorite rhubarb recipes in the past, but this time I would like to introduce you to the easiest ever way to cook this fruit (or..is it a vegetable?): baked rhubarb. It be eaten in any number of ways: with a dollop of whipped cream or creme fraiche or quark or yogurt; with vanilla ice cream; or just on its own, straight out of the fridge, from the bowl.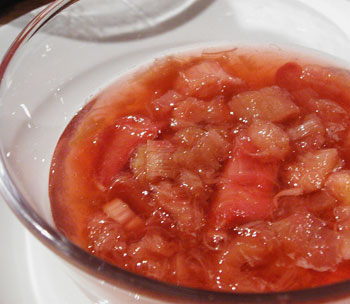 Past rhubarb recipes on Just Hungry:
Baked rhubarb
This is so easy it's barely a recipe. My favorite kind of cooking - prepare everything, dump it into the oven, set the timer, and come back when it beeps. Cooking things in packages is always fun too. Opening the packet almost feels like unwrapping a present.
6-8 cups of cut-up rhubarb (5-6 stalks). Be sure to cut off any leaf parts.
1 1/2 - 2 cups sugar
1 vanilla pod (optional)
Preheat the oven to 200°C / 400°F.
Toss together the sugar and rhubarb. Put a double layer of aluminum foil on a baking dish, and put the rhubarb in a pile in the middle. If you're using a vanilla pod, place it in the middle of the rhubarb. Seal up the foil securely so you have a pouch. Bake in the oven for 30 minutes, until the rhubarb is tender. Chill before serving (though frankly it's good at any temperature).
If you want the rhubarb to disintegrate even more, bake for about 10 minutes longer.
If you want it to be more acidic, omit the vanilla and add the juice of half a lemon.
Submitted by
maki
on 2006-03-07 15:56.
Filed under:
dessert
fruit
rhubarb
spring
favorites