Burning in a good year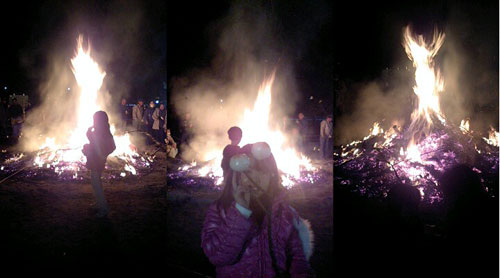 My sister Mayumi (mom to Lyoh and Lena, my nephew and niece who make frequent appearances on these pages) sent me this triptych of beautiful nighttime photos. I've translated her description here.
We went to a dondo-yaki (どんど焼き)last week for the first time. Big bonfires are lit, in which everyone throws in old New Year's decorations, papers on which various thoughts are written in brush and ink (oshuuji), and things like that. The kids then roasted round mochi on the ends of long sticks in the flames. Being warmed by the heat of the dondo-yaki flames, and eating the mochi, is supposed to bring mubyousokusai (無病息災)- no illness, no disasters - for the rest of the year. I'm not sure if it works, but it was really nice evening, and the kids loved it.
How's the new year going for you so far? I'm rather busy preparing for some book promotion events in the U.S. Being on the road means not much cooking unfortunately, but I'll get back to that in a couple of weeks.
Submitted by
maki
on 2011-01-18 14:26.
Filed under:
japan
customs
cool stuff from japan