Cheesy-peppery savory cookies or scones or biscuits
Now that the weather is getting cooler, at least in these parts, there's nothing as appealing the smell of fresh baking filling the house. I don't think I have posted a simple baking recipe in a long time, so here's one that has become a favorite because it's so delicious and versatile. Here you see them in their cookie incarnation. (I used vegetable-shaped cookie cutters.)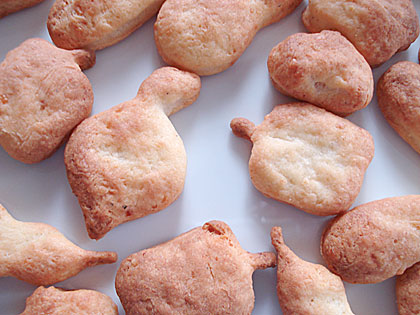 Up close, for scale: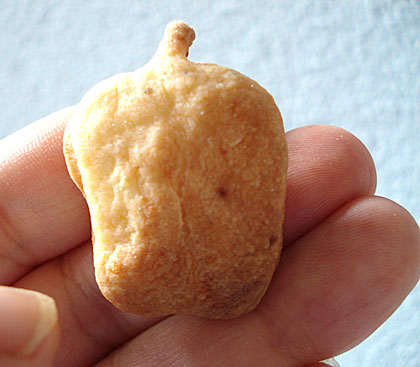 And here is the big scone incarnation: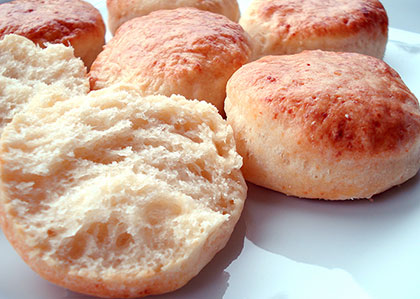 The recipe is based on one for English scones, but it's savory rather than sweet. Inspiration also came in part from Hungarian cheesy scones called pogasca, which I first had on a short trip to Budapest some years ago, and can't forget since. Depending on how big you make them, they can be fluffy-in-the-middle scones, or crispy yet soft little cookies, or biscuits for Brits. (Confusing the matter even further is of course that scones are very much like American biscuits.) In any case they are really easy to make, especially if you have a food processor.
These savory scones/biscuits/cookies are made with olive oil, which imparts the unique fruity-peppery taste of the oil, and also makes them theoretically a tiny bit healthier than using vegetable shortening or butter. You can use butter of course if you prefer that taste. (I hardly ever use vegetable shortening in my cooking, so I can't speak for it. I use lard sometimes, but that's another story.)
I have used three cheeses for this - Gruyère, feta and Parmigiano Reggiano (Parmesan) (plus cottage cheese), but you can use any bits of leftover hard or semi-soft cheese as long as it all adds up to about 1 cup in total.
If you make the scones very small and bake them until they are quite crunchy on the outside, they make perfect nibbles for a wine tasting. Make them larger and they are great fluffy biscuits/scones to have with a hearty soup or stew. You can also turn the large versions into very rich small sandwiches with a little roast ham or something in the middle.
These freeze beautifully and can be heated up in the oven, wrapped in foil, at 300°F/150°C for about 5 minutes for the little ones, 10-15 minutes for the big ones. The little ones can also be kept in an airtight cookie tin for about a week, so they are great to make ahead for a party.
Cheesy-peppery biscuits or scones or cookies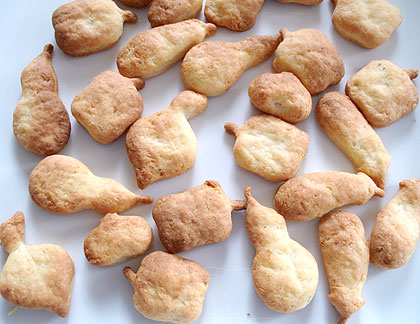 Makes about 12 large biscuits/scones or 60 small biscuits/cookies
2 cups all-purpose flour
1 tsp. salt
1 Tbs. baking powder
1 Tbs. sugar
Several grinds of coarsely ground black pepper (about 1/2 tsp or so)
1/3 cup olive oil, or softened butter
3/4 cup cottage cheese
1/4 cup milk (approximately - see recipe)
1 cup of grated or crumbled cheese, a combination of Gruyère, feta and Parmesano Reggiano, or whatever you have around
Egg for glaze, optional
Extra grated cheese for topping, optional
Special equipment suggested:
a food processor, or a mixing bowl and wooden spoon
1-2 ungreased baking sheets
a cookie cutter either 2 inches / 5cm in diameter for the big ones, or 1 inch/2.5cm in diameter (or thereabouts) for the little ones
Preheat the oven to 200°C/400°F.
Grate or crumble the hard cheeses so they add up to about 1 cup.
If you are making this with a food processor, follow this procedure: put the steel cutting blade in, and put the dry ingredients into the bowl. Pulse to mix. Add the oil or butter and pulse again to mix into a crumbly mixture. Add the cottage cheese and the other cheeses, and pulse several times until it's starting to form a ball. Add the milk a little at a time while pulsing until the dough has formed a rough shaggy ball around the blade. Try not to overmix.
If you are mixing by hand, mix together all the dry ingredients in a bowl. Add the oil or butter, and mix until the texture is crumbly. Squish up the cottage cheese curds with your hands to make them a bit smaller if you have large curds, and add to the bowl with the cheeses. Add enough milk to form a shaggy moist ball of dough, mixing vigorously with your wooden spoon.
In either case the amount of milk depends on how moist your cottage cheese is.
Once you have a ball of dough, turn it out onto floured surface. Roll or pat it out to about 1/4 inch / .75cm thickness for the large scones, or half that thickness for the small ones.
With a floured cookie cutter, cut our your shapes. For large fluffy scones, place them on the baking sheet right next to each other. For the smaller crispier scones/cookies, place them a bit apart. Optionally brush them with a mixture of egg and water, and/or sprinkle the tops with extra grated cheese. You can leave them as-is too for a more rustic finish.
Bake the small ones for about 15 minutes until they are lightly browned all over. Bake the large scones for about 25 minutes, until golden brown on top.
Variations
Add a lot more ground black pepper to make them very peppery.
Add about a teaspoonful of dried herbs, such as Herbs de Provence mix, dried oregano, dried dill, thyme, etc. to the batter.
Add some celery seed to make them very celery.
Sprinkle the tops (after brushing with egg-water or milk) with sesame seeds or poppy seeds.
Submitted by
maki
on 2006-09-19 17:00.
Filed under:
bread
party food
quickbread
scones
biscuits
cookies
savory