Chocolate chip and almond cookies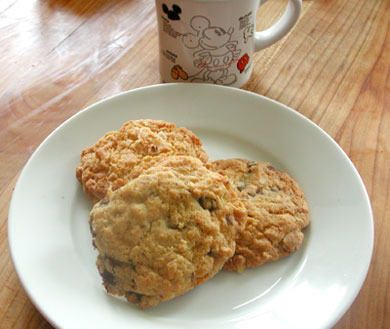 The usual image of homebaked chocolate chip cookies, at least in the U.S., is that of large, thick cookies with a soft, rather gooey center. The soft and gooey texture is so desired by many people that commercial cookie manufacturers even manage to maintain that in cookies that have been on the shelf for months. This to me seems very wrong. And, I don't think that gooey-soft necessarily indicates a good quality chocolate chip cookie either.
Sure, when you take the cookies out of the oven and eat them right away, they are sort of gooey and soft. But once they cool down, I prefer them to be rather crispy, even lacy, and delicate. For this reason I add a bit more butter than is normal in the traditional Toll House type of chocolate chip cookie. This makes the dough spread out more during baking, making the cookies thinner. Using slivered almonds instead of chunky nuts also makes them lighter and crispier.
If you prefer the gooey type of cookie though, use more flour or less butter.
I also use raw (light brown) granulated sugar instead of the fluffy dense brown sugar used in the traditional recipe. This is mainly because we can't get that "packed" sort of soft brown sugar here. Also, the dark brown sugar has a very pronounced molasses-like taste to me, which I don't think really fits for this cookie.
These are very adult chocolate chip cookies, because of the almonds and the dark chocolate chips. Of course kids love them also. I made these with the lemon bars in the preceeding recipe and meringue kisses for Easter, and boy were they popular.
Chocolate chip and almond cookies
2 cups of all-purpose or cake flour
250g or 1 cup plus 2 Tbs of unsalted butter
3/4 cup white granulated sugar
3/4 cup raw (light brown) granulated sugar
1 tsp. baking soda
1 tsp. salt
1 tsp. pure vanilla extract
2 large eggs
1 cup slivered almonds
3 100g / 3.5 oz bars darkest chocolate
Preheat the oven to 170°C /375° F.
Chop up the chocolate into chunks. Note I do not use ready-made chocolate chips, because I really want the darkest possible chocolate here, and they don't make really dark chocolate chips.
Toast the slivered almonds in the oven or in a dry frying pan until light brown. Let cool.
Cream together the softened unsalted butter and the sugars until the sugar is totally incorporated. Add the baking soda, salt and flour, and mix. Add the eggs and the vanilla. Mix well but don't overknead.
Stir in the chocolate chunks and the almonds.
Drop onto ungreased baking sheets with a spoon, or make balls with your hands and place these. Space them out well because they will spread quite a bit. Bake for about 20 minutes - you may have to rotate the pans, unless you have a convection oven. You want the cookies to a medium brown, as in the picture.
Cool the cookies on racks, after sampling one or two of course.
Submitted by
maki
on 2004-04-12 11:24.
Filed under:
chocolate
party food
snack
baking
cookies
sweet
nuts