Hambaagu: Japanese hamburger steak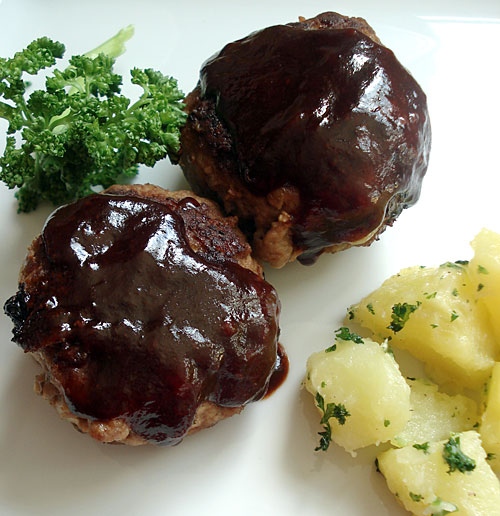 As promised, here is my recipe for making Japanese style hamburgers or hamburger steaks, one of the quintessential _yohshoku_ or Japanese Western-style dishes. They are called hanbaagu (though they are sometimes called hambaagaa, but that variation usually refers to the kind that comes sandwiched inside a bun) in Japan, and are very popular for lunch or dinner, and are eaten as a side dish to rice (okazu) in Japanese homes. In fancier restaurants that specialize in yohshoku, they might be eaten with a knife and fork, but at home they're eaten with chopsticks. Whenever Japanese food magazines have a poll about popular okazu, hamburgers are always in the top three, especially amongst kids.
They don't have much in common with the American style of hamburger, except for the fact that they both start off with ground meat. A Japanese hamburger has more in common with meatloaf, and a rather similar texture. They are similar to the old TV dinner standby, Salisbury steak, but I think a lot better.
Recipe: Japanese style hamburger steak (Hambaagu)
This makes 4 small hamburgers, serving 2 to 4 people depending on what else you are serving.
200g/ about 7 oz. ground beef (from a cut that has a fair amount of fat in it - very lean beef will not work because it will be too dry.)
100g / about 3 1/2 oz. ground pork
1/2 medium onion
3/4 tsp. salt
About 1/2 tsp. ground black pepper
About 1/4 tsp. ground nutmeg
1 cup soft white breadcrumbs (Make the breadcrumbs from regular white bread slices with the crusts off. The crumb of a baguette is really good for this.)
2-3 Tbs. milk
1 egg
Oil for cooking
For the sauce:
1/2 cup dry red wine
1/3 cup ketchup
1/3 cup Japanese tonkatsu sauce such as Bulldog brand
Chop the onion very finely. Sauté the onion in a little oil until translucent. Let cool.
Moisten the breadcrumbs with the milk. Combine the meat, cooled onions, moistened milk, egg, salt, ground pepper and nutmeg. Your hands are the best tools for this. Combine well until everything is amalgamated.
Divide into 4 portions. Form into patties, slapping each with your palms until the surface is smooth. Indent the middle with your thumb - this makes sure the middle gets cooked evenly. It should look like this: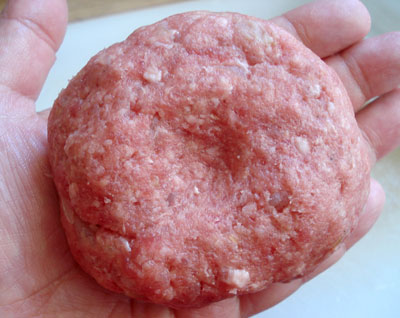 Notice that the texture is not crumbly.
From the side: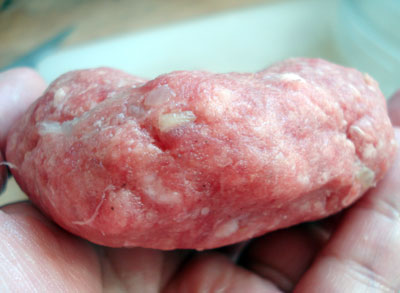 Heat up a large frying pan with some oil over high heat. Place the hamburgers well apart in the hot pan, and fry until browned. Turn over and turn the heat down to low. Put a tight fitting lid on the pan and steam-cook the hamburgers for about 10 minutes until the middle bounces back if you press down on it. Take out and keep warm.
Pour out any excess oil from the pan and turn the heat up to high again. Add the red wine and deglaze the pan with it (scrape off the brown bits and blend). Add the ketchup and the Bulldog sauce and blend. Pour over the hamburgers.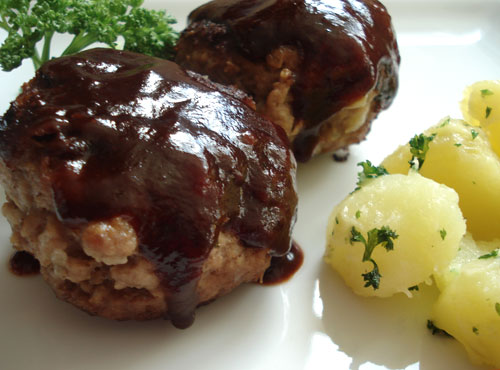 They are best served piping hot, but they are also very popular for bento boxes.
What to serve with hambaagu
As I've noted above, hamburgers in Japan are eaten with plain white rice. So it's fine to serve them just so on their own plate, maybe with a garnish. A popular side to them is glazed carrots (boiled carrots which are glazed with butter and a little bit of sugar). Another popular side is kofukiimo, boiled pototoes that are dried out in a hot pan, and tossed with a little butter, salt and pepper and chopped parsley.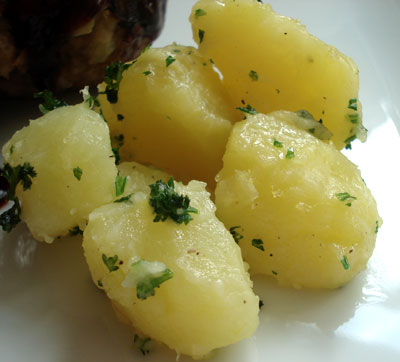 You could also serve some plain boiled broccoli and so on with them too. As part of a typical Japanese meal, you'd serve some soup, salad and/or pickle, and perhaps one more side dish besides the hamburgers. (See Anatomy of a Japanese meal.)
Sauce variations
The sauce I've used here is very easy to make and fits perfectly with the hamburgers. Other sauces that are often used include demiglace (most often seen at yohshoku restaurants, though home cooks can buy canned demiglace), teriyaki-style sauce, or just a little soy sauce and grated daikon radish.
Somewhat lower fat variation suitable for bento
See the tofu-meat mix variation for hambaagu that are not as juicy, but still good, and which arguably hold up better taste-wise when cooled (as in bento boxes). But really, once in a while you just have to have a real juicy hambaagu.
Submitted by
maki
on 2008-03-28 14:38.
Filed under:
japanese
yohshoku
favorites
meat