Masterchef challenge day 8: Seared tuna, arugula and basil linguine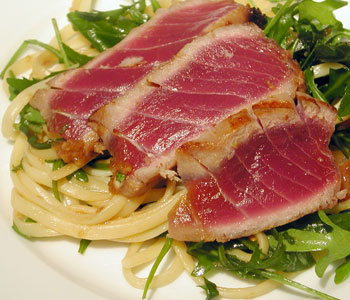 It's day 8, and the end of week two of MasterChef. The ingredients were:
Tuna steak
Fresh basil
Fresh (?) linguine
Potatoes
Olives
Parmesan cheese
Potatoes, again! This week potatoes have been in the list every day. I decided to go with the linguine instead - I was missing pasta anyway.
There are quite a lot of ingredient notes for this dish, but it's really quick to assemble.
For this dish you do need sushi-grade, or very fresh, tuna. In my opinion cooked tuna should only be seared, and should be raw in the middle as it is here. Do not ever cook tuna through so that it's turns all white. Otherwise you might as well use canned tuna and save your money! I do like canned tuna, but it's quite a different beast from the fresh tuna. (Luckily Migros City in Zürich usually has some very fresh tuna, especially on Fridays when I actually made this meal. Migros is the biggest supermarket chain in Switzerland.)
Garlic with tuna might sound strange, but grated raw garlic actually goes very well with tuna, bonito and similar raw or just-seared fish. My stepfather actually prefers to eat his maguro sashimi with a little grated raw garlic instead of wasabi. If you prefer though, you can use just wasabi, but go easy on it!
The voiceover on the show said "fresh" linguine, but they showed a picture of what looked like regular dried linguine. Since I had a box of linguine already, that's what I used. I think that dried pasta stands up better in a salad.
I used a pack of baby arugula leaves that I had and needed to be used up, but you could also use any kind of slightly peppery but tender leaves, such as mizuna, cress, or escarole.
Dried wasabi powder is available in Japanese or Asian food markets. You can also get readymade wasabi in a tube, in which case use 2 teaspoons. (or save the huge lump of wasabi that comes with takeout sushi for this.)
Ponzu is a citrusy soy sauce based sauce that you can find in Japanese or Asian markets. (It is also, I fear, currently rather 'trendy'.) It makes a nice change from regular vinegar for salad dressings. Lemon juice mixed with soy sauce can be substituted, but it will taste different.
I really loved the fresh flavors of this dish. I might cut up the tuna into cubes the next time though.
Unused ingredients were olives (though if I had some really fresh ones I might have chopped them up and added them), Parmesan cheese, potatoes.
Seared Tuna Pasta Salad
For 4 servings:
About 225g / 8 oz piece of sushi grade tuna (maguro, or the lean red part)
200g / 8 oz dried linguine
3 Tbs soy sauce
2 whole garlic cloves
1 1/2 tsp. dried wasabi powder
about 120g / 4 oz baby arugula leaves, or other peppery small salad leaves
10 fresh basil leaves
3 Tbs. Ponzu
1 Tbs. olive oil
Salt for cooking the olive oil
Put a pot of water to boil to cook the pasta.
Grate the garlic. Add droplets of water to the dried wasabi powder in a small bowl until it becomes a paste. Combine both with the soy sauce, and pour over the tuna. Marinate in the refrigerator for at least 20 minutes.
Wash the arugula leaves and basil leaves. Chop the basil roughly.
In the meantime, cook the linguine in salted water. When the pasta is done, drain and then toss aggressively in a bowl with a little olive oil, the arugula, basil and ponzu. (The aggressive tossing is to cool it as rapidly as possible while you're tossing! Just don't hit the ceiling. Also, the arugula and basil will wilt a bit from the heat of the pasta, but that makes it a bit tastier, in my opinion.) Taste it at this point and add a little more ponzu if you like (remember then when the pasta is chilled, the flavor will diffuse a bit.) Spread out as flat as you can in a container that would fit in your refrigerator, and put it in there to cool as rapidly as possible. (Note, if you aren't trying to make this all within 40 minutes, just cool to room temperature then put it in the refrigerator until ready to serve.)
Heat up a grill pan or a nonstick frying pan. Take the tuna out of the marinade, and quickly sear it on both sides. Cut the tuna into thin slices, or into cubes.
To serve, put a little mound of the pasta on each plate, and place the tuna on top. Pour any remaining marinade over the tuna.
Submitted by
maki
on 2006-02-06 22:37.
Filed under:
masterchef
fish
pasta
salad