Masterchef challenge day 23: Tarragon Chicken and Spinach pie, Mushroom Lemon Soup
Despite being discouraged by the previous day's ingredients, day 23 revived my interest. The ingredients are:
Puff pastry
Spinach
Brie cheese
Leeks
Wild mushrooms
Pear
Chicken breast
Now, I have not bought readymade puff pastry in years. I have this general philosophy that certain very rich foods should only be consumed in its best possible incarnations, because the taste has to be worth the caloric sacrifice one makes. Things like pastries, cakes, ice cream and fois gras fall into this category. The last time I had something made with storebought puff pastry, it was flaky all right, but had a rather dry texture and a very slight acrid, chemical undertone. It had none of the buttery, unctuous goodness that a proper puff pastry should have.
Nevertheless I went to the store to discover what is out there in readymade pastry land, and was pleasantly surprised to discover one that has real butter in it. I know, I am probably way behind the times in this arena. I don't think this will convince me to buy more readymade pastry, but for those of you who are similarly snobbish about pastry but are afraid or too time constrained to make your own, you should know that decent stuff is out there now.
What to make with this pastry? I did ponder doing something sweet, but once again faced with a totally out-of-season fruit (pears and March do not even belong in the same sentence) I decided to do a savory freeform pie. Savory pies are called pastete in Switzerland. This one is filled with chicken that has been gently cooked in a creamy-leeky sauce flavored with fresh tarragon, layered with simply sautéed spinach.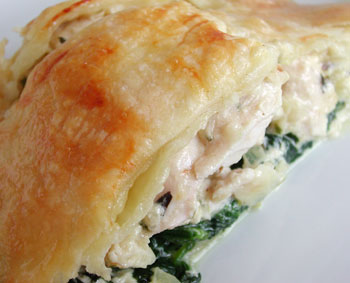 The creamy filling went marvelously with the tender, buttery crust. Consumed for Sunday lunch, it disappered with amazing speed.
To accompany the rich pastete I made a light mushroom consommé with lemon. Mushrooms with lemon? you might wonder, but sour and mushroom do go quite well together. Just think of pickled or marinated mushrooms. The soup is not nearly as photogenic as the pie, but was tart and delicious. I didn't have wild mushrooms (again, the seasonal thing) so I just used brown mushrooms, otherwise known as chestnut mushrooms.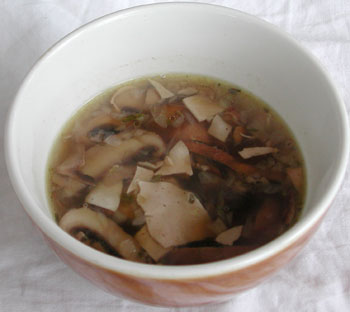 Unused ingredients: brie, pears (if pears were in season, I'd just serve a juicy fresh one with a wedge of ripe, runny brie as a cheese course / dessert).
Mushroom-lemon soup
250g / about 8 oz fresh mushrooms, sliced thinly
Beef or vegetable stock cube, or canned or homemade stock
6 cups of water (if you're using stock cubes; use the same amount of liquid stock if you're using that)
Juice of 1 lemon
1 cup dry white wine
about 1 cup of the white part of leek, finely chopped (you can use onion instead)
3 garlic cloves, finely chopped
2 Tbs fresh parsley, finely chopped
1/2 tsp dried thyme
Butter
Salt and pepper
Sauté the leek and garlic in butter until limp and translucent. Add the mushrooms, and sauté until the volume reduces considerably and the mushrooms are quite brown.
Add the water with stock cube (I find beef works best, but vegetable is fine too) or canned or homemade stock. Bring up to a boil, then reduce the heat. Add the white wine, parsley and thyme, and simmer for 20+ minutes.
Add the lemon juice, and season to taste with salt and pepper. You can optionally swirl a spoonful of creme fraiche, sour cream or yogurt on top of each bowlful.
Chicken and spinach pie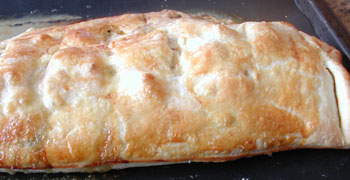 1 readymade puff pastry sheet made with butter
300g / 10 oz. boneless chicken breast, sliced thinly
200ml / about 1/2 pint cream
1/2 cup dry white wine
about 1 cup of the white part of leek, finely chopped
1 Tbs fresh tarragon, finely chopped
300g / 10 oz (well, like 3 BIG handfuls) fresh spinach leaves, well washed and stems removed
Pinch nutmeg
Butter
Salt and pepper
1 egg
Note: remember to keep your pastry sheet in the refrigerator until you need to roll it out.
Preheat the oven to 180°C / 360°F. Line a baking sheet with a silicon non-stick sheet.
Sauté the chopped leek in butter until soft and transclucent. Add the wine and cream, bring up to a boil then simmer over low heat until it has thickened considerably. Add the tarragon, and season with salt and pepper.
While the sauce is cooking, heat up some more butter in a very large pan. Add the spinach; you may need to add it in stages. Stir about until the spinach has reduced to a little pile. (I always find it amazing how much the volume of spinach goes down when it's cooked.) Season with salt, pepper and a little freshly grated nutmeg. Drain into a colander or sieve. Set aside to cool a bit.
Add the chicken to the sauce, and turn off the heat. This is to prevent the chicken from overcooking - it cooks from the heat of the sauce, and it will also continue to cook in the oven.
Beat up the egg.
Open up the refrigerated pastry sheet on the lined baking sheet. Put the spinach down the middle of the sheet. Layer the chicken-sauce mix over the spinach. Carefully bring up the pastry sheet over the filling to cover, and crimp up the ends. Slash the top with a sharp knife, or poke all over with a fork. Paint the top with the beaten egg.
Bake in the oven for about 30 minutes, until the top is golden brown. Some of the sauce may leak, but don't worry about it.
To serve, cut into wedges. This is good piping hot or at room temperature.
Submitted by
maki
on 2006-03-07 10:57.
Filed under:
masterchef
soup
mushrooms
savory
pie
chicken