Homemade Umeboshi (Japanese salt-preserved plums)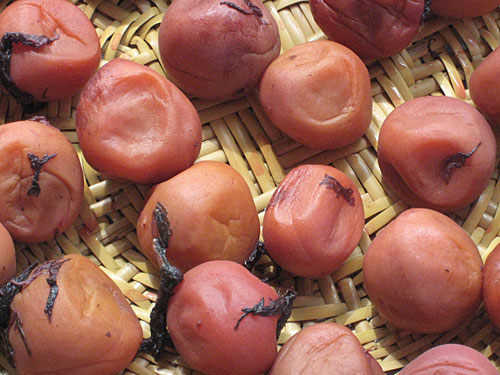 Update: I've revised this, possibly the most popular umeboshi recipe in English online, to include some key troubleshooting notes. Originally published June 18, 2009. My mom has been making a batch of umeboshi every year since, and I've also added some more notes from her.
My mother came for a visit this week, bringing along a pot of her homemade umeboshi. I asked her to tell me how she makes them; not only did she write it down for me, she even had pictures she'd taken of her attempts in the past couple of years! So, here is my mom's version of how to make homemade umeboshi. I've freely translated her Japanese explanation to English.
My mother [my grandmother - maki] used to make umeboshi every year. When I lived in New York, I was too busy working to do much cooking, let alone umeboshi! But now that I am retired, I'm trying to remember how to do things the old way. Homemade umeboshi is so much more delicious than store bought, so they are worth the effort.
Ingredients and equipment
You only need 4 ingredients to make umeboshi: Ume plums, coarse sea salt, red shiso leaves and shochu or shouchuu, a type of distilled alcohol beverage that is available all over Japan and is quite inexpensive. If you can't get shochu, you can use vodka or another kind of flavorless distilled beverage.
(Troubleshooting: The ume plums should look like firm, small unripe apricots. You can't really substitute apricots however because they don't have the tartness that gives umeboshi its unique character. You can give it a try with small, unripe, unblemished apricots if you are determined, but there's absolutely no guarantee of success, so don't blame me if it doesn't work! Other fruit like peaches and nectarines are too big to work.)
You also need some bowls, flat baskets, a large, wide-mouth, a deep container made of ceramic or glass or non-reactive plastic (never metal), a weight or a sturdy plastic bag, and large jars to store your umeboshi.
Preparing the ume plums
In Japan, umeboshi are always made in mid to late June, because that's when the ume plums are ready. Ume plums are picked when they are hard and very sour. The kind I use are from the Kishuu region, which is in Wakayama prefecture. Kishuu ume are widely regarded to make the best umeboshi.
I understand that ume plums are now available in the United States. When you buy them, make sure you choose ones that are firm, plump and unblemished. Even small blemishes or cuts on the plums could lead to mold, which is the biggest reason umeboshi can fail.
(Troubleshooting: To repeat, make sure your plums are blemish-free. Blemishes lead to mold!)
Once you have the ume plums, carefully remove any remaining stems. The best way to do this is with a cocktail stick. Try not to pierce the ume plum when you're doing this - again, this can lead to mold.
Once the stems are removed, wash the plums in several changes of water, and then fill a large bowl with cold water and leave the ume plums to soak overnight. This gets rid of some of the bitterness in the plums.
After soaking overnight, drain and dry the plums. Made ready a bowl of shochu or vodka, and dunk the ume plums completely in the alcohol. This is to kill any kind of mold spores on the surface.
Preparing the red shiso leaves
Red shiso or perilla leaves give color and flavor to the umeboshi. Use about 10% of the ume plus in weight of shiso leaves - so for 1 kilo of ume plums, use 100g of shiso leaves. Wash them, take off any tough stems, sprinkle with a little salt and massage the leaves with your hands until they are limp.
Salt to ume ratio
Use a non-iodized, coarse salt. I use a coarse sea salt. You can use kosher salt instead.
The amount of salt, or the ratio of salt to ume plums, determines how salty your umeboshi will end up. My mother used to make very salty umeboshi with about 20% salt! I prefer mine to be quite low in salt, so I use only 8%. The lower the salt content, the more prone to mold the ume become, so beginners may want to start with 12% or 10% salt.
(Troubleshooting: Beginners are highly encouraged to use a higher salt ratio. The lower the salt, the higher the failure rate including mold.)
You can also de-salt the umeboshi a little before you eat them, by soaking them in a weak salt water solution (though this does dilute the flavor too).
Here's the amount of salt vs. ume plums at different percentages:
8%: For every 1 kilo of ume plums, use 80 grams of salt
10%: For every 1 kilo of ume plums, use 100 grams of salt
12%: For every 1 kilo of ume plums, use 120 grams of salt
Make the pickling container ready
Use a large, wide-mouth jar or other fairly deep container. Wash it inside and out thorougly, then disinfect the inside. Some people do this by putting the container in boiling water, but the most common - and convenient - way is to spray it with some shochu or vodka.
Fill the pickling container
Start with a layer of coarse salt. Cover with a layer of ume plums, then a bit of the shiso. Repeat the salt-ume-shiso layers, until the ume are used up. Now, cover the whole thing with a plastic bag or sheet, then put on a weight that is at least half as heavy as the ume plums - in other words, 1 kilo of ume plums requires at least a 500g weight. While there are dedicated ceramic weights available, you can use anything you can find such as a bagful of water (as long as it doesn't leak), a full water bottle, clean rocks in a plastic bag, hand weights or dumbbells, and so on.
Once the container is full and weighted down, cover the top with a clean, porous cloth like a cheesecloth or openweave kitchen towel; secure this with a rubber band or string. Leave in a cool, dark area of your house, until the ume plums become soft and completely immersed in a reddish liquid. This liquid is extracted from the ume plums by the salt. This part of the process will take about a week or more.
(Troubleshooting: If you don't see the liquid coming up to completely cover the plums, try increasing the weight to up to a 1:1 ratio - in other words, for every 1 kg of plums 1 kg of weight.)
Once the liquid is about 2 cm (an inch) above the top of the ume plums, reduce the weight by half, and leave the ume plums in the jar in the liquid until it's time to dry them in the sun.
Drying the plums
The hoshi/boshi part of umeboshi means 'to dry', and the following drying step is very important!
In Japan, we time the umeboshi process so that the ume plums reach the end of the salting stage around Doyou no ushi no hi (土用の丑の日), which falls on a different day every year, but is always around mid to late July. This date is always marked on Japanese calendars, along with other holidays and special days, just like Christian holy days are marked on European calendars. The significance of this day for umeboshi making is that it occurs after the rainy season is over, when the weather becomes hot and relatively dry (this period is called doyou no hi (土用の日), the doyou period). If you are not in Japan, just look at the weather forecast and aim for a period of a few days when it's supposed to be nice and hot and sunny.
Once the ume plums are immersed in the reddish liquid, take the plums and the shiso leaves out of the jar. Reserve the liquid - this is umesu, or ume vinegar, and is delicious! (See instant radish pickle recipe that uses ume vinegar - maki)
Put the ume plums in a single layer on flat baskets, and the shiso leaves in spread-put clumps separately. Here you see that I have lined up the baskets on newspapers out on my apartment balcony. The newspapers protect the top of the table underneath!
Leave the plums like this in a fairly sunny place with good ventilation, for about 3 days. If it rains, take them inside before they get wet. Turn them over at least once a day.
(Troubleshooting: If it rains hard and your plums get very wet, take them in and rinse them off in plain water. Take the ume vinegar out of the jar, wash and re-disinfect the jar with vodka or shochu, and re-immerse your plums in the liquid for a day. Re-dry them on the next sunny day.)
At the end of the drying process, they look like this. The drying tenderizes the plums, giving them a better texture.
The umeboshi are now done. You can store them as-is, in a jar, layering plums with the shiso leaves. Or you can pour back in some of the ume vinegar, to give them a softer texture. This is what I did with this batch.
Here's another batch (from last year). I stored some wet in disinfected glass jars, and some dry in a ceramic jar.
Umeboshi improves with age for a few years. I usually start eating them 3 years after making them, though you can eat them the same year. At around 5 years I think they are at their best. After about 10 years or so they start to disintegrate and become mushy if kept wet, and rather shriveled like an old lady if kept dry - but they are still edible!
An alternate type of umeboshi: White umeboshi
You can make umeboshi without the red shiso leaves. This results in light brown umeboshi and an almost clear ume vinegar.
I hope you have enjoyed this how-to of a very traditional Japanese preserved food!
Submitted by
maki
on 2011-06-15 09:14.
Filed under:
fruit
japanese
preserves and pickles
tsukemono
mom's recipes