IMBB 25: Good uses for Stale Bread: A Simple Bread Soup
Posted by Max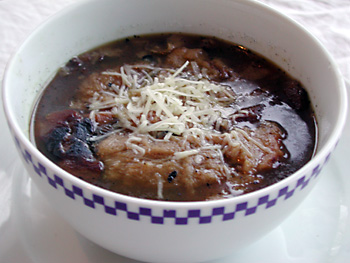 In the small household I grew up, there was always an issue with bread. Either it was gone because it was fresh and very good, or it was not that fresh anymore, and stayed until stale. To clear up this stale bread, my mother made a simple soup out of it. This simple recipe fits very well in Is My Blog Burning, edition 25, hosted by Derrick Schneider's An Obsession with Food.
Even now, in my own small household, it can happen that bread is left over, and accumulates over a few days, which means that I occasionally dig out that recipe and take care of that bread. The soup is really warming, and quite filling. And, because of the variety of bread I have available, the results are never exactly the same.
A Simple Breadsoup
Hard stale bread
50 g butter
Soup stock cubes
Freshly grated mature Gruyère cheese
Cut the bread into cubes, about 1 inch wide. It does not matter that much if the pieces get smaller.
Put a soup pot on high heat and melt the butter.
Pour the bread in the pot and stir it, trying to cover every piece with some butter. Continue stirring, dry roasting the bread. This is a bit a smoky matter, therefore make sure that the exhaust fan is working.
When every piece of bread has some charred spots (that will be the case after about 10 minutes), pull the pot off the heat and add water until the bread pieces are well covered. Put the pot back on heat and bring it to boil.
Crumble soup stock cubes for the amount of liquid into the soup. It does not really matter what kind of soup base you are using. Beef makes it a bit stronger, but vegetable or chicken works equally well.
Reduce the heat and let it simmer for about 15 minutes, stirring occasionally. The bread pieces will soak up the liquid, and it might be necessary to add a bit more water.
Taste, season if needed (mainly pepper, as the soup stock has brought in enough salt), serve into bowls and sprinkle a little freshly grated mature Gruyère on it. Enjoy.
There are possible variations with this recipe. If the look of the soaked up bread pieces is offending to your eye, you can puree the soup. In fact, this might be the more likely way it is served in a restaurant. You might also crush the bread or grind it up coarsely before roasting.
A note about the pot. Roasting can be a bit hard on the pot, therefore, I would recommend to not use a non-stick pot, but better a rather robust stainless steel pot. When roasting the cubes, crumbs break off and get burned and stick to the bottom. A stainless steel pot is easier to clean...
Submitted by
Guruman
on 2006-05-01 02:00.
Filed under:
bread
soup
imbb
leftovers