Brown rice and green tea porridge (genmai chagayu)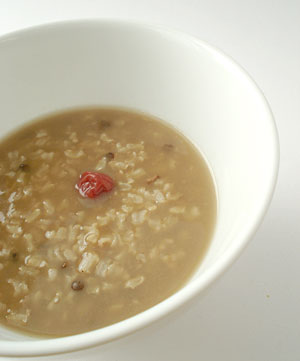 A traditional custom in Japan is to eat nanakusa gayu, or seven greens rice porridge, after the New Year's feasting period, to rest the stomach and bring the body back into balance. At any time of the year, kayu or okayu are eaten when the body is weakened by sickness, fatigue or overeating.
Chagayu or tea rice porridge is a speciality of the ancient city of Nara and the surrounding area. (Nara was briefly the capital of Japan in the 8th century A.D., and is one of the most historical cities in the country). Chagayu is usually made with white rice, but I used brown rice (genmai) instead, plus a small amount of firm green puy lentils from France. The lentils are not traditional, but I like the contrasting texture.
This has been my breakfast for about a week now. It's not in the same category as eggs and bacon or a stack of pancakes, but I find my body needs something like this sometimes to bring it back into balance. It's filling and warming, yet feels very cleansing to the body. A cup of this has less than 100 calories, and is high in fiber.
The fragrance of the tea is wonderful as you inhale the warm vapors rising up from the bowl.
This is not the same thing as ochazuke by the way, since the rice is cooked with tea.
Brown rice and tea porridge with green lentils (renzu mame iri genmai chagayu)
This amount makes 5-6 cups of kayu. Just store in the refrigerator and heat up in the morning.
1 cup (220ml) short grain brown rice
1/4 cup firm green or brown lentils; puy lentils are best. Don't use red lentils, which will turn into mush. You can omit this if you like.
3 green tea bags - use bancha, kukicha or ho-ji cha. No need to use expensive tea here. (In Nara they usually use bancha.) If you don't have tea bags, use about 1 heaping tablespoonful of green tea in a tea ball or a piece of cheesecloth. (Hint: tea bags are the easiest!)
1/2 teaspoon salt
Water
Rinse the brown rice in cold water. Put in a heavy pan with 6 cups of water and the salt. Bring up to a boil, then lower the heat to low (it should barely simmer) and add the tea bags and lentils. Put on a lid and let slowly simmer for about an hour or more. (You can do this in a slow cooker.) Stir occasionally.
Take out the tea bags. If the consistency seems too watery to you, turn up the heat a tiny bit and simmer with the lid off, to allow some of the water to evaporate.
You can eat this as is, for a very subtly flavored porridge. You may want to add something salty to it like umeboshi (as pictured), furikake (maybe a homemade one), gomashio (sesame seed and salt), or just some plain sea salt.
Notes
It's more traditional to brew the tea first, cool it then cool the rice in the tea. I find that just throwing in the tea bags is easier (and it doesn't get bitter).
Leftover kayu stored in the refrigerator will get a little gluey. If it thickens up too much, add a little bit of water before heating up.
You could also add some greens to it and simmer a little bit more - try spinach, komatsuna, turnip greens, and so on. (Actually, one of the tastier toppings is well drained and crumbled bacon...and it doesn't make it that unhealthy. :))
(Don't forget to cast your vote in the chicken poll if you haven't done so already.)
Submitted by
maki
on 2008-01-10 12:16.
Filed under:
japanese
lighter
rice
tea
vegan