Postcards from Kyoto - Misuyabari and Hakotou, for lovers of sewing and handcrafts
I am afraid that this edition of Postcards from Kyoto has no food in it, but I hope you will bear with me. I don't really consider myself to be a very domestic person - I hate cleaning, and doing the dishes, and stuff like that - but I do like cooking (obviously) and I like handcrafts and sewing. Well, at least I admire sewing and such -- I rarely seem to find the time to do much sewing and embroidery and things myself. I suppose that I could cut down on the time spent playing games on my iPhone...
Anyway, when I was in Japan, I had to mend a huge tear in the lining of my coat. I started out using a portable sewing kit I had with me. My mother saw me muttering and swearing, pushing and tugging at the needle to get it through the densely woven fabric of the coat.
"Here, try this" she said, handing me a long, plain steel needle. Unlike most needles sold these days, it had no gold on it. I looked at it disdainfully, asking "How can a needle make that much of a difference?" But I switched over from the one I was using anyway, to make my mom happy.
What a difference! This needle passed through the difficult fabric without any resistance, even through several layers. It was actually a pleasure to complete the boring mending task. Who knew that a needle could make such a difference! I knew right away that I had to get some of these wonderful needles for myself.
It turns out that the needle is indeed special. It's made by a 360+ year old company that has been owned by the same family in Kyoto, called Misuyabari (Japanese only web site) - or to give its full name, Sanjo-Honke Misuyabari (三條本家 みすや針). Bari or hari means 'needle' in Japanese.
Finding the Misuyabari store is a bit tricky. To the north and east of Nishiki Market, on Sanjo Dori (三条通り) between Teramachi Dori and Kawaramachi Dori, there is a rather touristy, even slightly tacky, covered mall or sho-tengai.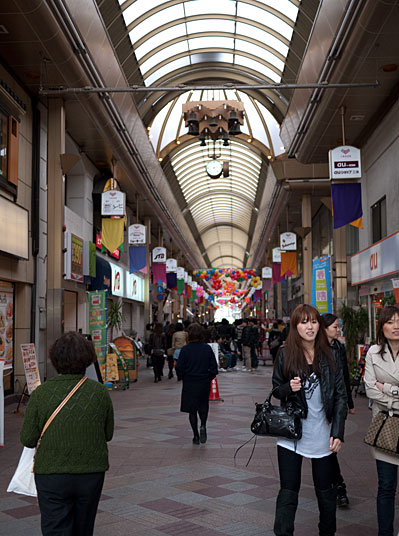 On the north side of the mall, past a very ordinary clothes boutique, there's a fortune teller. There is a sign for Misuyabari, which is in Japanese only...it looks like this: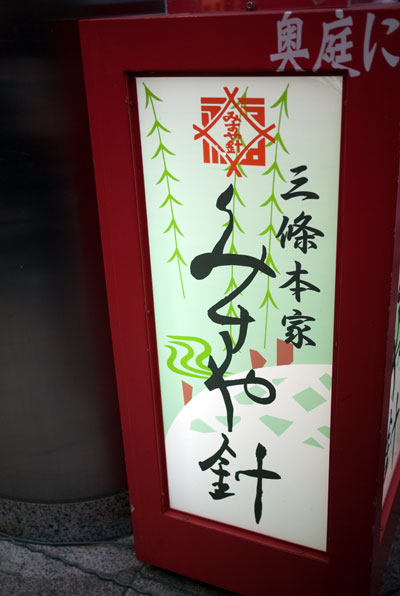 In between the clothes shop and the fortune teller, marked at the entrance by that sign, is a narrow alleyway. Go down that alleyway (the sign on the right there is for the fortune teller)....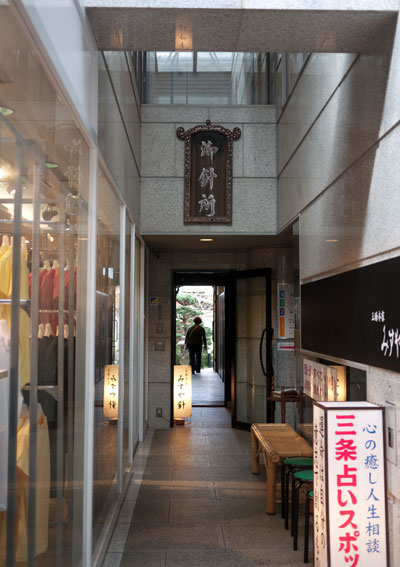 And hidden back there is another world - a tiny, jewel-like traditional Japanese garden, with a small store tucked away in the back. That is Misuyabari.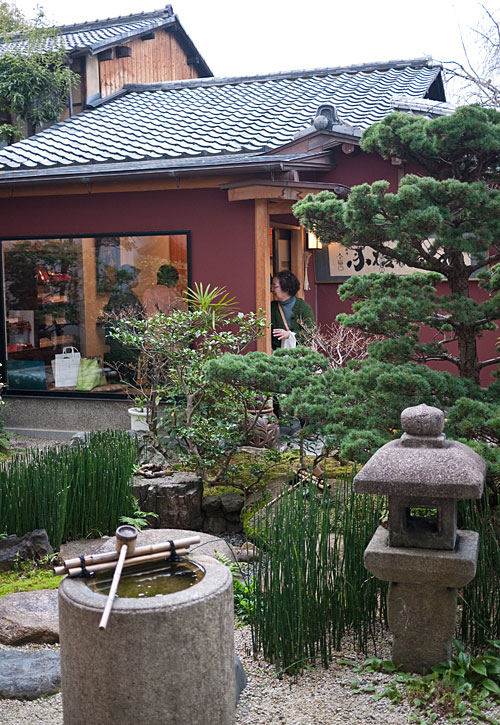 The store is really small - just a counter, manned by the owner or his wife, a few shelves on the side, and a little bench. But it's a place to make any sewer or craft person's heart beat faster. There are, of course, many, many needles, lovingly displayed in a glass case. The Misuyabari needles are still made one by one. They are a bit flexible, very sharp, and the points are bent at an angle that is so infinitesimal that it cannot be seen by the naked eye. The eye of each needle is round, as opposed to the elongated oval of ordinary needles, so that they can be threaded easily. In other words, each needle is crafted like a miniature knife.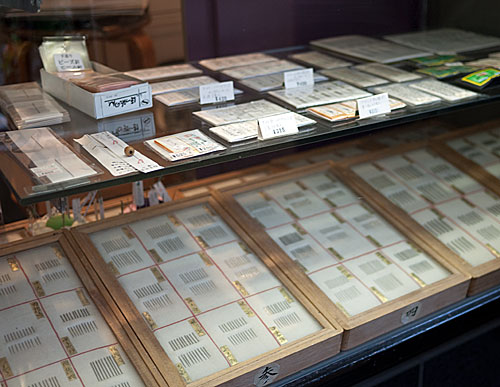 Misuyabari used to supply needles to the imperial court -- a serious task indeed, given the amount of fine sewing that must have been done there. Needles also used to be considered an ideal gift from Kyoto for travelers who made the trip from Edo (old Tokyo) on the Tokaido road, since they weighed next to nothing. In the olden days, needles were sold by weight, weighed by a specialized scale. This scale has been in the family for generations. The current owner said he is the 18th head of the company. (My mother begged him to sell the scale to her, but he gently refused.)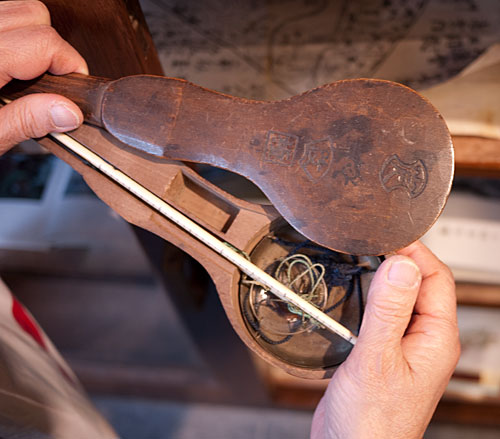 Other beautiful sewing related items are available too, like these sewing boxes made of kiri or paulownia wood. Kiri wood boxes and furniture are highly prized in Japan. Kiri wood is said to be ideal for sewing boxes, since they can be closed quite tightly and keep needles from rusting.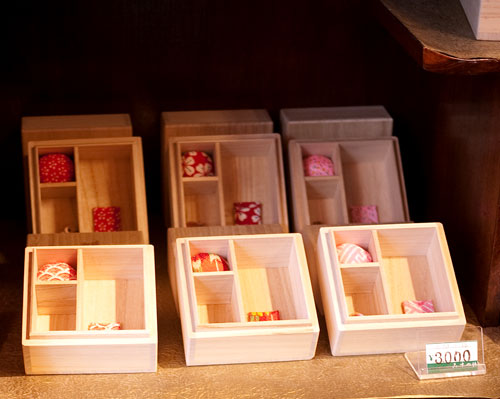 Also available were some colorful celluloid boxes. Celluloid is having a bit of a revival these days in Japan, due to Showa era (the reign of Emperor Hirohito as he's known outside of Japan, from the '40s to '80s) nostalgia or "Showa Retro" (昭和レトロ). Every Japanese girl growing up during the early Showa era had a little celluloid sewing box, carried to school for sewing or home economics classes. (By my time the celluloid had been replaced with plain old plastic.)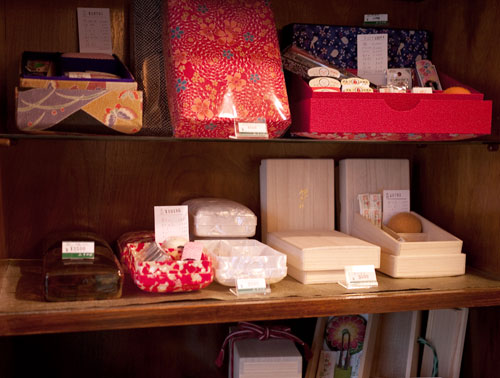 There are pin cushions made from traditional Kyoto fabric (Kyo chirimen) and stuffed with lambswool, tiny portable sewing kids in kiri boxes, and so much more here.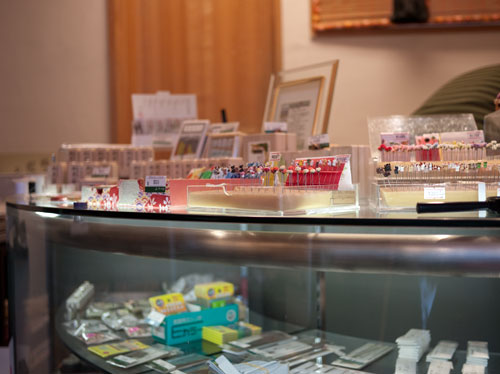 For something quite modern-cute-Japan, I fell in love with these little pins. They are handcrafted one by one, by a single artisan. They are not cheap (nothing in this store is) at 200 to 300 yen each...but so adorable, and each one is unique.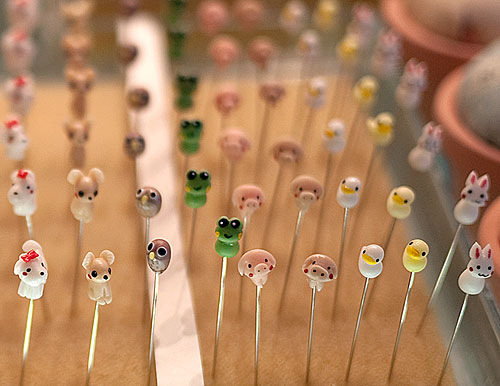 Hakotou: Handpainted kiri boxes
Although I was tempted to buy a kiri wood sewing box at Misuyabari, my heart was set on a sewing box from another company, Hakotou Sho-ten(箱藤商店). Compared to Misuyabari, who started supplying needles to the imperial court in 1651, Hakotou is a new upstart - the company started in 1891. Nevertheless, they make the most beautiful, handcrafted and handpainted, kiri or paulownia wood boxes. Their store has a strict no-photo policy, but you can check out their offerings on their web site. Besides their readymade boxes, they also do special orders.
So, this is the sewing box that I got. It is shaped like a tea ceremony box (used to transport the tea cup and such used during the ceremony), with a Sanadahimo woven ribbon or cord for carrying the box when closed. The lid is handpainted with pictures of sewing implements.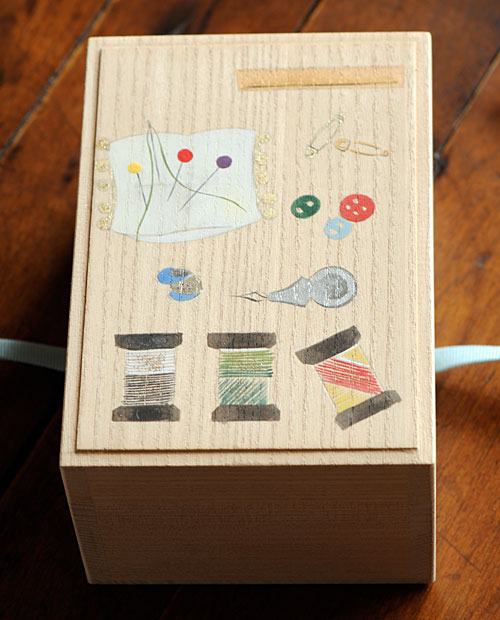 Here's the box open. It has two layers, and the small pincushion made of Kyo Chirimen fabric is included. The dividers are movable.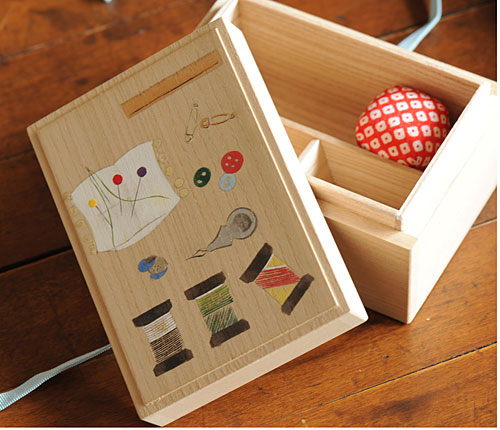 Since the box is handcrafted, the lid fits best a certain way. A little pin is painted on one side of the lid and box, which marks the right way to close the lid.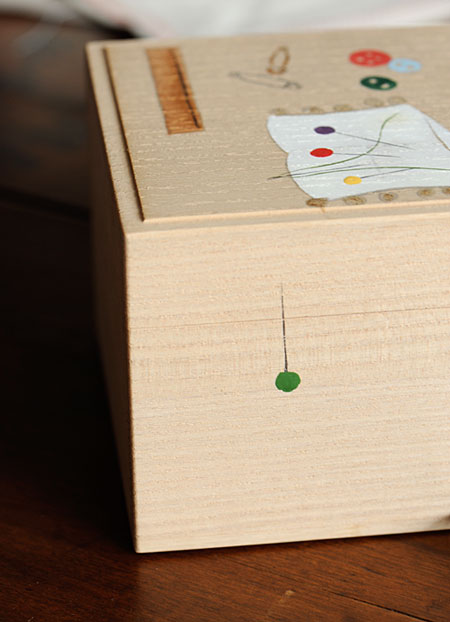 To be honest, the box is so gorgeous that I haven't used it yet! It's sitting in its gift box, and I take it out to admire it and put it back. In the meantime my real sewing stuff is in a big old bag. Such is life...
Practical details
As described above, Misuyabari is located on Sanjo Dori (三条通り) between Teramachi Dori and Kawaramachi Dori, down a narrow alleyway on the north side of Sanjo Dori, behind the main façade of stores. It's open from 10am to 6pm, and is closed on Thursdays. Besides the little store they also have a gallery and cafe on the second floor of the building in front of the store.
〒604-8036 京都市中京区三条通河原町西入ル
TEL: (075) 221-2825 
FAX: (075) 252-1818
Japanese only web site. They have a mailorder service (shipping within Japan only).
I do not believe that English is spoken here, but prices are clearly marked. If you are after needles, just state clearly what kind of sewing you need it for, e.g. 'sashiko' They sell machine needles as well as handsewing needles.
Incidentally, there's another company that is also from Kyoto called Misuya Chuubeh (みすや忠兵衛)that also sells needles and sewing supplies. They often appear at Kyoto festivals in department stores, and have stores nationwide. If you've bought a "Misuya Needles" sewing set from a mailorder place, chances are it was from them. I'm not quite sure if there's any connection between Misuya Chuubeh and Misuyabari (which is also. confusingly, called Fukui Misuyabari). I checked out the Misuya Chuubeh stall at a Kyoto festival at a Tokyo department store, they sell (to me) pretty run-of-the-mill sewing supplies, sewing boxes and accessories made from chirimen fabric of various quality, and the like. They also sell needles, but they are rather lost in all the junk on display.
The 'real' Misuyabari, which is a very special store, does not participate in department store festivals, have satellite stores in any department stores and the like. (To be a bit cynical, this relaxed way of doing business is probably because the company actually owns quite a lot of the real estate along that stretch of Sanjo Dori - prime Kyoto real estate in other words. I'm guessing that they make more money from rents and stuff than from their needle business!)
Hakotou Sho-ten's main store is a modern boutique next to the Tokyu Hotel, which is near Nishihongan-ji temple at Horikawa Gojo. Open from 9am to 6am, closed Sundays and holidays and often closed on Saturdays too.
Hakotou also sells their boxes at Takashiyama department store on Shijo Dori - they actually have more boxes on display there than at their boutique. I am not sure if they speak much English (their website is in Japanese only) but you can surely try - and they may have English speaking help at Takashimaya.
〒600-8357 京都市下京区堀川通五条下ル柿本町580-8
TEL: (075)351-0232
FAX: (075)342-4395
Japanese only web site. They have a mailorder and special order service (shipping within Japan only).
As always, please consult my Kyoto Destinations map for locations.
Other Postcards from Kyoto
I am planning to wrap up the Kyoto Postcards series with one, maybe two more posts. I know that they are lacking in the usual Kyoto things like temples and shrines and geiko (geisha) and the like. But you can find plenty of Kyoto trip reports and guides focusing on those things so... (The recent New York Times travel article has an entirely different take on Kyoto from mine.) And I'll get to some Tokyo stuff soon too.
(Update: The series is now complete.)
Submitted by
maki
on 2010-04-28 02:05.
Filed under:
food travel
shopping
japan
kyoto